Can A Balance Transfer Reduce Your Personal Loan EMI Burden?
Is balance transfer a good idea to reduce your personal loan emi? Know the answer to this question & the simple ways to apply for personal loan balance transfer!
14 Jul,2022
09:52 IST
50 views
24 Likes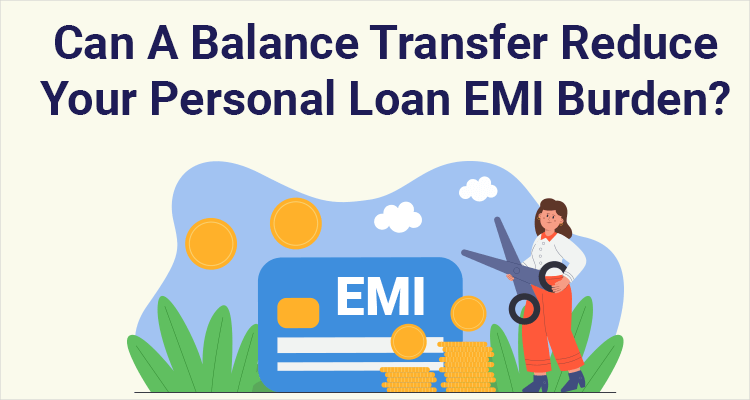 Repaying a loan can be tedious for some people. It becomes especially difficult for people with multiple loans. To solve this, there lies a concept called the transfer of personal loans. Transferring a personal loan can reduce your EMI amount, and contribute to your savings. This article details the concept of personal loan transfers.
What Is A Personal Loan Transfer?
As the name suggests, a personal loan transfer allows you to transfer your outstanding loan balance to another loan provider for a lower interest rate, smoother processes, etc. It has the potential to reduce your loan burden. It can be used to consolidate multiple small loans into a single loan.
Factors Affecting Balance Transfer
To make an informed decision, you should consider the following factors before availing a balance transfer:
1. Interest Rate:
It is always good to keep track of the prevailing interest rates even after taking a loan to utilize a lower interest rate.
2. Top-Up Facility:
It is better to choose a lender that provides a top-up loan facility at competitive interest rates to ensure your financial health.
3. Repayment Tenure:
Make sure the lenders providing a long repayment period do not create a hole in your pocket just so that you can pay less EMI.
Reasons To Opt For A Balance Transfer
A balance transfer can be a helpful method to reduce your debt for the following reasons:
• Differences in interest rates can help the borrower save more money
• Reduce the burden of loan EMI
• To meet the immediate credit requirement
Can A Balance Transfer Reduce Your Personal Loan EMI?
Typically, a loan is a form of mortgage or credit. Therefore, when you attain it, you need to pay the amount first in the form of EMIs. The EMI trap leaves you with little savings. To save better, you can opt for a balance transfer. It unlocks you from the EMI cycle by paying smaller EMIs.
Suppose you pay an EMI of INR 20,000 for a personal loan you took a year ago. After 12 months, you found a lender that provides a personal loan at a cheaper interest rate. After some research and talking, you conclude that you can save up to INR 3,000 if you consolidate loans from the first bank and the second organization. It can save you up to INR 36,000 per year.
It is more effective with longer tenure loans like a home loan than a personal loan. In such cases, a slight change in interest rate would highly impact your savings.
Apply For A Balance Transfer With IIFL Finance
IIFL Finance is a leading financial transfer provider where you can opt for a balance transfer with simplified processes. You can calculate your EMI and choose the most suitable product for yourself.
IIFL offers attractive interest rates, a top-up facility, and many more benefits on balance transfer. In case of any query, you can contact our 24-hour customer service team via phone or live chat.
Frequently Asked Questions
Q.1: What is a balance transfer?
Ans: A balance transfer is used to transfer your outstanding loan balance to another loan provider to avail yourself of a lower interest rate, smoother processes, etc.
Q.2: Does balance transfer reduce the EMI burden?
Ans: A balance transfer executed by taking an informed decision about interest rates and other charges can be beneficial for a borrower. However, it is more desirable for a loan with longer tenure like a home loan.