EarlySalary Short-Term Personal Loan
EarlySalary Personal Loan can be applied online & ensures instant disbursal. Know how to get this short-term loan online Now!
11 Dec,2022
12:28 IST
48 Views
3 Likes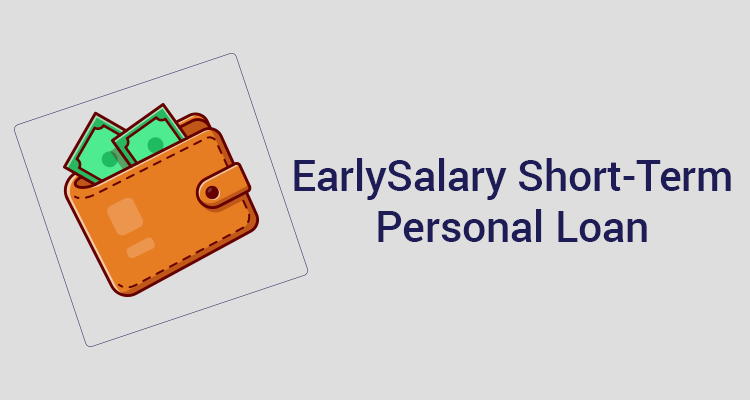 Emergencies are often unannounced and accompany a financial crunch. In such a situation, where you lack the collateral necessary to avail of a loan, you can get an early salary short-term personal loan to pay off your emergent expenses. Here's how.
What Is An Early Salary Personal Loan?
An early or advance salary loan is temporary funding specially designed for salaried professionals. Unlike personal loans, lenders calculate interest rates monthly or daily on early salary loans. It is also known as the payroll loan.
One of the notable advantages of these loans is they are also available to people with moderate credit ratings. Additionally, many lenders pay off payroll prepayment loans in hours, if not minutes. These payroll advance loans also have a very high Annual Percentage Rate (APR) due to fast processing time and high risk.
Although the repayment terms are favourable to the lender, these loans can help those in urgent need of funds. Therefore, it is preferable to choose these loans only in an emergency when you have no other alternative.
How To Avail Of An Early Salary Loan?
You can avail of a
short-term personal loan online.
Most lending platforms have similar processes, which include the following.
• Fill in the online application form with all the details
• After you receive the application approval, submit your Know Your Customer (KYC) documents.
• Once the document verification is complete, you will receive your loan amount in your bank account within hours.
Some banks waive processing fees and other surcharges. Choosing the right combination of the lender, approval time, interest rate, repayment schedule, and loan amount are critical to planning your finances wisely and making the right decisions.
What Are The Eligibility Criteria For An Early Salary Short-Term Personal Loan?
While the specifications vary from lender to lender, more generalised criteria include the following.
• You must be an Indian resident.
• You must have an active savings account.
• You must have all the required documents.
• You must qualify for the lender-specific minimum age criteria.
• You must be eligible for the lender-specific minimum monthly salary criteria.
Features and Benefits Of An Early Salary Short-Term Personal Loan
The features and some help of an early or advanced salary loan include the following.
• It is an unsecured loan.
• Some lenders allow you to prepay some or all of your outstanding balance. Additionally, some banks offer the option to repay the total amount of the outstanding loan after 180 days of payments.
• Some lenders allow you to close loans with little or no penalty.
• Some lenders offer free accident insurance and credit protection features to sweeten the deal.
• The overall purpose of a payroll loan from the customer's perspective is to pay off all financial liabilities and the ability to repay the loan taken with more flexible terms.
Limitations Of Early Salary Loans
Just as payroll advance loans have many benefits, they also have many drawbacks that can hurt your credit rating in the long run.
• Higher Interest Rates
High-interest rates often overshadow the ease an
early salary loan
provides in funding. Interest rates vary between 15% and 21%. It is a high range for a lender that offers all kinds of loans.
• Debt Restructuring
The reason to acquire a
short-term personal loan
is often during a stressful financial situation. You may need it to pay off a debt or make an emergency expense. Regardless of the reason, the financial institution will only transfer the amount you owe to the lender from whom you have taken a
short-term loan.
• The Debt Trap
While taking a loan may seem like a solution to escape the debt trap, you may continue the same debt pattern. In the event of non-payment, penalties and interest will compound, and regular monthly payments may only scratch the surface of the principal amount still outstanding (after being used to pay penalties and interest). It will also lead to an extension of the repayment period and further fines.
Avail Of An Early Salary Personal Loan From IIFL Finance
IIFL Finance is a leading short-term personal loan provider in India. You can avail of a quick and easy early salary loan from us at the best interest rates.
You can complete it online without any branch visits or hassle. Early salary loans are ideal for emergency purposes. Thus, IIFL Finance ensures you can get your loan amount in your bank account within a few hours. Apply for an early salary loan with IIFL Finance today!
Frequently Asked Questions
Q.1: For what can I use my early salary loan?
Ans: Typically, lenders do not pose any restriction on the loan amount usage. You may use it as per your choice. However, some lenders ask about the loan reason during the application process.
Q.2: Is a good CIBIL score required to avail of an early salary short-term personal loan?
Ans: A score of over 650 is ideal for a payroll advance loan. As payroll advance loan disbursal happens within hours, most lenders will extend the loan even if your credit rating could be better. However, people with poor credit may have to pay higher interest rates to their lenders due to the risk factors involved in lending.