Does Having A Low CIBIL Score Make It Difficult To Get A Personal loan?
Lenders evaluate the loan application based on the borrower's creditworthiness. Read on to know the effect of low CIBIL score on personal loan at IIFL finance.
21 Oct,2022
17:28 IST
16 views
23 Likes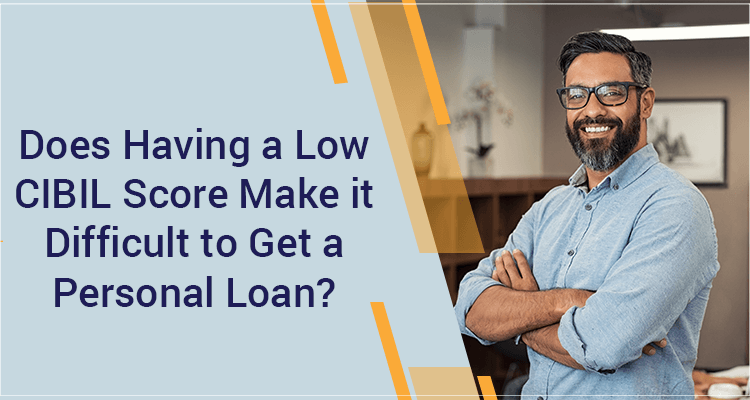 The need for additional cash can arise due to various reasons. This could be due to a medical emergency, an unanticipated job loss, a household purchase or small-ticket house repair, and even for making good the requirement for a business expense.
While one can dip into long-term savings to meet the requirement, it is advisable to keep these separate and meet short-term needs through short-term sources, such as emergency cash savings in the bank or a short-term personal loan. The personal loan can be a useful means to account for unanticipated expenses.
A personal loan is simply a collateral-free, or unsecured, loan. Since the loan is not backed by a security, lenders evaluate the loan application based on the borrower's creditworthiness. Now, there is no one way to predict if the borrower will pay back on time or at all, but their credit history offers a good proxy of their behaviour.
This creditworthiness, in turn, is assessed on the basis of the credit score, or the CIBIL score, of the applicant.
What Is The CIBIL score?
The CIBIL score has become synonymous in the lending industry thanks to the first organisation generating credit information in the country. The organisation is now known as TransUnion CIBIL, though several others also offer the same service.
The score is a three-digit number that lies in the range of 300 and 900. A higher score represents a good credit history and a low score the obverse.
Most lenders scout for borrowers with a CIBIL score of 750 or above. This is seen as an ideal threshold as it reflects the borrower has been meticulous in meeting his or her loan liabilities by paying equated monthly instalments (EMI) as well as minimum monthly dues on the credit cards on time and are not loaded with excessive loans outstanding.
In simple words, it shows they have a high probability of paying back the loan amount with all interest dues. As a result, the CIBIL score becomes critical while pitching for a personal loan and most lenders use it as a first filter to filter out loan applications.
What If The CIBIL Score Is Low?
The good news is that lenders use a high score as an enabler for swift approvals but do not necessarily reject loan applications if the score is low.
A CIBIL score between 500 and 750 can still be enough to get a personal loan, though the lower this number is towards the 500 mark it becomes increasingly difficult. If one has a score of less than 500 it is likely that the loan application will get rejected as it is seen as particularly risky.
A low score also means a lender will look at the income and other factors more closely before sanctioning the personal loan. In effect, it would translate into a longer time period in which the loan application may be approved.
That said, there could be many lenders who could offer a personal loan, though at a relatively higher interest rate, to someone with a CIBIL score of say 550.
Workarounds
If one does have a low CIBIL score there are certain strategies that can be used to avail a personal loan.
• Look around: A simple way to get a personal loan is to consider non-banking finance companies. NBFCs typically are more flexible than banks, which may reject the loan outright if the score is below, say, 700.
• Improve the score: The other way to make sure one can avail a personal loan in the future is to work towards pushing up the CIBIL score. This will not help in improving the score instantly but one can use this method to keep a clean slate and prepare for exigencies where one would need to bank on a personal loan. This can be done by prepaying existing loans, especially any other unsecured loan, meeting the EMI schedules, and not using the entire sum or the upper ceiling in a credit card.
Conclusion
A
personal loan
is free of any collateral for the borrower and so it entails a higher risk for the lender. To manage the risk, lenders rely on the creditworthiness of the borrower to accept or reject an application. They do so by assessing the borrower's CIBIL score.
A score of more than 750 usually makes it easier to avail a personal loan at a low interest rate. A lower score does make it difficult but does not necessarily lead to rejection of a loan.
Top NBFCs like IIFL Finance offer instant personal loan approvals for up to Rs 5 lakh with a hassle-free process. IIFL also offers competitive interest rates and flexible repayment terms that make it easier for the borrowers to clear their debt burden with ease.