Does Getting Personal Loans And Credit Cards Really Help Credit Score?
Personal loan & credit card are some easy ways to get some quick money. But how does personal loan & credit cards affects credit score? Know here!
10 Oct,2022
10:10 IST
11 views
2 Likes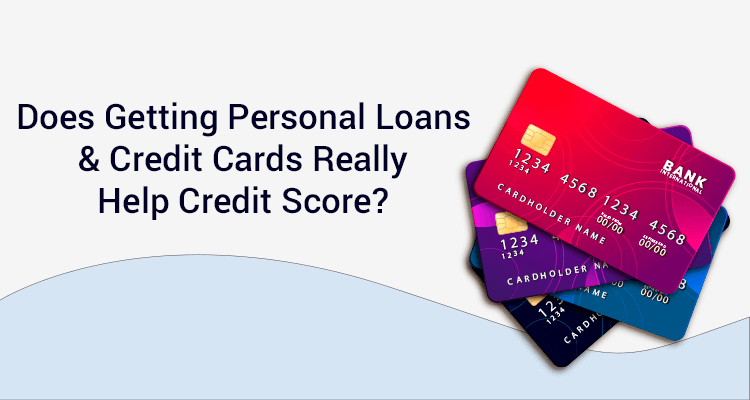 A personal loan can be one of the easiest ways to get some quick money easily and without much hassle. This cash can typically be used for almost anything, from paying for one's kids' fees to getting some urgent home renovations done to paying for any unexpected increases in expenses for a wedding.
People can even fund huge medical bills or go on a dream vacation overseas using personal loans and then pay back the money slowly in easy monthly or quarterly instalments.
The application process for a personal loan can be completed online and the approval process is quite simple and straightforward. The best part is that no collateral needs to be provided while availing a personal loan.
Interestingly apart from funding an emergency, a personal loan can also be used to build one's credit history and improve the credit score over time.
This is true especially in the case of a credit card, which too is a kind of personal loan. If a borrower makes timely payments on their credit card bills or repays a personal loan and interest, their CIBIL score will improve over time.
The credit score, or the CIBIL score, is a three-digit number that independent agencies like TransUnion CIBIL, Experian and Equifax generate after analysing a borrower's previous loans and repayments.
A CIBIL score, which typically varies from 300 to 900, is used to gauge a person's credit history. The higher the CIBIL score the better the rate of interest a borrower can get from a good lender.
If a borrower makes timely repayments on their loan, he or she can improve a score that may be less than ideal. In this way the borrower can hope to get a better deal on a personal loan in future, when their credit history has improved and their CIBIL score has become much better.
While a CIBIL score of 750 or above is considered ideal by lenders like IIFL, a score between 600 and 750 is also often sufficient to get a loan. However, a score below 550 is considered poor and shows that a borrower has defaulted on repayments and tells the lender that lending them money can be risky, thus reducing their chances of getting a loan.
Improving The Credit Score
A borrower can hope to improve their credit score and credit history, by one or more of the following ways:
By Consolidating Debt:
Consolidating multiple loans into a single personal loan can help if that one loan is at a lower interest rate than the others. This will bring down the monthly payment that a borrower has to make to pay off the loans.
By Building Credit History:
The longer a borrower's credit history, the better their chances of getting a personal loan at a competitive rate of interest. This is because a good credit history shows that the borrower has been responsible with debt over time. This makes their credit profile better with time. A
personal loan
helps build one's credit history, which can be helpful later when they apply for a bigger loan like a home loan or a car loan.
By Making Timely Repayments:
Timely repayments of loans help a borrower improve their credit history and CIBIL score over time. Timely repayments show good financial discipline and credit behaviour on the part of the borrower.
Conclusion
The credit score becomes vital while applying for a personal loan from a lender like IIFL Finance, as it shows that the borrower is creditworthy.
A personal loan can help improve your credit history and CIBIL score as long as you repay it on time and in full. Having a good credit history, free of defaults or missed payments is a must if you want a bigger loan and the most competitive interest rates in future.
A reputable and well-managed lender like IIFL Finance approves and disburses the personal loan very quickly.
In fact, IIFL Finance checks the eligibility of a borrower for personal loans up to Rs 5 lakh within minutes. The
application process
is simple and fully online, and it also offers an attractive rate of interest.