Can I Take A Personal Loan and Home Loan Simultaneously?
Explore the possibility of taking out both a personal loan and a home loan simultaneously. Learn more with our expert guide here!
18 Jan,2023
10:11 IST
3146 Views
1758 Likes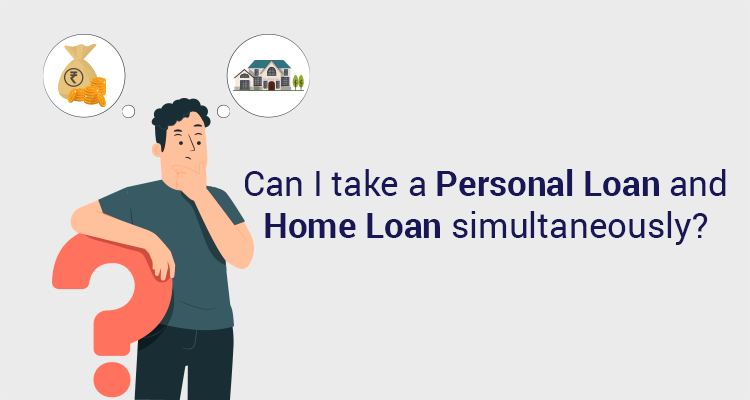 A home loan is ideal for a property purchase. By taking a home loan, you can own the home of your dreams while keeping your savings intact. However, homebuyers often exceed their budgets when buying a home. From down payments to renovations, various unplanned expenses may pop up.
Fortunately, you do not have to dip into your savings. Another funding option is taking a personal loan online! Personal loans can cover all your unplanned expenses related to a house purchase.
But can you take a personal loan and a mortgage loan at the same time? Technically, yes. There is no upper limit to the number of loans you can take. Nonetheless, there are some things you need to consider before applying for a second loan.
When Should One Consider Personal Loans and Home Loans Together?
Down payments can be as high as 20% of the purchase price of a home. Furthermore, various charges may exceed the property value by 5-7%, which you cannot cover with a mortgage. It may be challenging to make an outright payment considering your financial situation. Here, a personal loan can assist you in paying for your down payment on your home.
How Can You Take A Personal Loan and A Home Loan Together?
1. Maintain A Healthy Credit Score
Your credit score reflects the consistency with which you repay your loans. A credit score above 700 will make acquiring loans easier and put you in lenders' good books. Therefore, if you have a home loan already but need another loan for personal reasons, you'll need a stellar credit report to obtain another loan.
Paying your EMIs and credit card bills on time is the best way to boost your score. It can also help you get an affordable interest rate on a personal loan.
2. Keep Your Debt-To-Income Ratio Within Bounds
A lender also considers your ability to pay the home loan EMIs with your current income and credit history. A lender may not extend another loan if you already have one and cannot pay another EMI. Hence, spending less than 50% of your monthly salary servicing loans is ideal. You have less financial freedom if you have a higher debt-to-income ratio.
3. Plan Your Second Loan
If you have a home loan, a second loan can be a significant financial burden, even if your DTI ratio and credit score are favourable. Therefore, you should consider your financial obligations before taking two loans.
With a personal loan, you can choose your tenure. Hence, your best option is to use an EMI calculator to determine your projected instalments. This way, you can estimate how much you will save every month after paying interest on the two loans and plan for your second loan accordingly.
4. Enhance Repayment Capabilities By Applying With A Co-Applicant
Applying jointly with your spouse or parent is one way to demonstrate stronger repayment capabilities. Lenders are more confident that you can make payments on time if you demonstrate more than one person's income. By showing full repayment potential, you are more likely to qualify for a personal and home loan together.
Get A Personal Loan Online With IIFL Finance
Now, you can obtain comprehensive and customised
personal loans from IIFL Finance
to meet your capital requirements. Calculate your repayment obligations using the personal loan calculator. With instant funds of up to Rs 5 lakh, the personal loan has a quick disbursement process. Visit IIFL Finance nearest branch or website and verify your KYC details to apply for the loan.
Frequently Asked Questions
Q1. Can you get a home loan if you already have a personal loan?
Ans. Yes. You can take out as many loans as you want simultaneously.
Q2. Does personal loan impact home loan?
Ans. All your previous or existing loans can impact your ability to get a mortgage or another kind of loan since they reflect how you manage your debt and payments.
Q3. What are the eligibility criteria for a personal loan?
Ans. An individual can apply for a personal loan if they fulfill the following criteria:
• They are self-employed and have a minimum turnover as stipulated by the lender may apply for a personal loan.
• In metro cities like Mumbai and Delhi, salaried applicants must earn at least Rs 25,000 a month or Rs 20,000 if they live elsewhere in India.
• Candidates for salaried positions should have at least 1 year of experience, including at least 6 months at the current company.
• The individual must have a CIBIL score of 750 and above.