Best Debt Repayment Options That Will Save You From Debt Trap
Are you struggling to repay your debts? Discover the best debt repayment options that will help you get out of the debt trap. Read Now!
21 Jan,2023
10:22 IST
2747 Views
1058 Likes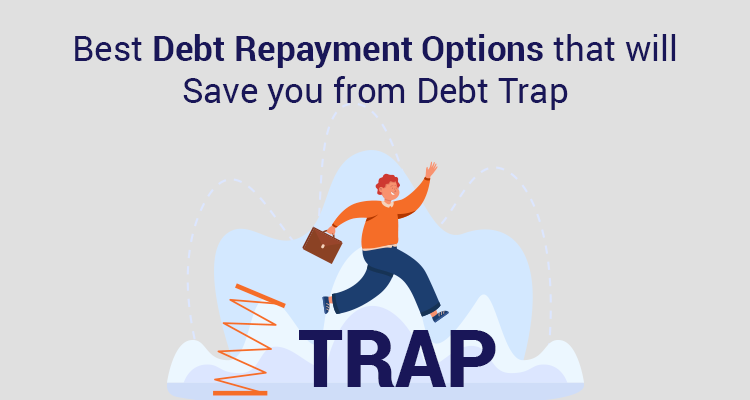 During a moment of folly, you overspent and accumulated debt with high-interest rates. Now, you're in a financial bind. Your repayment capabilities do not cover the accumulated interest or the principal. You've fallen into a debt trap. How do you free yourself from this trap?
The most popular option is to take out a lower-interest loan to repay the high-interest debt. Personal Loans, Credit Cards, Mutual Fund Loans, Fixed Deposit Loans, or Loans against Property are available as repayment options. But, choosing the right avenue depends on your debt strategies.
Debt Strategies You Can Follow
You can boost your payoff speed by following these strategies.
• Debt Snowball:
You can repay your smallest debt first (while paying a minimum amount on the others). This way, the amount you repay will roll into your next largest debt.
• Debt Avalanche:
If you have high-interest debt, you repay that first (while paying a minimum amount on the others), then the next highest rate, and so on. Throughout your
debt repayment
, it may help you save time and money.
• Debt Consolidation:
Reduce or eliminate interest rates on several old debts by combining them into a new one, ideally at a lower interest rate. It makes repayments more manageable. Using balance transfer cards or personal loans can help consolidate debt.
• Debt Management Plan:
A non-profit credit counselling agency can help you cut your interest rate and set up a repayment plan if you have a mountain of credit card debt.
Debt Repayment Options
1. Personal Loans
The interest rate on personal loans ranges from 10-15%, and the tenure is one to five years. When you are a pre-approved customer, you can get a Personal Loan in 10 seconds or within 4 hours if you are a non-banking customer.
Loan amounts of up to Rs 40 lakhs are available based on income level and repayment ability. EMIs or installments are easy ways to repay the funds. You can take a personal loan to consolidate your debt. However, it would help if you had a high credit score to get a low-interest rate on your loan. Furthermore, the documentation process can be lengthy since personal loans are generally unsecured.
2. Credit Card
The interest rate on credit cards can be as low as 3.5% per month. The rate varies with each lender. There is also no interest charged during the 45-day repayment period. You will incur interest if you wish to extend your credit card tenure.
You can also instantly pay off your entire debt with a credit card. Your credit limit determines how much you can borrow against your card. Alternatively, you may request a Credit Card Loan if you require a larger amount. No documents are required when applying for funds with your Credit Card.
3. Loans Against Mutual Funds
A bank or finance company can lend you money if you pledge your mutual funds as collateral. Due to the secured nature of the loan, interest rates are approximately 10-12%.
4. Loans Against Property
You can also get out of a
debt trap
by taking a loan against your property. You can borrow up to 60% of the property's value, whether a residence or business. As it is a secured loan, the interest rate is lower.
5. Loans Against Fixed Deposits
You can borrow against Fixed Deposits in your bank. Typically, banks charge this loan between 2% and 2.5% over FD interest rates.
Get Financial Help From IIFL Finance
If you lack the funds to fulfil your professional and personal dreams, IIFL Finance can help you find the right financing. With various financing options available including gold, home, and business loans, IIFL can meet all your needs. Furthermore, we offer a competitive interest rate and a flexible repayment period that make repayment simple. Free yourself from the debt trap and apply for a
personal loan with IIFL Finance
now!
Frequently Asked Questions
Q1. What is debt consolidation?
Ans. Consolidating debt means rolling various bills and payments into one payment or loan. Consolidating your credit card or loan accounts can simplify your payments or lower your interest rate.
Q2. Can you get a personal loan for debt consolidation?
Ans. Personal loans are a popular choice for debt consolidation, in which a consumer obtains a loan to pay off existing debts.