Considering A Personal Loan? Check Your EMI In Seconds
Calculating personal loan manually can be quite confusing sometimes. Say good bye to this confusion with a personal loan emi calculator. Know more here!
17 Jul,2022
09:49 IST
194 views
29 Likes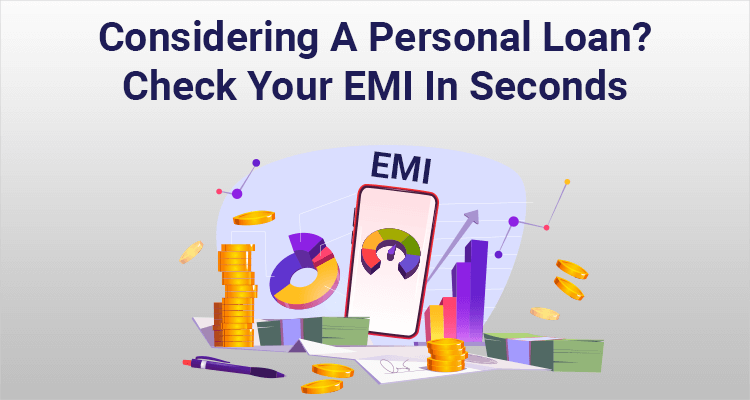 Taking a personal loan is an excellent way to get funds for a big-ticket expense. Whether it's home renovation, wedding or even credit card debt consolidation, you may need money quickly and hassle-free. However, the monthly EMI amount on your personal loan is not easy to determine.
Here, an EMI calculator is one tool that will help you better understand the eligible EMI amount and make an informed decision about opting for a personal loan. You must study and calculate the amount of EMI and its impact on your finances before applying for a personal loan.
Benefits Of A Personal Loan EMI Calculator
• Ensure A Healthy Credit Rating
Calculating your EMI beforehand allows you to plan your finances appropriately, avoids defaulting and decreases the risk of your credit rating falling.
• Quick And Accurate Results
The EMI calculator for a personal loan saves you the time of performing complex calculations as it gives you the results in mere moments while also giving you an accurate assessment of your EMI payments.
• Usability And Accessibility
EMI calculators are tools available online and easy to use even for people with little financial knowledge. All you need is an active internet connection and simple figures such as the interest rate, principal amount and tenure for the personal loan to determine the monthly repayment amount.
• Budgeting
Knowing your EMI in advance allows you to accurately budget your expenses and fit them in with your other monthly expenditure. This information will enable you to consider investing in MFs, build an emergency fund and provide you with a clear picture of your financial balance to help you plan for the months ahead.
Factors That Impact Your Personal Loan EMI
The following factors impact your personal loan EMI:
• The Interest Rate Of The Personal Loan
Your credit score and other factors such as employment history, income and other assets you own determine the interest rate on your loan amount. For example, if you have a high credit score, you are likely to get lower interest rates on your personal loan compared to someone with a low credit score.
• Tenure Of The Personal Loan
The longer it takes to repay your personal loans, the higher your monthly instalments and consequently, the more expensive for you.
Things You Can Do To Lower Your Personal Loan EMI
There are multiple ways to lower your personal loan EMI:
• Paying off the loan early or making a pre-payment
• Apply for a lower interest rate loan
• Pay more than the minimum payment amount
If these options aren't available, you can use an EMI calculator for personal loans and plan your finances efficiently and early.
The EMI calculator for a personal loan is an easy tool to calculate your monthly payments and total interest costs before applying for a loan. By calculating these figures beforehand, borrowers can comfortably afford their monthly instalments after considering all other expenses—including rent or mortgage payments and groceries—as well as any other unforeseen expenses like vet bills for pets or car repairs.
Get A Personal Loan With IIFL Finance
Personal loans can prove to be useful for various expenses, from health and medical expenses to education or even purchasing a new gadget. When getting any form of loan, it's always better to plan your finances for timely loan repayment as well. We've made this process incredibly simple with our personal loan EMI calculator.
Head over to the IIFL website to calculate and plan out your personal loan with us and enjoy a short and quick disbursal-based loan process which allows you to achieve all your dreams today!
FAQs
Q1. How to calculate your personal loan EMI manually?
Ans. To calculate your personal loan EMI manually, you need to know the following:
• Loan amount: This is the total loan amount you need.
• Interest rate: This is the percentage charged on the loan amount.
• Tenure: The amount of time you will take to repay your loan.
Q2. What factors influence my personal loan EMIs?
Ans. The interest rate along with tenure are the two prime influencers of your personal loan EMIs. For example, a personal loan of Rs. 5 lakhs taken for 3 years at 12% interest p.a. is going to predict relatively lower EMIs than the same loan and interest rate for 5 years.
Q3. Is a personal loan EMI calculator accurate?
Ans. The EMI calculator for a personal loan saves you the time of performing complex calculations as it automates and carries out this task in just mere moments while also giving you an accurate assessment of your EMI payments. To further increase the accuracy of your EMI calculation, you must know the loan amount, tenure and interest rate for your personal loan.