Top 5 Reasons Why You Should Let Personal Loans Handle Those Big Purchases
Discover the top 5 reasons why personal loans can be a smart financial solution for handling big purchases. Find out how personal loans can help you save money!
1 Feb,2023
10:34 IST
2856 Views
1047 Likes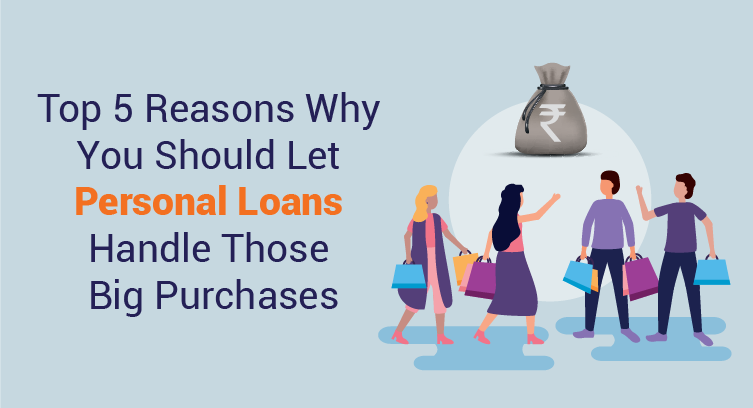 Every year, ​people splurge on new electronics, furniture, and clothing during the festival season, and frequently the cost of their purchases exceeds their savings. While one may plan to save for a big purchase, it is a time-consuming process and is dependent on many variables, especially for salaried individuals who have a limited amount to spend each month along with having to save for emergencies. This is where a personal loan may come in handy.
Personal loans are mostly unsecured, meaning the borrower is not required to provide any security to the lender in the form of a collateral. This makes them a convenient option to fund big dreams with ease.
One may consider taking out a personal loan and repaying the borrowed amount in monthly installments rather than saving up over time for a big purchase. However, since unsecured personal loans don't require any collateral, lenders take a bigger risk while offering such loans. Therefore, such loans carry higher interest rates than secured loans.
Still, it often makes sense to take out a personal loan to fund big purchases. Here are some reasons why:
Can Be Raised Quickly:
While the time taken to approve a personal loan may vary depending on the lender, a majority of reputable lenders make use of the most up-to-date technological solutions to finish the process quickly and without causing the borrower any trouble.
If the borrower's paperwork is in order, the lender has verified and examined the borrower's credit history and CIBIL score to their satisfaction, and all know-your-customer (KYC) requirements have been met, it shouldn't take more than a day or two for the borrower to get the loan disbursed into their account.
Most reputable lenders, including banks and non-banking financing companies, typically take one to seven days to sanction a personal loan before disbursing the funds.
Flexibility Of Use:
The borrower is not required to declare the objective of the personal loan or the timeline for using the funds, unlike with other targeted loans like a home loan or auto loan.
Apart from emergencies and financial crises, personal loans can also be utilised to achieve lifestyle objectives, such as purchasing a fancy device, and even for going on an international vacation. The borrower is free to use the personal loan however they see fit, including for making one or more big purchases as and when needed.
Easy To Avail:
Given the rising demand for personal loans, and the higher rate of interest it commands compared to other loans, lending institutions have eased the eligibility criteria for availing such loans.
The personal loan application process depends on the income proof, age, credit history and CIBIL score and a few other factors. Since the loan is unsecured, lenders assess the eligibility of the borrower with their credit score, or CIBIL score. A higher score makes it easier to get the loan sanctioned and vice versa.
These are the general eligibility requirements, which may change from lender to loan. To review the required eligibility requirements of reputable lending institutions, one can consult their official websites.
Competitive Interest Rates:
As unsecured personal loans attract a higher rate of interest, lenders are keen to disburse such loans. Therefore, if a borrower has the required documents and a good credit record, the lender will be keen to provide the loan and may be willing to negotiate the best rates it can offer. At times, lenders also provide pre-approved personal loans to existing clients that have a steady income and a good track record of repaying loans on time. Interest rates on personal loans may also be lower than on credit cards, making them more attractive.
Flexible Loan Tenure:
A personal loan typically has a term of three months to five years. As a result, borrowers have the liberty to evaluate their financial situation and choose a term that is more suited to them, ensuring that they can make the loan payback deadline. The longer the tenure the smaller the monthly outgo is likely to be in the form of the EMI. However, interest rates also change according to the tenure of the loan. Therefore, it is important for one to check the most feasible interest rates and tenure before applying for the personal loan.
Conclusion
Any expense can be covered by a personal loan from banks or NBFCs like IIFL Finance, especially if the borrower has to make big purchases and does not want to liquidate any assets.
Before applying for a personal loan, prospective borrowers should evaluate loan terms to ensure they are getting the best deal. One can repay the personal loan without putting pressure on their monthly budget, making this form of credit a good option to fund one's big-ticket purchases.
Personal loans are easy to get and, if applied for online, can be made available right away. IIFL Finance processes a personal loan application within a few minutes. It offers a loan of up to Rs 5 lakh for tenure of up to three and a half years. If the loan application and documents check out, the company credits the money into the borrower's account within 24 hours.