5 Reasons To Apply For A Personal Loan From IIFL Finance
Personal loan is the best way of getting cash whenever a person need money. Get to know the 5 reasons why you should apply for a personal loan from IIFL finance.
11 Oct,2022
11:49 IST
7 views
4 Likes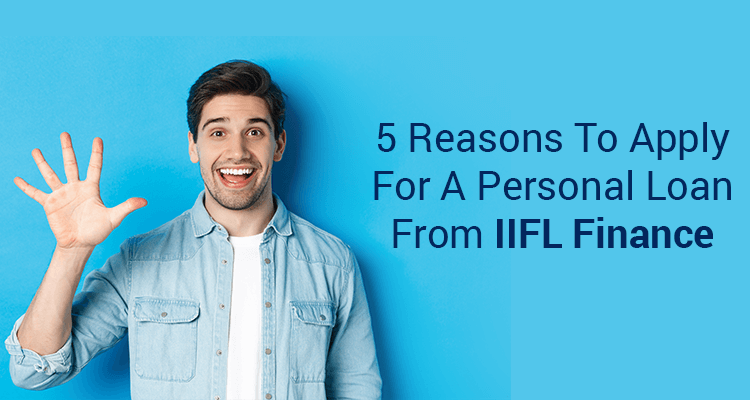 A personal loan can be one of the easiest and best ways of getting ready cash whenever a person is in a dire need of money and is falling short.
A personal loan can be used to fund anything from an unpaid medical bill, to an unplanned wedding expense to paying school or college fees to even going for that dream vacation one may have been waiting for forever but has been unable to afford.
Such a loan is offered by almost every bank as well as by non-banking finance companies. There is even a big unregulated market of moneylenders offering such credit, albeit at much higher interest rates and usurious terms.
Borrowers do not need to offer any collateral to get a personal loan as long as they have a good credit history and an above-average CIBIL score. In fact, the higher the CIBIL score, the better the interest rate they can hope to get.
While there are a large number of banks, non-banking finance companies and even new-age fintech startups that offer personal loan, it is best to approach a reputed lender. Approaching a good lender has several key advantages over going in for a lesser-known lender.
Typically, state-run banks offer a lower interest rate as they have access to a vast deposit base. However, their approval process is often long and tardy and the eligibility conditions more stringent. On the other hand, NBFCs such as IIFL Finance offer a more convenient process to avail personal loans with minimal documentation.
So, here are five reasons IIFL Finance may be the best choice for anyone looking for a personal loan:
Online Application Process:
One does not even have to visit the IIFL Finance branch to avail a personal loan. It can all be done online from anywhere, in just a few clicks. All one has to do is submit an application along with the required documents, which can also be uploaded online. Moreover, the money is also disbursed online and even the repayments can be done equally easily.
Customize The Loan:
IIFL Finance customizes
personal loans
to help borrowers meet their money requirements for a variety of uses. So, whether you need money for a wedding, a foreign vacation, home renovation or any other purpose, IIFL Finance quick approval process can help you do that easily.
Competitive Interest Rates:
IIFL Finance offers some of the most competitive rates of interest in the market. Moreover, the higher one's CIBIL score, the better the rate of interest one can get.
Good Customer Support And Value-Added Services:
IIFL Finance offers excellent customer support to its borrowers, and all their concerns can be addressed by well-trained customer service representatives. For its valued clients, IIFL Finance offers a host of valued-added services. It also has an IIFL Loans Mobile app that allows borrowers to view their account statement, access the loan interest certificate and submit a query to resolve any problems.
Flexibility In Repayment:
A borrower can choose to repay the loan flexibly in equal monthly instalments, or EMIs, depending upon their income. IIFL Finance offers a variety of repayment methods to the borrowers, including through internet banking and through mobile apps such as Paytm, PhonePe and Google Pay.
Conclusion
IIFL Finance makes it really easy for you to avail a personal loan and then to repay it. The company processes a personal loan application within minutes and, if all the documents are verified, transfers the cash into the borrower's account within 24 hours.
Not only can you apply for an IIFL Finance personal loan online and submit all documents with ease, you can also repay online, and flexibly at that. On top of all this, you can also avail several value-added services. And not to forget, you also get the most competitive interest rates in the market.