5 Personal Loan Requirements To Know Before Applying
Personal loans are unsecured loans as borrowers need not put up any collateral. Read on to know 5 personal loan requirements to know before applying at IIFL finance.
20 Nov,2022
17:11 IST
13 views
2 Likes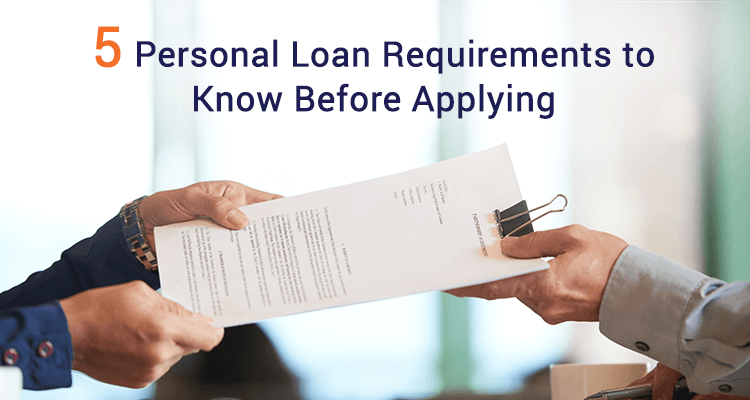 When big events sneak in silently at one's doorsteps and one needs money for these big moments to happen, a personal loan can be the most practical way to keep the hard-earned savings in the pockets. In fact, personal loans have become one of the most sought-after types of loans recently since lenders have no restrictions on the end-usage of the funds availed by the borrower.
Personal loans are unsecured loans as borrowers need not put up any collateral. So, these loans are riskier for lenders. To reduce the risk of a loan default, banks and NBFCs charge a higher rate of interest as compared to secured debt products like a gold loan or a home loan.
The personal loan eligibility criteria vary from bank to bank. The lending terms are different for salaried and self-employed individuals. Even for people of different age-groups, the lending terms change. Also, it is the primary responsibility of the borrower to repay EMIs on time. The consequences of defaulting on a personal loan can range from rejection of future loans applications to facing legal actions.
So, here are some personal loan requirements for borrowers to know before applying:
Borrow As Much As Is Required:
Loans appear to be simple products but borrowers must carefully analyse all their needs and requirements. At this point it is important to have a balance between necessities and wants. The trick is to borrow money only when needed as more loan means paying off more interest from pocket. So, borrowers must assess all expenses and borrow the right amount.
Good Credit History:
The credit score and the credit history are important parameters that most lenders consider. A credit score of 750 and above is ideal for securing a loan, but many Indian lenders offer loans at higher rate of interest to applicants with a lower credit score. Individuals can obtain their credit report and credit score from one of the four licensed bureaus approved by the Reserve Bank of India (RBI) or from their lenders.
A credit score is a reflection of the creditworthiness of an individual based on an individual's past transaction. It gives lenders an idea how well an individual is able to manage his or her credit. Based on the credit history lenders identify responsible borrowers who make timely payments.
Choose The Best Interest Rate:
The
interest rates on personal loans
are different in different banks. While some charge 10% per annum, some others may charge twice the rate. Before applying for loans from a specific lender, comparing the interest rates offered by other lenders can help to decide the best loan offer.
If the borrower is an existing customer of the lender, they can negotiate for a competitive interest rate. Borrowers can also keep an eye out for special interest rates offered on loans for a limited period during the festive season.
Repayment:
Supportive income proof document is one of the important financial documents asked by the lender. The income proof certificate helps the lenders evaluate if borrowers have enough money to cover the loan payments. Lenders also use the debt-to-income ratio to measure the portion of a borrower's gross monthly income that goes toward the monthly debt service.
Loans are a responsibility and the inability to repay the monthly dues on time can have serious implications. Repayment demands a fixed amount of monthly budget for several months. So, ideally borrowers must check their repayment ability before borrowing a loan.
Assess All Costs:
When borrowers return the loan amount on a monthly basis, they return the principal component along with the interest charged on the loan. In addition to the total principal and the interest, that are several miscellaneous expenses that the borrower has to bear for taking a loan.
For example, the processing fee is a part of the loan application and is mostly non-refundable. Some other charges include the legal and technical charges, GST, stamp paper cost, insurance premium, etc.
Borrowers must also have a fair idea of the prepayment charges and the penalty charges that may increase the overall cost.
Conclusion
For lenders, the most important criteria to approve a loan is to assess the borrower's ability to repay the loan on time. Hence, borrowers should only think of taking a loan when they can afford it. It is ideal for borrowers to close all pre-existing financial obligations before applying for a fresh loan.
Also, borrowers should review the lenders' terms and conditions and do a comparison to find the best offers on personal loans. Avoiding extra fees helps to save money.
However, every applicant's financial situation is different and unique. So, IIFL Finance offers customized
personal loans
allowing better liquidity with no compromise on your dreams. IIFL Finance offers lower personal loan interest rates, ensuring that repayment does not translate into a financial burden. With no hidden costs and charges, IIFL promises its customers the ideal loan product to fund all personal and professional emergencies.