Five Dos And Don'ts Of An Instant Personal Loan
Personal loans require borrowers to repay the principal amount plus interest to the lender. Get to know the 5 dos and don'ts for personal loans at IIFL Finance.
25 Oct,2022
19:52 IST
8 views
4 Likes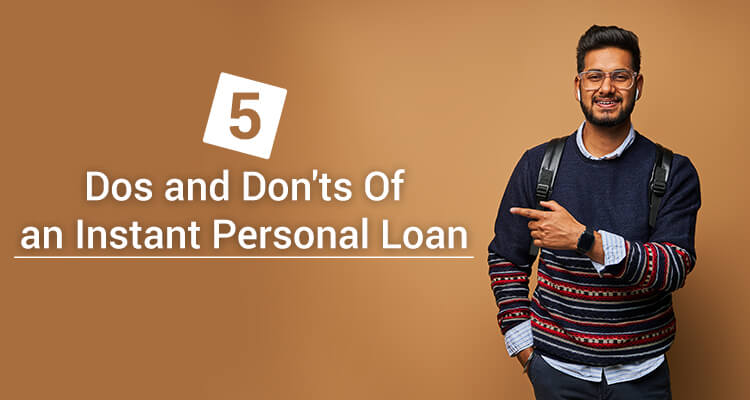 Personal loans offer an ideal capital-raising avenue where there are no restrictions on the end usage of the loan amount. Like other types of loans, personal loans require the borrowers to repay the principal amount and interest to the lender within the loan tenure. However, to avail of the best online personal loans, there are certain things you must and mustn't do during the process.
Five Do's & Don'ts Of An Instant Personal Loan
Here are five do's and don'ts to follow to
get an instant personal loan
customised for your needs.
Dos:
1. Compare Lenders:
Numerous lenders offer personal loans with different interest rates, loan amounts and tenure. Compare various lenders and their products to choose the
best online personal loans.
2. Loan Tenure:
The higher the loan tenure, the lower the interest rates. It will give you more time to repay the personal loan. Thus, choose an ideal loan tenure to adjust monthly EMIs accordingly.
3. Loan Amount:
The loan amount is the most significant factor if you
need personal loans.
It should be adequate to cover the personal expenses but not higher than required, as it may create a financial burden at the time of repayment.
4. Online Process:
Lenders have designed an online
personal loan application
process which offers approvals within 30 minutes and disbursals within 24 hours of approval with minimal paperwork. You should opt for a lender that offers an online application process.
5. Other Charges:
Personal loans come with various other charges, such as loan processing charges, MTM charges etc. You should analyse the charges levied by different lenders before choosing an ideal personal loan product.
Don'ts:
1. CIBIL Score:
Lenders have set an eligibility criterion, including a CIBIL score higher than 750 out of 900. You should monitor and make timely payments to ensure you have a 750+ CIBIL score.
2. Multiple Applications:
Lenders refer to credit rating agencies to check your creditworthiness when you apply for a personal loan. You should avoid applying to multiple personal loans in a short period as it may reflect negatively on your creditworthiness.
3. Overborrowing:
Borrowing a loan amount higher than necessary may create a financial burden, forcing you to default on the repayment. You should avoid over-borrowing and ensure that the EMIs are affordable.
4. Information:
Lenders review the information you add to the personal loan application form while reviewing all the documents. You should ensure you enter the correct information with all the required documents.
5. Timely Repayments:
After taking a personal loan, you should avoid defaulting on the EMI payments and ensure that you repay the EMIs on time. Timely repayment will increase your CIBIL score and creditworthiness.
Avail Of The Best Online Personal Loans From IIFL Finance
IIFL Finance is India's leading financial services company that provides comprehensive and customised personal loans to fulfil your capital requirement. The
personal loan
offers instant funds up to Rs 5 lakh with a quick disbursal process. You can apply for the loan online or offline by visiting IIFL Finance nearest branch and verifying your KYC details.
FAQs:
Q.1: Do I need collateral to take a personal loan?
Ans: No, you do not need to pledge an asset as collateral to take a personal loan with IIFL Finance.
Q.2: What is the loan tenure for IIFL Finance personal loan?
Ans: When taking a personal loan from IIFL Finance, borrowers can choose from a loan tenure between 3 - 42 months.
Q.3: How much time does it take to disburse the loan amount by IIFL Finance?
Ans: The lender disburses the loan amount within 24 hours into the borrower's bank account.