4 Reasons For Personal Loan Rejection And How To Avoid Them
Lenders do a more thorough check before approving personal loans. Know 4 personal loan rejection reasons & how to avoid them at IIFL finance.
6 Oct,2022
17:57 IST
53 Views
19 Likes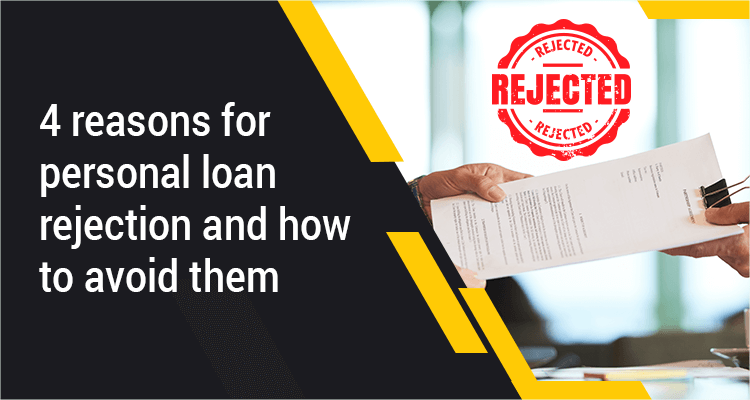 A financial crisis can be difficult to manage. But there are occasions when a straightforward remedy, like a personal loan, can be quite beneficial in handling the issue.
Commercial banks, cooperative banks, and non-banking financing companies offer personal loans to individuals to help them pay for a variety of personal needs such house improvements and medical bills.
Personal loans are usually unsecured loans. This means the lenders don't require a collateral to sanction such debts. But this also means lenders do a more thorough check before approving such loans.
While most lenders often approve personal loans without issue, on rare occasions they could turn down loan applications if consumers don't match the requirements. Here are a few main factors that can lead to loan denials.
Weak Credit Score
The first factor that every lender takes into account before issuing a loan is the borrower's creditworthiness, which is reflected in their credit score. When granting a personal loan, the majority of lenders typically favour applicants with credit scores of 750 and above. A borrower with a good credit score has more wiggle room to negotiate a lower interest rate in addition to making it easier to get a loan swiftly.
It could be a little difficult for those with credit scores below 550 to have loans accepted on the expected terms. In these circumstances, fixed deposits or using collateral to secure a personal loan may be options.
People without credit histories can approach a lender with whom they already have an established account or a payroll relationship.
Existing Loans
A large number of open loans raises a warning flag for lenders. The danger of default increases due to excessive debt, and a bank will decline a loan for this reason alone. Regardless of whether they have made their payments on time, applicants with a history of excessive borrowing may be viewed as credit-hungry and hazardous prospects.
Typically, banks investigate the type of prior loans. To obtain a larger loan amount, debtors will occasionally minimize their remaining debt obligations. Such activities, however, can backfire because credit reports are checked by every lender.
Moreover, if a person takes out many loans, there must be fewer unsecured loans than secured loans.
Insufficient Income Or Unstable Job
Since a personal loan is often given without a collateral, lenders thoroughly assess the borrower's ability to repay a loan. So, if the lenders think that the borrowers' income is insufficient, it could raise concerns about their capacity to pay back the loan on time.
Lenders may also be reluctant to approve a loan to someone with an unstable income source. A stable source of income, either via a job or business, helps convince the lender that the borrower would be able to service their EMIs timely. So, people who frequently change jobs could be seen as risky borrowers.
Incomplete Or Incorrect Documentation
The application form and other supportive documents are equally important to get a loan sanctioned. Prospective borrowers must ensure they complete the application form and submit the correct documents such as their salary or income proofs and bank statements. They must also submit the correct name, address and other personal details.
Submitting incomplete or wrong documents can prompt the lenders to reject the loan application. If the lender cannot verify the prospective borrower's credentials, it may either ask for clarifications or simply dismiss the application.
Conclusion
The first thing to do if a borrower's loan application is denied is to take a step back and figure out why. The likelihood of rejection in the future can be reduced by locating the source of the issue and fixing it.
For instance, the potential borrower should take
steps to raise their credit score
if it is poor. Additionally, borrowers should be very careful while submitting the required paperwork and make sure they have a reliable source of income to cover the loan payments.
Another point to note is that many established banks follow a strict process to approve personal loans while new-age lenders, including reputed non-banking finance companies, allow greater flexibility.
IIFL Finance, for instance, offers competitive interest rates and flexibility in repayments. It also follows a simple and hassle-free process for personal loans that ensures an application is cleared within a few minutes. The company requires only the most basic paperwork and, if everything checks out, it deposits the money into the borrower's bank account within 24 hours.