4 'I's To Avoid Personal Loan Rejection
To avoid rejection of your Personal Loan application, read these four important "I's" before applying. Visit us online to know more information.
21 Dec,2022
18:13 IST
1678 Views
891 Likes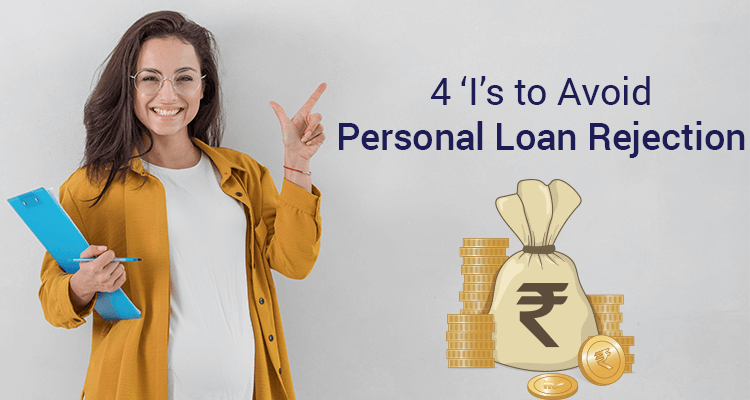 Managing a financial crisis can be challenging. There are times, however, when a simple solution, such as a personal loan, can be beneficial.
A personal loan is an unsecured loan. It means that lenders sanction such debts without requiring collateral. Nevertheless, lenders are more diligent when approving loans of this type. Lenders often approve personal loans without issue. But on rare occasions, lenders may reject applications if buyers do not meet the requirements.
Here are the four important 'I's' to follow before applying to avoid personal loan rejection.
Personal Loan Rejection Reasons and What To Do
1. Inadequate Credit Score
Creditworthiness, reflected in the borrower's credit score, is the first aspect lenders consider before issuing a loan. Typically, lenders prefer applicants with credit scores above 750 when granting a personal loan. Having a good credit score gives the borrower more flexibility to negotiate a lower interest rate, making it easier to get a loan quickly.
What To Do
Before applying for your next loan, get your credit score and report from CIBIL. Improve your credit score if it falls below 750 by following the correct practices.
Additionally, you can get a personal loan through an NBFC because they require a lower credit score than banks. Personal loans from NBFCs, however, carry a higher interest rate than those from banks.
Avoid applying for a loan from a lender without a transacting history (for example, if you do not have any savings or salary accounts). Consider approaching a lender with whom you have an existing relationship or salary account. Another fantastic option for a secure personal loan is a loan against a fixed deposit.
2. Insufficient Income
Often, lenders evaluate the borrower's ability to repay a personal loan thoroughly since such a loan does not have collateral. Lenders may be concerned about the borrowers' ability to repay a loan if they think their income is inadequate.
Someone with an unstable income source may also have difficulty obtaining a loan. The lender will be more likely to believe that the borrower would be able to service the EMIs on time if they have a stable source of income, such as a job or a business. Borrowers who change jobs frequently may also be considered risky.
What To Do
To avoid this condition, speak with your lender before submitting your application. Further, you can search for NBFCs (Non-Banking Financial Companies) where income isn't the primary factor. However, calculating your loan eligibility amount according to your income is the best way to avoid applying ruthlessly and getting rejected.
3. Incomplete Or Incorrect Documentation
It is equally important to submit an application form and other supporting documents for loan approval. Applicants must submit the correct documents with the application form, including proof of income and bank statements. You must also provide other personal information such as name, address, and telephone number.
The lender may reject your loan application if you submit incomplete or incorrect documents. Lenders may ask the prospective borrower for clarification or reject their application if they cannot verify the borrower's credentials.
What To Do
Prepare the required documents beforehand by creating the list beforehand. Take scanned copies of all documents if you are applying online. However, if you are applying offline, take the originals with you. Maintain the condition of your original documents as well.
When filling out your application form, ensure you are careful and mindful of the details. Don't overwrite but provide the necessary information precisely without spelling errors. Complete your KYC documents with your name and address. Also, before applying for a personal loan, ensure all your details are accurate.
4. Inconsistent Job Profile
As mentioned above, before lending any money to you, banks and other lenders look for stable sources of income. As a result, if you have changed jobs too often within a short period, you may be considered to have a negative profile for a personal loan.
What To Do
Maintain a good employment record to ensure your loan application is approved. Personal loan lenders generally require a minimum of three years of work experience, including one year in your current employer. The business must have existed for at least three years for self-employed individuals to acquire a loan. Depending on the lender, this may vary.
Take Advantage Of IIFL Finance Ideal Personal Loan
With IIFL Finance, you can meet your capital requirements with comprehensive and customised personal loans. Our loans are available for up to Rs 5 lakh with quick disbursement processes. IIFL Finance offers loans online and in-branch, so you can apply online or offline. Apply today!
Frequently Asked Questions
Q1. Do all personal loans verify income?
Ans. You can obtain personal loans without income verification by pledging collateral. However, many lenders require a stable income to qualify for a personal loan.
Q2. What are the documents required for a personal loan?
Ans. Personal loans require only basic identity and financial documents from new customers. Among them are:
• Two passport-size photographs
• Documents required for KYC: Aadhaar card, PAN card, voter ID, driving license, passport
• Three-month bank statements
• Last two months' salary slips