How To Get Personal Loan Without Proof Of Income
Lenders requires income proof to gauge repayment ability of the borrower. Read on to know the 3 ways to get personal loan without proof of income at IIFL finance.
1 Nov,2022
11:57 IST
234 Views
5 Likes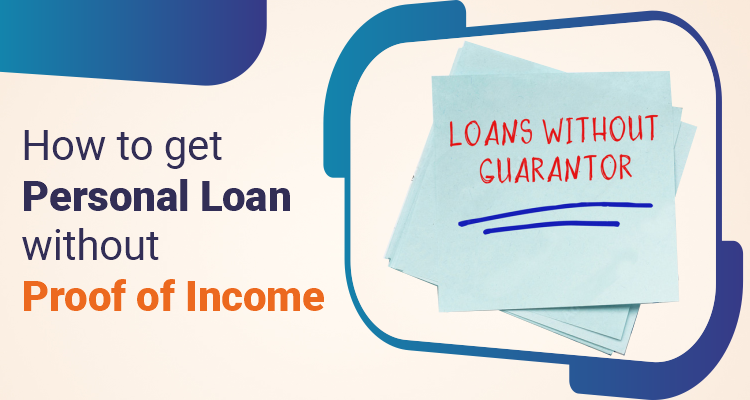 For banks or non-banking finance companies, loans are their main source of income because they help to generate revenue in the form of interest that the customer pays on the debt. When a lender sanctions a loan, it is based on trust that the recipient will repay the borrowed money with interest and on time. So, banks consider certain factors while granting a loan in order to limit the possibility of loss due to any late repayments or defaults.
To process a loan application, banks require several documents to gauge eligibility and repayment ability of the borrower. These documents are important both in the case of secured loans such as home loans and car loans as well as unsecured loans such as personal loans, which do not require any collateral.
Personal loans are one of the most popular choices of loans from banks and NBFCs since these can be used for a variety of purposes. To take a personal loan from a bank or an NBFC, borrowers need to submit KYC documents and income proof documents. Borrowers can submit any of the below-mentioned documents as a proof of income:
• Latest pay slips
• Latest bank statement showing salary credits
• Proof of employment such as an appointment or joining letter
• Income tax returns
Typically, employment proof is not required if the date of joining is mentioned in the payslip and the person has been working for more than one year.
A supportive income proof document is mandatory because it helps the lender to understand the monthly credit based on which they grant loans to prospective borrowers. But many people, especially those working in the unorganised sector or in small companies, may not have any of these documents.
So, what can someone do if they do not have a supportive document to prove their income?
Ways To Get Personal Loans Without An Income Proof
Here are a few ways which borrowers may consider while applying for a personal loan without a proof of income:
• Opt For A Joint Loan:
The best way to secure a personal loan is to opt for a joint loan. Another option to avail a loan is to bring another person as a guarantor. The co-applicant or the guarantor taking the loan is equally responsible for the debt payment. However, the co-applicant or the guarantor should be someone from the immediate family, like a parent, spouse or sibling.
• Provide A Collateral:
Personal loans are unsecured loans, meaning they do not require any collateral. But if securing a loan without income proof is difficult, borrowers can back the personal loan with a collateral. Usually, gold is the most common collateral put up by applicants to avail a personal loan without income proof. Some other forms of security borrowers can provide are land, vehicle, bonds, etc. Putting up a collateral works in favour of the borrower as it cuts the risk of default for the lender. If the borrower defaults on a loan, the borrower can recover the losses by auctioning the pledged security.
• Online Loan Application:
Mostly, all lenders offer loans only if the borrower meets the eligibility criteria and submits a handful of documents. However, there are some online lenders who approve personal loans even if one does not have an income proof. But such loans will likely carry a high interest rate. For borrowers who cannot find a guarantor or do not have a collateral to support their loan, some lenders may grant personal loans without a proof of income but at a high rate of interest to compensate for the risk to a certain extent.
Sometimes, taking a personal loan without income proof is possible for customers who already hold a current or savings account with a bank. Hence, it is important to establish a long-standing relationship with the bank.
Conclusion
Securing
personal loans
with no income proof is possible by mortgaging property documents or by pledging any other tangible asset as security. Though many lenders would hesitate to provide a personal loan without an income proof, some lending institutions may be ready to approve personal loan requests at a higher rate of interest.
So, it is good to check the eligibility criteria before applying for a loan. It also helps the borrower to get a fair idea about the amount of loan they qualify for. One of the ways to avoid high interest rates on loans is to approach a lender with a good reputation. Alternatively, borrowers can make use of pre-approved loans.
Since the
eligibility criteria for personal loans
vary from lender to lender, it is ideal to do a little research before choosing the lender. IIFL Finance offers an instant credit facility to meet the personal needs of applicants. For the ease of customers, IIFL Finance uses a fully online loan approval process that is hassle-free and helps borrowers get credit ranging from as little as Rs 5,000 to as high as Rs 5 lakh in the minimum possible time.