What Is The Interest Of 1 Lakh Gold Loan? Learn More About It In Detail.
1 lakh gold loan is the loan which will be given to the people who are in need of money. Get to know about the interest of 1 lakh gold loan here!
15 Dec,2022
10:50 IST
354 Views
1 Like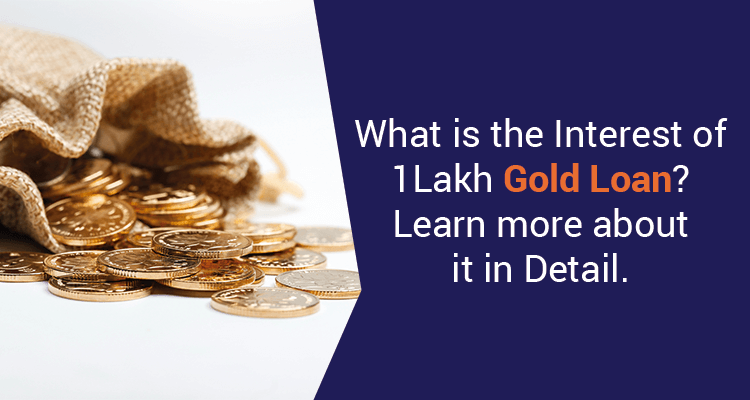 Gold loans are among India's most popular financing options considering ample collateral (gold ornaments and coins) in people's households, interest rates lower than personal loans, and ease of disbursement. Apart from rescuing cash-strapped individuals in an emergency, these secured loans can also help achieve financial stability.
However, before applying for a gold loan, you should ensure that your pledged collateral can provide you with the funding you need. Lenders often lend up to 75% of the value of the pledged gold in gold loans. Accordingly, if your gold has a market value of Rs 1 lakh, a lender will not lend more than Rs 75,000 against it. You must also consider the interest rate you receive, as most lenders offer a minimum of 9% p.a.
Therefore, what would be the interest rate if you want a gold loan for 1 lakh?
What Is The Gold Loan Interest Rate For 1 Lakh?
Lenders charge different
interest rates on gold loans
. Compared with other types of loans, gold loans for Rs. 1 lakh have lower interest rates, ranging between 9.96 per cent and 27 per cent p.a. However, various elements affect the interest rate you receive on your gold loan.
Factors Affecting Gold Loan Interest Rates
1. The Market's Gold Price
The gold jewellery you pledge will have a high value if the market price of gold is high. The lender will charge you a lower interest rate in such circumstances due to the low risk involved and the possibility of quickly recouping the unpaid balance through the sale or auction of gold jewellery.
2. Inflation
During periods of high inflation, money's value depreciates, making individuals more likely to accumulate gold as its value rises. Gold protects against inflationary conditions. Lenders may offer you a lower interest rate if you apply for a gold loan.
3. The Bank Relationship
Most lenders only lend loans to their existing clients. However, people without a banking history may still qualify. It is often easier to negotiate a lower interest rate with existing clients of banks and lending institutions.
Get A Gold Loan From IIFL Finance
Apply for your gold loan online with IIFL Finance. We also offer other services where you can check active gold loans, view your transaction history, and much more. With IIFL, you can raise funds instantly with a low-interest, attractive, and affordable loan against gold.
It's easier than ever to get a gold loan! Get your loan approved in less than 30 minutes by walking into any of our branches across India and filling out an e-KYC form.
Frequently Asked Questions
Q1. Can you partially repay your gold loan?
Ans. Yes, some gold loan schemes allow you to make partial payments. However, you will receive your gold ornaments once the loan amount is fully repaid.
Q2. How many times can you take a gold loan?
Ans. You can mortgage gold ornaments or any other form of gold as often as desired.