What Is Manufacturing Business Loan And How Can You Use It?
Learn What is Manufacturing Loan in detail & how you can utilize it so that you can set your business apart from competitors. Read Now!
19 Sep,2022
06:58 IST
35 views
5 Likes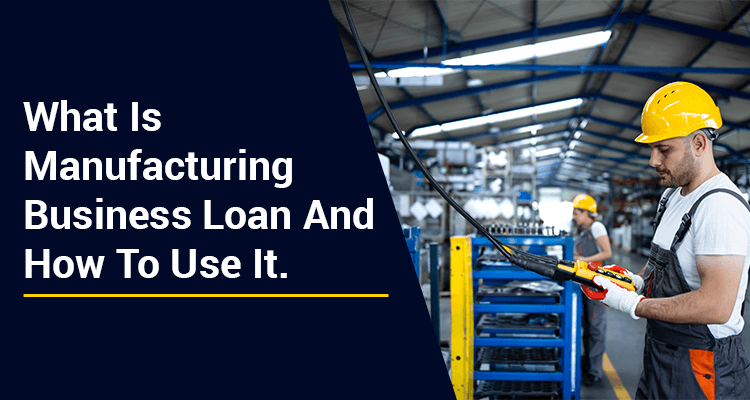 Many Indian companies are into manufacturing various products that need capital constantly. Business owners look towards taking a business loan to fulfill their capital requirement needs through a business loan aimed at manufacturing units.
This blog will help you understand everything about business loans targeted toward manufacturing units and how you can use them ideally.
What Is A Manufacturing Business Loan?
A manufacturing business loan is offered by lenders such as banks and NBFCs to businesses manufacturing certain goods. Such manufacturing businesses also need constant capital to either cover their working capital requirements or buy new equipment, such as machinery, for scaling manufacturing.
These loans allow manufacturing businesses to raise immediate capital without pledging any valuable asset to invest in various aspects of their business. Like other types of loans, borrowers are liable to repay a
manufacturing loan
to the lender with interest within the loan tenure.
Types Of Business Loans For Manufacturing and How To Use Them
Lenders have designed
loans for manufacturing units
to ensure they can raise adequate capital for their business. Here are the types of
manufacturing business loans:
1. Term Loan
A business term loan provides capital to the manufacturing business owner for the long term, usually anywhere for a tenure between 1-10 years. These types of loans are taken by business owners when they want a high amount of capital to expand their business into new territories or business segments.
2. Working Capital Loans
A working capital loan is a
short-term manufacturing loan for business owners
to fulfill their short-term capital requirements. These loans have a tenure of several months, and a business owner can use the loan amount to cover expenses related to the business's day-to-day operations.
3. Long-Term Business Loans
These loans have a longer loan tenure to allow the borrowers more time to repay the loan. Such loans result in lower monthly EMIs as the borrower has more time based on the high loan tenure.
4. Equipment Loans
An
equipment loan
, or equipment financing, allows business owners to raise immediate capital to buy equipment to ensure the operations run smoothly and the business increases sales. Such equipment loans also provide funds to business owners to upgrade or repair existing company equipment.
You can use a loan for manufacturing unit amounts for any purpose. Such loans offer numerous repayment options with quick approval, minimal documentation, and instant disbursal.
Avail Of An Ideal Business Loan For Your Manufacturing Unit.
IIFL Finance is India's leading financial services company that provides comprehensive and customised business loans in India with both short-term and long-term tenure to fulfil your capital requirement.
IIFL Finance business loan
offers instant funds up to Rs 30 lakh with a quick disbursal process. The loan for the business application process is entirely online, with minimal paperwork, an attractive interest rate, and flexible repayment options.
FAQs:
Q.1: Can I use the IIFL Finance Business Loan amount for investing in a manufacturing unit?
Ans: Yes, you can use the IIFL Finance business loan amount to invest in your manufacturing business and ensure smooth operations.
Q.2: Do I need to pledge collateral to take a business loan from IIFL Finance?
Ans: No, IIFL Finance's business loan does not require pledging any asset as collateral to take the business loan.
Q.3: What are the repayment modes available?
Ans: The loan repayment structure is flexible and offers multiple repayment modes, including standing instructions, NEFT Mandate, ECS, Net-banking, UPI, etc.