Equipment Machinery Loan Made Easy By IIFL Finance
Loan for machinery purchase helps business entities with gaining more productivity. Know all about equipment machinery loan & the reasons to avail them!
26 Jul,2022
10:24 IST
38 views
15 Likes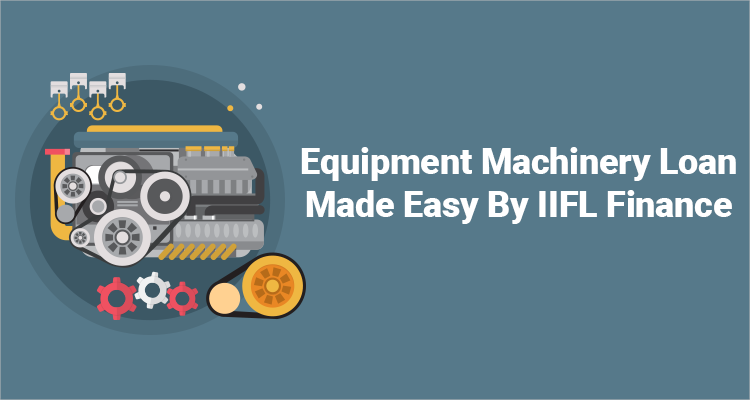 Most businesses, whether in agricultural, manufacturing or service industries, require a range of equipment to quicken and streamline the production process, boost productivity and reduce manpower. Improved productivity, in turn, leads to greater profits.
However, buying equipment once isn't enough. Machines also need to be maintained and repaired regularly and broken or obsolete equipment needs to be replaced from time to time.
But additional funds to buy equipment may not be available to every business owner. Moreover, it may not be wise to use working capital to finance the longer-term needs related to equipment and machinery. At such times, opting for equipment financing from a bank or NBFC can be the best move.
Most of the schemes supporting equipment finance for businesses are offered for set term lengths at fixed interest rates commonly between 8% and 30%. Since interest rates and repayment terms vary from lender to lender, it will be prudent to avail such business loans from a reputable lender like IIFL Finance. Ranked as one of the top financial service providers of India, IIFL Finance is a one-stop solution for all financial problems.
Criteria For Equipment Financing
Equipment finance for business means taking on a loan to purchase or upgrade tangible assets other than real estate. It can be computers, machinery, trucks and anything else that is needed to run a business.
Some of the basic criteria for qualifying for an equipment loan are:
• A healthy credit score;
• A fair estimate of revenue and cash flows;
• Purposes of equipment and business plan;
• Updated supporting documents.
Why IIFL Finance?
IIFL Finance is part of the Mumbai-based IIFL Group, one of the biggest financial services groups in India. It offers a wide variety of loans at competitive interest rates and convenient repayment terms. Borrowers can choose the loan tenor depending on their repayment capacity.
With an aim to capture a greater share of the retail loan market of the country, IIFL Finance has taken a number of steps to provide high-quality services to customers and adopt the latest digital solutions.
IIFL Finance digital initiatives are designed to minimize errors, speed up approval processes, and improve productivity. In fact, borrowers can complete the entire loan application process online without visiting the branch.
IIFL Finance WhatsApp Facility
What makes IIFL stand out in a crowded market for loans is the instant business loan application option on the messaging platform WhatsApp. In fact, IIFL Finance is the first NBFC in the country to have launched a WhatsApp facility for business loans.
IIFL Finance has partnered with Setu, a technology service provider, to complete formalities and get quick disbursal, all through WhatsApp. It is an automated system supported by a powerful artificial intelligence-driven bot.
Using the 24x7 WhatsApp loan facility, a user can simply initiate the process by sending a "Hi" message to a specified number. The user must then share the required basic details and an estimated loan amount.
The artificial intelligence-powered system validates the user's input details. Once the loan is approved, it verifies the Know-Your-Customer (KYC) and bank account details. Thereafter, the AI bot facilitates the registration process to help users receive funds in their bank accounts.
Conclusion
No business in any sector or industry can survive or grow without the right equipment. And if a machine helps save time and balance cost considerations, there should not be any second thoughts about it.
Business equipment financing helps companies to acquire advanced equipment on affordable payment terms. But before applying, it is important to weigh the pros and cons of equipment loan offers. Simultaneously, it is important to approach the right lender.
With millions of satisfied customers across the country, IIFL Finance is one of the best financial institutions to borrow money to take your business to the next level.
IIFL Finance application process is quick and simple. Moreover, you can apply online through the company's website or via WhatsApp and secure a line of credit within minutes, with minimal documentation.