Long-Term Business Loan – Meaning, Definition and Interest Rate
Long term loan is a type of credit borrowing that can be repaid over an extended period of time along with added interest and fee. Read to know the complete details here!
29 Jan,2023
11:29 IST
2642 Views
1047 Likes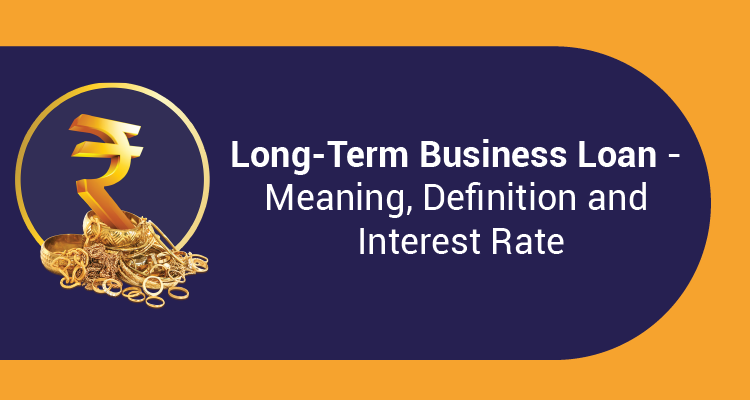 A business venture needs money and human resources to scale up. This could be for working capital needs like meeting day-to day-expenses such as utility bills for an office or factory, paying salaries to employees and so on. But businesses also need investment for future growth. This could be for expanding a production facility or hiring more people and setting up additional branches in the future and so on.
One way to meet such expenses is to pump in equity in the venture from the owners or via new external shareholders. But it is advisable to also look at alternative modes of finance such as a business loan.
For small amounts, the business loans are often taken for a few months to one-two years. These are typically loans worth Rs 50,000 to Rs 5 lakh, and don't require the borrower to submit a collateral to the lender.
However, for larger sums, depending on the requirement and the repaying ability of the venture itself, entrepreneurs have the option to go for a long-term business loan.
Long-Term Business Loans
These loans have several features to distinguish form short-term credit. Here are a few:
Large Sum:
The biggest feature of a long-term business loan is that one has the option to borrow a larger sum. So, if the financial requirement of a venture is large, then a long-tenure loan becomes an obvious—and the only—choice.
Flexibility:
Unlike small amounts borrowed with a repayment period of a few months, a long-term business loan brings additional flexibility in terms of payments. While borrowers can negotiate various repayment structures, some common forms involve a step-up facility where the equated monthly installments (EMIs) increase over time as the business cash flows increase. Another option that one can avail is where the EMIs essentially capture only the interest dues and the principal amount borrowed can be repaid in one shot at the end of the tenure.
Low EMIs:
Since the repayment period is spread over a longer term, the EMI shrinks to more manageable levels. This becomes important for a business that has low cash inflows at the time of taking out the loan and would like to keep the repayment outflows at a level that can easily be serviced.
Collateral:
Entrepreneurs have the option of availing either a security-backed business loan or one that doesn't require any collateral. In the case of the former, the maximum amount of the loan is linked to the value of the collateral after adjusting for a buffer in the form of a loan-to-value ratio. In simple terms, secured loans are advanced for up to 60-70% of the value of the collateral being furnished by the borrower.
In the case of collateral-free business loans, borrowers do not have to put up any security. But this restricts the amount that can be availed to Rs 30-50 lakh in most cases even though some lenders do sanction Rs 1-2 crore, too.
Interest Rate:
Lenders usually charge a higher interest rate for short-duration loans as compared to a long-term business loan. This also benefits the borrower if one is opting for a longer tenure.
Factors and Documentation For Long-Term Business Loans
There is usually higher risk associated with a long-term business loan as the repayment period is longer. In that period, which could stretch 10 years or more, the borrower could face more risk elements as against factors that could affect in the short term. Therefore, lenders assess these loan applications more closely.
There are some basic criteria such as the minimum and maximum age of the business owner. This varies between 21 and 26 years depending on the lenders.
At the same time, lenders also look for a minimum vintage, or age, of the business. Some insist on minimum three years of operations while others accept applications of businesses that are even younger.
Lenders also have a list of sectors or business domains where they would not like to advance a loan but outside of this negative list, a borrower can avail the money. Another aspect for a business loan is that lenders do not advance a loan to charitable organisations, NGOs and trusts.
Besides the basic know-your-customer (KYC) requirements such as identity and address proof, lenders ask for some other documents. In addition to the loan application form duly filled, borrowers also need to furnish PAN card details, the most recent 12 months' bank statement of the operating business besides the GST registration certificate. Some lenders may also insist on other documents such as incorporation papers.
Conclusion
A long-term business loan is an excellent way to finance expansion plans of a venture. These loans can be availed either against a security or without a collateral. Typically, such loans can be repaid in as long as 10 years though in some cases lenders could approve a longer period. The interest rate charged for a long-term business loan is lower than that for a short-tenure loan and the EMI is much lower as the repayment period is spread out.
IIFL Finance offers collateral-free business loans of up to Rs 30 lakh that can be repaid within 60 months at competitive interest rates. What's more, it offers a quick loan approval process compared to its peers and instant disbursal. IIFL Finance also offers secured business loans of up to Rs 10 crore for a tenure that can stretch up to 10 years.