A Guide To Collateral Free Business Loan
Want a business loan without security? Follow our simple step by step guide to get the collateral free business loan instantly. Visit to know more!
14 Sep,2022
11:57 IST
20 views
9 Likes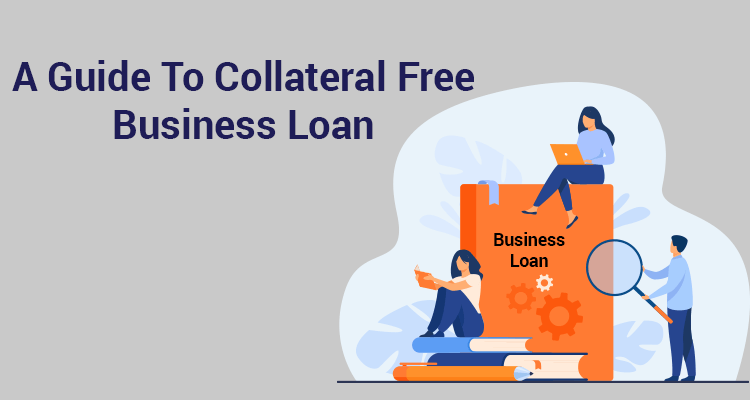 Running a business includes many responsibilities, i.e., operations, marketing, financing, and other aspects. Thus, many businesses opt for business loans to form and expand themselves in these areas. Raising funds from VCs and angel investors is challenging in these volatile markets. Hence, a business loan is an easier way to raise funds.
If you feel overwhelmed about various facets of the business loan, this article is for you. Read on to get a guide to collateral-free business loans.
What Is A Collateral-Free Business Loan?
A collateral-free business loan is a business loan without collateral sanctioned to the borrower. Simply put, a lender loans you the money at a fixed rate, even if you haven't posted any assets or collateral. It is also called an unsecured business loan.
Collateral-free loans make it easier for businesses to avail of the loan without holding their assets at stake. It has the least documentation requirement, flexible tenure, low-interest rates, and quick approvals.
What Are The Eligibility Criteria For Getting An Unsecured Loan?
You can reduce the rejection chances of your collateral-free business loan by calculating the eligibility criteria in advance. Some of the essential eligibility criteria for a collateral-free loan scheme are:
• You must be an Indan citizen
• You must be self-employed
• You should fall under the age group of 26-66
• You must provide proof that you have been in business for at least three years
What Are The Documents Required To Avail Of A Collateral-Free Business Loan?
You should keep the below documents handy while applying for a loan:
• Aadhar Card/ Passport/ Driving License
• Pan Card
• Bank Account Statement for the past year
• Income Tax Return (ITR) of the past year
• Lender-specific document requirements
How To Apply For A Collateral-Free Business Loan?
Follow the steps below to apply for a collateral loan:
Step I: Find The Best Lender
Conduct thorough research on different lenders that provide a collateral-free business loan and select the most suitable one according to your financial needs.
Step II: Keep Your Documents Ready
Keep the required documents handy that your lender might require while applying for the loan. The necessary documents include PAN Card, Aadhar Card, Utility bills, and any other suggested documents.
Step III: Duly Filled Application Form
You need to fill out the loan application form completely and accurately. Make sure you fill in all the details without fail to avoid application rejection.
How Do You Increase Your Chances Of An Unsecured Loan?
While there is no sure-shot way to get an unsecured loan, the best practices include
1. Credit History:
Before applying for a loan, maintain a good credit history and score. If not, try to improve it before making any loan applications.
2. Business Plan:
Typically, it is good to have a well-defined business plan. Business loan providers often base their judgment on the potential of your business idea.
3. Miscellaneous Criteria:
Maintain a good online presence and reputation. It will help the potential lender understand the true purpose behind using the funds.
Apply For A Business Loan With IIFL Finance
IIFL Finance is a
leading business loan scheme
provider to MSMEs. We offer quick loans that are perfect for MSMEs with small financial requirements up to INR 30 lakh. You can check the business loan interest rate at your nearest IIFL Finance branch or online.
The entire process, from application to disbursement, is 100% online. The disbursals are quick and take 24-48 hours. You can fulfill various business needs and repay them per your preferred cycle. Apply for an IIFL Finance business loan today!
Frequently Asked Questions
Q.1: Is it difficult to get a collateral-free loan?
Ans: With various government schemes, it is not difficult to get a collateral-free loan. However, you must have a good business plan and credit history to increase your chances of qualifying for a collateral-free loan.
Q.2: What are the eligibility criteria for unsecured loans?
Ans: The primary criteria to avail of unsecured loans include:
• You must be an Indian citizen
• You must be self-employed
• You should fall under the age group of 26-66
• You must provide proof that you have been in business for at least three years