Is A Long-Term Business Loan Right For Your Company?
Long-term business loans provide large amounts to make necessary investments. Is a long-term business loan is right for your company? Read to know!
20 Dec,2022
12:00 IST
1346 Views
680 Likes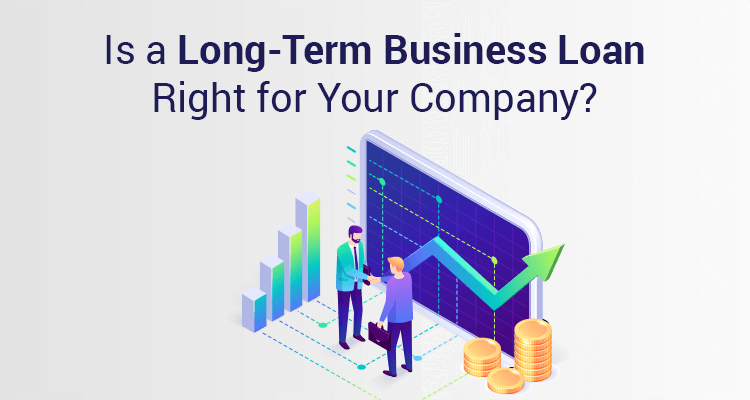 Funding greases the wheels of a business. While some businesses bootstrap themselves, others opt for angel investors or VCs, while some rely on lending institutions. However, knowing whether a long-term business loan is right for your company can take time and effort.
What Is A Long-Term Business Loan?
When you apply for a
long-term loan,
the business lender will give you a lump sum of cash. Typically, you can use this loan amount for business needs such as
• Property, plant, or equipment
• Stock
• Payroll
• Cash flow
• Debt refinancing
• Expansion project
• Marketing expenses
After receiving a small business loan offer, you repay it with a fixed payment with interest and other fees.
Long-term business loans
are repaid monthly over several years. However, the term of the loan depends on many factors determined by the lender.
What Are The Advantages Of A Long-Term Business Loan?
Long-term business loan
programs can provide large amounts of cash to purchase expensive equipment, expand staff, and make other necessary investments.
Long-term loans
have many advantages compared to Business Administration loans, like
• Lower interest rates
• Fixed payment terms
• Monthly Payments
• Lower fees (compared to other funding options)
What Are The Disadvantages Of A Long-Term Business Loan?
However,
long-term loans
for SMEs also have some disadvantages such as
• The approval process can take a long time, particularly if you apply for a long-term bank loan.
• For more extended periods, additional documentation may be required.
• You may need a strong credit history to qualify for a long-term business loan. If you have a poor credit history, you should instead focus on improving your business and personal credit scores.
• A large lump sum eats up all the credit available to a business. As a result, less working capital may be available in the future.
Should You Apply For A Long-Term Business Loan?
Appropriate business financing options will depend on your current situation and funding needs. The following section will help you decide if a
long-term business loan
is right for you.
1. Long-Term Lenders Prefer Established Companies:
Long-term business loans
often involve large sums of money. Therefore, lenders prefer to work with established companies that generate substantial income for at least a few years. Often these lenders have operating hours requirements that exclude businesses that are not open for a specified period.
2. Lenders Need To Be Confident In Their Investments:
Long-term business loan
lenders usually prefer companies with good credit. A credit rating indicates the likelihood of repaying a loan in full and on time. Given the risk of extending loan terms, business lenders pay close attention to your creditworthiness and business history.
3. Long-Term Business Credit:
It is an essential obligation for companies. A long-term business loan signifies a contract that significantly impacts the company's finances.
It is also important to remember that incurring business debt is an obligation. Long-term debt remains on the books for a significant period, which can increase risk. If a recession hits or market conditions change, you may land circumstances that force you to make inflexible loan payments. Therefore, it's worth reconsidering the necessity or purpose before taking out a long-term loan.
If you are unsure about repaying a long-term loan, take a short-term loan first. For example, let's say you can repay a business loan responsibly but need more financing. In this case, the business lender may be willing to offer more loans with extended terms in the future.
Avail Of A Business Loan From IIFL Finance
IIFL Finance provides safe, quick, and hassle-free loans at affordable rates. The processes are swift, with minimal paperwork, instant transfers, competitive interest rates, and flexible repayment schedules.
Avail of the benefits and apply for a business loan with IIFL Finance today!
Frequently Asked Questions
Q.1: What are the eligibility criteria for a long-term business loan?
Ans: While the eligibility criteria highly depend on the lender for long-term loan applications, they include the following.
• The borrower must be self-employed, owner-occupied, private limited stock companies, or partner companies engaged in manufacturing, trading, or servicing.
• The minimum company turnover must be INR 400,000 (changes according to the lender).
• Have at least three years of work experience, with a total of 5 years of work experience.
• Have a profitable business in the past two years.
• The company's minimum annual income (ITR) must be Rs. 15,000 rupees per year.
• Applicant must be 21 years or older at the time of loan application and 65 years of age or younger at the time of loan term.
Q.2: Is a credit score required for a business loan?
Ans: A credit score of 750 and above is a safe score to qualify for a business loan.