Documents Required For MSME Loans
Getting an MSME loan is very easy and quick. Get to know the list of documents required for MSME Loan to understand the nature of business, etc by IIFL Finance.
13 Sep,2022
12:31 IST
26 views
7 Likes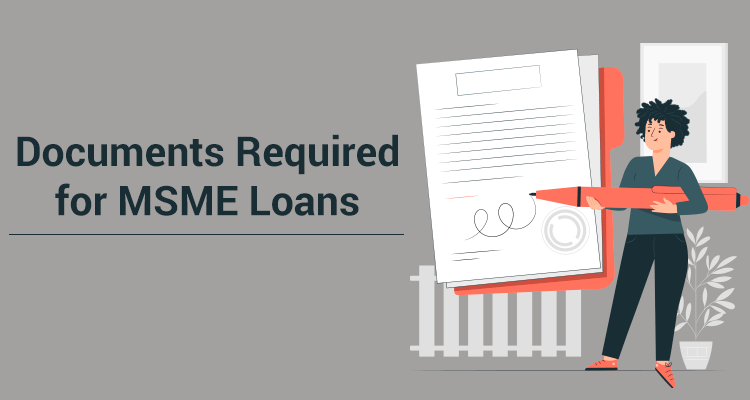 The Micro, Small, and Medium Enterprises (MSME) sector is a significant contributor to India's entrepreneurial spirit, generating employment for its people and advancing its socio-economic state of affairs. Furthermore, they contribute ~30% to India's nominal GDP. With the proper support, MSMEs can push India's growth trajectory upwards. MSME loans are ideal because of their potential and the consistent flow of funds that young and budding enterprises need.
What Are MSME Loans?
MSMEs may avail of financial assistance in the form of loans to aid their growth, expansion, and development. MSME loans are helpful for multiple purposes, such as meeting working capital requirements, installing new machinery/equipment, procurement of fixed assets or inventory, etc.
Lenders are very particular about the documentation submitted to them to award MSME loans. These documents help them understand the nature of business, profitability, ownership, et al. Hence, to procure funds quickly and easily for your MSME, make sure your documents are in order.
Documents Required For MSME Loans
• Identity proof - Aadhaar card, driving license, PAN card, passport, voter ID.
• Address proof - Lease agreement, ration card, utility bills like telephone or electricity bills which are not more than three months old.
• Business proof - MOA, AOA, certificate of incorporation, trade license, partnership deed, registration certificate, sales deed, GST registration certificate.
• Financial documents and income proof -
◦ Last two years' Income Tax Return (ITR),
◦ Last two years' audited balance sheets and profit & loss statements,
◦ Last six months' bank statements, projected turnover, etc.
• Business plan (this helps in understanding the business, industry, and growth prospects before sanctioning the loan).
• MSME certificate or Udyam Registration Certificate.
• Duly filed and signed application form with applicants' photographs.
Get Your MSME Loan From IIFL Finance
MSME credit growth is a testimony to the
benefits of getting an MSME loan
. As per the RBI, the credit growth in micro and small industries rose to 33% in May 2022, against 8.9% in May 2021. So, lift your
small business
to greater heights by availing of a loan from IIFL Finance. It is quick, hassle-free and 100% online - directly from the application to disbursement!
FAQs
Q1: Who is eligible for MSME loans?
Ans: MSME loans can be availed by self-employed professionals, entrepreneurs, sole proprietorships, start-ups, partnership firms, Limited Liability Partnerships (LLPs), etc. However, businesses falling under the retail trader segment, training or educational institutions, and agricultural and self-help groups are not eligible for MSME loans.
Q2: Is credit score important for availing of MSME loans?
Ans: A good credit score (750 and above) is always an added advantage.
Q3: Are MSME loans always secure?
Ans: MSME loans can be both secure and unsecured. It depends on the borrower, their repayment capacity, and the terms and conditions of the financial institution.