What Are The Benefits Of An MSME Loan?
MSME loans offer a lot of benefits to MSMEs in terms of high loan amount. Read to know the top 5 benefits & various features of msme loan here!
10 Aug,2022
09:43 IST
37 views
11 Likes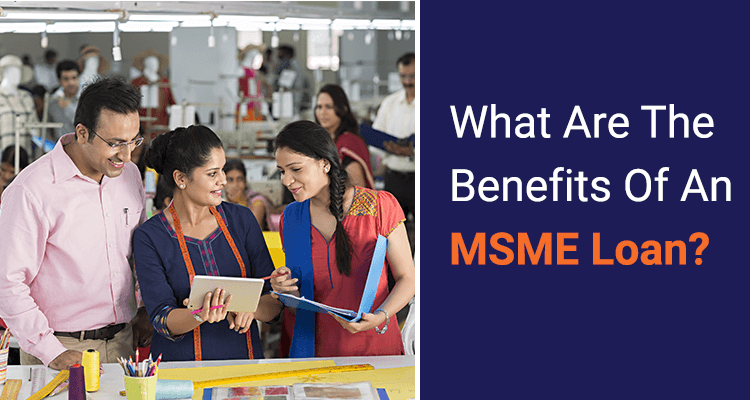 MSME loans cater to the capital requirement needs of Micro, Small, and Medium Enterprises. Such companies do not have a high authorized capital or annual turnover. They need MSME business loans to expand or fund their business operations by purchasing new machinery and equipment, hiring new employees or meeting other working capital requirements.
Financial entities such as partnerships, manufacturing units, sole proprietorships or service-based micro, small and medium enterprises are eligible to take an MSME loan.
Features Of MSME Business Loan
By applying for a loan for MSME, companies can ensure they raise adequate capital for their business requirements. Its features include:
• It creates a credit line for companies in the MSME sector
• The tenure for such MSME loans is a maximum of 15 years
• MSME loans can be secured and unsecured
• The borrower can choose between secured and unsecured loans based on the interest rate and repayment ability
What Are The Benefits Of MSME loans?
Business loans for MSMEs have become an ideal financial product chosen by entrepreneurs to raise immediate capital for their businesses and invest effectively in all the included business factors. Here are some of its benefits:
1. Capital Requirements
The primary reason for taking a business loan for MSME is the usage of the loan amount. Most MSME owners apply for a loan to fund business expenses such as paying rent, buying machinery, hiring employees, buying hardware or software etc. Taking a business loan instead of using your finances is advisable since such purchases can be expensive.
2. Interest Rates
Lenders attach the most attractive and affordable
interest rates
to business loans for MSMEs as they are critical to the economy's growth. Compared to other loan types, MSME business loans come with lower interest rates, mitigating the possibility of a financial burden on the borrower. It ensures that the highest possible amount is available for business needs and the slightest portion is spent on interest payments.
3. Business Control
Every business goes through ups and downs to changing customer interests and the ever-changing external market. As a small business owner, you might face financial crunch and cash shortages from time to time. You might have to give up a company stake if you try to raise cash using funding from investors or venture capitalists. In such a case, an
MSME loan
can ensure that your business remains in your control by infusing positive cash flow.
4. Collateral-Free Loans
One vital benefit of a business loan for MSMEs is providing the loan amount without the need for pledging any asset as collateral. MSME business loans are entirely collateral free to assist companies that do not have high-value assets to keep as collateral with the lender to raise adequate capital and fund business activities.
5. Short-Term Commitment
Repayment of a loan creates a financial obligation for the borrowers who have to pay regular interest over the loan tenure. However, MSME loans can fulfil the short-term capital requirement for a business without creating any long-term financial commitment for the borrower. It also ensures effective cash flow management as there are no long-term debt obligations.
Avail An MSME Loan From IIFL Finance
IIFL Finance is India's leading financial services provider with loan products such as MSME business loans. Such loans are collateral-free with attractive interest rates and tailor-made for MSMEs with less financial needs. You can apply for the loan online by verifying your KYC details or visiting IIFL Finance nearest branch. The loan application is paperless, with only minimal documents needed.
Frequently Asked Questions
Q.1: Can I avail of a loan under MSME with IIFL Finance?
Ans: Yes, you can apply for MSME loans if you operate in the MSME category. The rates of interest on MSME loans begin from around 7.65% annually. The loan sanctioned ranges between Rs. 50,000 up to a few crores.
Q.2: For what activities can I use the MSME loan amount?
Ans: There are no restrictions on using the loan amount as long as it is for funding business activities.
Q.3: Does MSME loan interest attract GST?
Ans: No, MSMEs will not need to pay GST liabilities since businesses having a yearly turnover of less than Rs 6 crore stands exempted from this rule.