What Is The Minimum CIBIL Score For Personal Loan Approval?
Lenders measure the creditworthiness of the borrowers before granting loans. Know the minimum CIBIL score required for personal loan approval!
30 Oct,2022
12:49 IST
13 views
8 Likes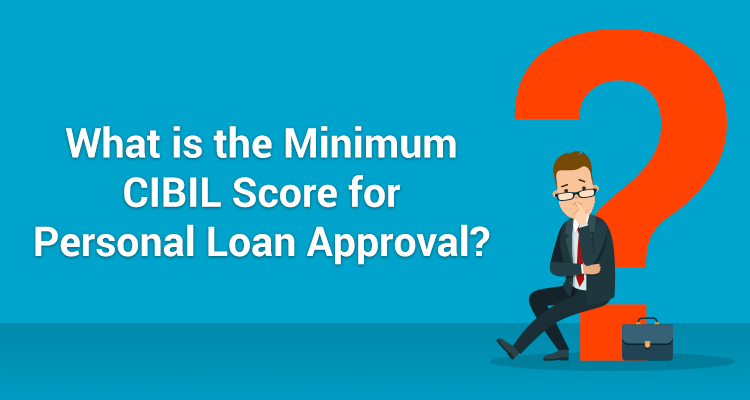 Personal loans are among the easiest ways to fund emergency needs such as unexpected medical expenses, or even planned expenses such as house renovation and education fees. They are easy to get due to less documentation and are usually collateral-free.
But personal loans may command slightly higher interest rates than most secured loans as they are riskier for lenders since they don't require any collateral. Lender such as banks and non-banking financial institutions (NBFCs) have to measure creditworthiness of the borrowers carefully before advancing personal loans.
Hence, it becomes important for anyone applying for a personal loan to have a strong credit profile. One of the ways for the lenders to judge the credit profile is the CIBIL score.
What Is A CIBIL Score?
A CIBIL score is like a report card of a borrower. It is a three-digit number that marks the borrower on a scale of 300 to 900, with 900 denoting maximum creditworthiness. The higher the score, the chances of availing a personal loan increase and so do the prospects of getting an affordable rate of interest.
An individual having a score above 750 can get personal loans at cheaper interest rates. On the other hand, lenders would typically avoid those having a score less than 600. The CIBIL score is a dynamic rating and keeps improving or deteriorating with monthly credit repayment behaviour of the borrower. Those with a lower credit score can work on improving their repayment history to avail loans at more affordable rates.
Minimum CIBIL Score For Personal Loan
Typically, a score of 600 is seen as the lower limit for availing a personal loan. However, a score of 700-750 is considered a "good" score. A good score makes the task easy for loan processing, lower interest rates and higher sanction amount.
One can still avail a personal loan below the 700-mark but it may mean a lower amount and a higher rate of interest to compensate for the borrower's riskier profile.
What To Do In Case Of Low CIBIL Score?
The CIBIL score is arrived at analysing the
loan repayment
behaviour of the borrower. If a borrower has struggled to repay loans in a timely manner in the past, they still stand a chance to improve it. Timely repayment of existing loans and outstanding amount on credit cards can positively affect the CIBIL score over a period of time. On the other hand, a default will reflect in the credit history and will bring down the score.
So, a person with a low credit score must work towards improving the score. These are some ways through which a borrower can increase their CIBIL score.
• Use credit lines responsibly and do not borrow more than what you can repay.
• Use your credit card or any other type of borrowing wisely.
• Avoid late or missed payments.
• Maintain a low credit utilisation ratio and do not exceed 30% of the credit card limit.
• Make sure to pay the unpaid amount and close the account and not go for a settlement. Do ensure that the account gets a "closed" status.
• Review the credit report as any incorrect information could bring down the score without any fault.
Conclusion
The
CIBIL score
is the most important parameter that lenders consider while approving a loan. But a borrower need not necessarily have a very high score to get a personal loan. A borrower with a score under 700 still stands a chance to get a personal loan sanctioned.
A higher credit score increases the scope of lenders lowering the rate of interest and increasing the amount of the loan.
A borrower seeking a personal loan must approach a reputed bank or a non-bank lender such as IIFL Finance. IIFL Finance offers greater flexibility, faster approvals and easier repayment terms than most traditional banks.
IIFL Finance offers swift approval for personal loans up to Rs 5 lakh at attractive interest rates and for tenors ranging from three months to three-and-a-half years.