6 Tips To Pay Off Personal Loans Early
Want to repay your personal loan faster? Follow these 6 tips to pay off your personal loan early. Visit to know more here!
27 Oct,2022
18:46 IST
16 views
2 Likes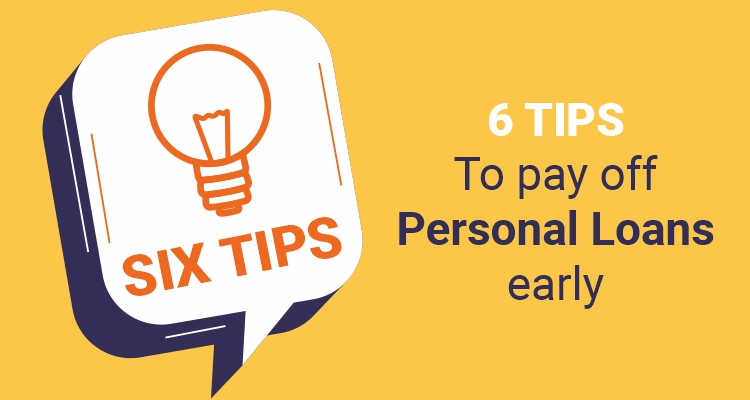 Acquiring debt creates an obligation to repay the principal amount with interest. Therefore, you must have a strategy to determine how you will fund your EMIs and eventually repay the entire amount. It's best if you have a regular income source that you can use to pay your EMIs and daily expenses smoothly. However, if you have the resources to pay off the personal loan early, you should consider it.
This article explains the benefits of the
personal loan early repayment
and tips to achieve the same.
Is It Right To Pay Off Personal Loans Early?
You can save on interest and improve your credit score if you can afford a
personal loan early repayment.
However, you should do so if you have the budget and your chosen lender does not charge an upfront penalty.
It's a good idea to have at least 3-6 months of emergency savings before considering prepaying your loan. If you make the minimum monthly payments, your credit score will maintain its level. However, paying off the loan earlier will improve your daily budget and avoid additional interest.
Tips To Pay Off Personal Loans Early
Paying off a personal loan
earlier has its pros and cons. While you get to save money on interest and reduce your debt burden, you may have to pay a prepayment penalty. It can also affect your credit score. However, consider these tips if you decide to
close a personal loan early
after the cost-benefit analysis.
1. Analyse Your Debt Obligations
Start reviewing all your debt, from credit card balances and mortgages to unpaid medical bills. Write down the amount owed, the applicable interest rate, and the minimum payment requirement for each item. Knowing what you owe can help you choose the right debt consolidation strategy based on your situation.
2. Split Up Your EMIs
Splitting a monthly payment into two biweekly payments is the easiest way of speeding up the payment process. For example: If your EMI per month is INR 500, you can pay INR 250 each month in two instalments and add another INR 100 to your principal balance. This allows you to pay off your loan faster while enjoying the credit benefits of regular payments.
3. Boost Your EMIs
Even if you don't have enough extra income to make a large monthly payment, you can still make extra payments from time to time to reduce your debt. Consider using additional income from bonuses and reducing unnecessary spending. The trick is to change your habits and set aside a budget for further loan payments.
4. Refinancing
Debt refinancing allows you to convert your existing debt into new loans with lower interest rates or a different repayment schedule. Refinancing your loan will reduce your monthly payments and help you get out of debt faster.
5. Pick The Right Account For Your EMIs
Withdrawing money from your broker or savings account to pay off your debts is not your best bet. This way, you may not offset the interest you earn on your savings against the interest you pay on your loan. Deposit monthly payments into your checking account for easy access to your funds.
Avail Of A Personal Loan With IIFL Finance
IIFL Finance is one of the leading personal loan providers. Get competitive interest rates and instant loan approvals. The
personal loan approval process
is 100% online, and you can repay the loan from anywhere at any time.
Check our website or visit the nearest branch today.
Frequently Asked Questions
Q.1: What is a prepayment penalty?
Ans: A prepayment penalty is a fee some lenders charge if you prepay all or part of a loan. All lenders don't charge prepayment penalties.
Q.2: How to calculate personal loan early repayment?
Ans: You can determine the personal loan early repayment amount using IIFL Finance calculator to determine the prepayment consequences.