Personal Loans That Give You Tax Benefits
A personal loan is one of the easiest options when someone is facing a shortage of cash. Read on to learn about personal loans that give you tax benefits at IIFL Finance.
30 Dec,2022
12:58 IST
1964 Views
1269 Likes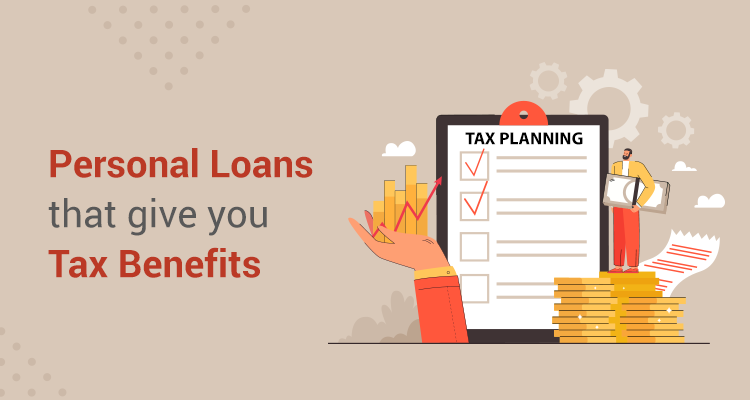 A personal loan is one of the easiest and quickest options when someone is facing a shortage of cash. An individual can use a personal loan for a number of things, such as meeting medical expenses of self or family members, college costs of children, a dream vacation, or even to make a down payment on a home that they have been wanting to buy.
Personal loans are offered by almost all banks and non-banking financial institutions (NBFCs). There is also a huge unregulated industry of moneylenders that offer such credit in semi-urban and rural areas, albeit at much higher interest rates. But it is always prudent to borrow from a well-known and reputed lender, particularly those that are regulated by the Reserve Bank of India.
Borrowers can take out personal loans without submitting any collateral as long as they have a good credit history and a credit score that is above average. Customers can also expect to receive a lower interest rate with a higher credit score.
Taxability Of Personal Loan
When a bank or an NBFCs disburses the personal loan into the borrower's account, it will reflect in the bank statement. But this money is not counted as the borrower's income, so no tax is payable on this money.
Similarly, personal loans generally don't provide any tax benefit to the borrowers. However, banks and NBFCs don't usually impose any restrictions on the usage of personal loans, so borrowers can even use the money in a few ways that can help them save on tax.
Here are a few such ways that can help borrowers save on tax while using a personal loan.
Repaying A Mortgage:
If the money is being utilised to purchase a home, Indian income tax laws allow buyers to claim deductions on the interest paid toward any loan. A personal loan will also be eligible for this benefit. As a result, borrowers are permitted to deduct up to Rs 2 lakh in interest from their yearly income. This can result in a yearly tax savings of around Rs 60,000, assuming a 30% tax bracket.
Business Expenditures:
If you borrow money on a personal loan to utilise for your business, you may be able to deduct the interest from your taxes. This can reduce the amount of tax the corporation owes and free up funds for the business.
Asset Purchases:
If borrowers use the personal loan to buy assets such as shares, gold or jewellery, they can deduct the interest paid on the loan while computing capital gains tax when they sell the assets. This can help lower the total tax payout on the sale of such assets.
Conclusion
In general, personal loans don't provide any tax benefits to borrowers since these products are not designed for this purpose—unlike other credit offerings such as a home loan. However, if the money borrowed via a personal loan is used for some particular purposes, an individual can save tax.
While a large number of banks and NBFCs provide personal loans, it is better to seek a loan from a reputed lender such as IIFL Finance. The company, one of India's largest NBFCs, has a nationwide network of branches that prospective borrowers can visit to borrow money. IIFL Finance also offers personal loans via a fully online application process that can be completed within five minutes. The application and the related documents are also verified within minutes and the money is transferred into the borrower's bank account within 24 hours.
Equally importantly, IIFL Finance allows borrowers to repay the loan in easy installments through a variety of payment modes. The company provides personal loans of up to Rs 5 lakh at market competitive interest rates and repayment tenors ranging from three months to 42 months.