Minimum CIBIL Score For Personal Loan You Must Have For A Hassle-free Approval
Dive into this guide to know the minimum cibil score required to get your personal loan approved easily. Visit to know more here!
5 Nov,2022
17:37 IST
38 Views
4 Likes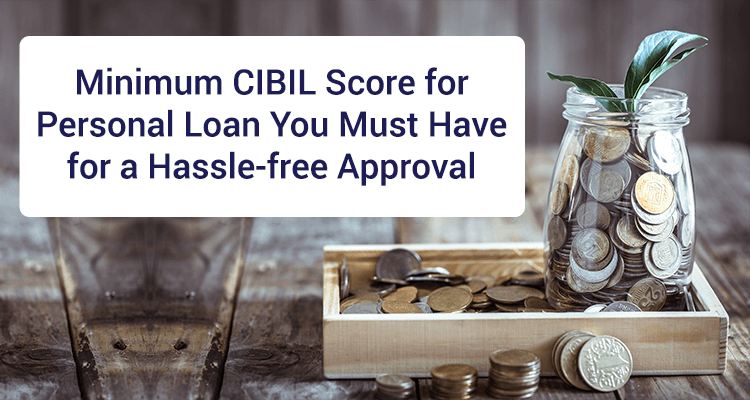 We have a number of options to meet our short-term cash needs. This can be via dipping into savings or asking friends and family for money or via a formal loan from a bank or a non-banking finance company (NBFC).
However, at times the savings are not enough to cover for the expenses and one would like to avoid the embarrassment of asking friends and family members for money. A short-term debt in the form of a personal loan is a good way to meet the expenses at such times.
A personal loan comes without any collateral and can be taken quickly.
But there are a few points one needs to keep in mind. Since this is an unsecured loan, banks tend to depend on their assessment of the borrower's creditworthiness to approve a loan application. Even if one's income is large enough to pay equated monthly instalments (EMIs) it may not be enough to nudge lenders to give money.
CIBIL Score
Lenders look at creditworthiness of a borrower to decide whether they should approve the loan application. Although a subjective factor, creditworthiness is captured based on one's past credit behaviour and current credit profile.
It is represented by the credit score or CIBIL score, which is in the form of a three-digit number. This number lies in the 300 and 900 range and looks at various aspects including one's repayment track record, current debt level or credit utilisation, types of loans outstanding and queries for fresh credit.
In other words, if one has been paying their EMIs as per schedule without any delays or defaults it adds to the score. The amount of outstanding loans, which is not just the total loans as on date but also covers credit card utilisation level, is also factored. As a result, if one has maxed out the maximum limit for all credit cards, even if he or she has no other outstanding loans, it is counted as a negative in the credit score.
Another point that is covered in the CIBIL score is the credit mix. If only has a bunch of unsecured loans, it decreases the score. On the other hand, if the person has a mix of secured and unsecured loans, it balances out the score.
At the same time, if a person has been approaching multiple lenders for loans, all of those credit queries get counted and the more one keeps looking around it decreases the score.
Minimum CIBIL Score For Personal Loan
The CIBIL score is an important factor for taking most type of loans. But it becomes even more critical for an unsecured loan like a personal loan. This is because lenders of all type, be it banks or NBFCs, use it as the first filter to pick and choose loan applications for approval.
Most lenders have fixed a CIBIL score of 750 or more to consider a person as having high creditworthiness.
If one has a score about this level, a personal loan is all but approved. What's more, a level like this makes for a hassle-free and swift approval process. It also comes with low interest rate and with more attractive repayment terms and conditions.
This is not to say that if one has a lower CIBIL score, he or she would not be able to avail a personal loan. Different lenders have different benchmarks and some are open to lending even with a low score of around 600, albeit with a higher interest charge and with additional scrutiny.
To be sure, a score of 550 or less makes it almost impossible to get a personal loan.
But, if one is looking at a hassle-free process and a quick turnaround time for approval and disbursement of a personal loan, one should aim to have a CIBIL score of 750 or more. If one does have a lower score, they should ideally look to improve it for a quick approval in the future.
Conclusion
A personal loan is an unsecured loan and comes without any need for putting up a collateral in favour of the lender. This makes the CIBIL score critical for availing it as all lenders use it as a primary lens to evaluate a loan application.
The CIBIL score has a wide range of 300-900 but there is a threshold level of 750 and above which is considered imperative for classifying a borrower as one with good creditworthiness. So, if you are seeking a hassle-free approval and attractive terms of loan, be it repayment conditions and interest rate to be charged, you should look at attaining a CIBIL score of 750 or higher.
IIFL Finance provides personal loan for as low as Rs 5,000 and as much as Rs 5 lakh via a fully online process. The loan and can be repaid within 42 months. The process gets easier and hassle-free if one has a CIBIL score of 750 or more. What's more, IIFL Finance offers borrowers with high scores the most competitive interest rates prevailing in the market.