Improve Your Low CIBIL Score And Get Approved For Best Personal Loan
Cibil score plays a crucial role in determining whether you get a loan. Want to know how to get approved for personal loan with low cibil score? Read Now!
6 Oct,2022
18:20 IST
23 views
4 Likes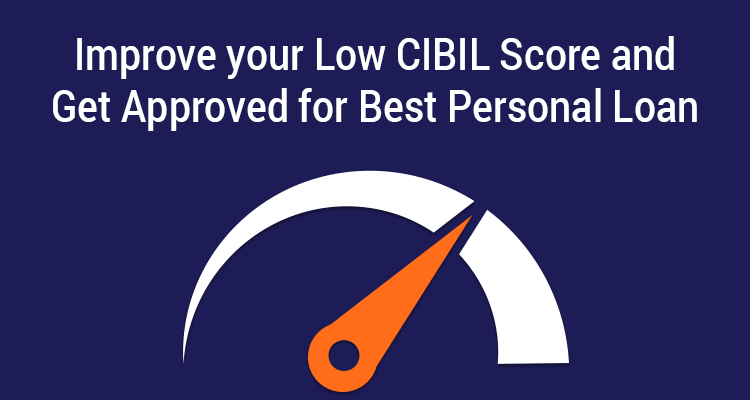 A person can need money to meet any type of emergency like a medical expense or any other unforeseen expenditure like an urgent home repair, for which he or she may be falling short on money. A personal loan can be one of the best and the easiest ways to borrow quick cash when in urgent need of money.
A personal loan is an uncollateralized loan for which the borrower need not pledge any asset of value. A bank or a non-banking financial institution typically gives out a personal loan on the basis of the borrower's creditworthiness, which is determined by their past credit history, the amount of debt they currently owe and how efficiently have they repaid their loans in the past.
A borrower's creditworthiness is gauged by a metric called the CIBIL score, or credit score, which can vary from 300 to 900. The higher the CIBIL score, the better the creditworthiness of the borrower.
What Does A CIBIL Score Indicate?
A high CIBIL score gives a lender the comfort that not only does the borrower have a steady business or salary income, but also that he or she has been fiscally prudent and has repaid past loans in time and in full, along with the interest.
A low CIBIL score, on the other hand, tells the lender that the borrower is a high-risk client who has not been able to repay past debt in time and may even have defaulted on it. Moreover, it also indicates that the person may have unsteady financial resources and income and may, therefore, have a high chance of defaulting on the loan.
A CIBIL score of 750 or above is considered ideal and most good lenders will give out a personal loan to such a borrower. A borrower with a score of 550 or below, on the other hand, is looked upon as a risky client and may not get a personal loan without collateral.
The higher the CIBIL score, the better the rate of interest a person can hope to get. On the other hand, a borrower will have to cough out more money as interest if their CIBIL score is less than ideal and lower than average.
Improving The CIBIL Score
Borrowers can improve their credit history and consequently their
CIBIL score
over time. They can improve their score if they repay all their existing loans in time and in full. This is a gradual process and will take several repayments for some improvement to become visible.
In some cases, the credit report may not include updated information or may contain errors. Borrowers should thoroughly check their credit reports for any inadvertent mistakes and get those rectified to improve their scores.
If a person manages to improve their CIBIL score, then they can hope to get the best interest rates from some of the most reputed lenders. Moreover, lenders also offer their best clients several value-added services, free of cost.
Conclusion
As is evident, a CIBIL score plays a crucial role in determining whether you
get a personal loan
or not and at what interest rate.
More importantly, if your CIBIL score is low, you can work to improve it slowly by making timely repayments over an extended period of time. A better CIBIL score will help you get a much better deal while availing a personal loan in future.
While most lenders such as IIFL Finance look for a CIBIL score of 750 or above, many would be open to sanctioning a loan to borrowers even with a lower score, albeit at a higher interest rate.
IIFL Finance offers a fully digital loan approval process that can be completed within minutes and the money can be disbursed directly into the borrower's bank account within 24 hours after completion of the paperwork.