How To Get A Personal Loan For A Low CIBIL Score?
Afraid of getting your personal loan rejected due to a low CIBIL score? Worry Not! Read to know the 6 ways to help you get personal loans with IIFL Finance!
21 Jun,2022
09:38 IST
20332 Views
254 Likes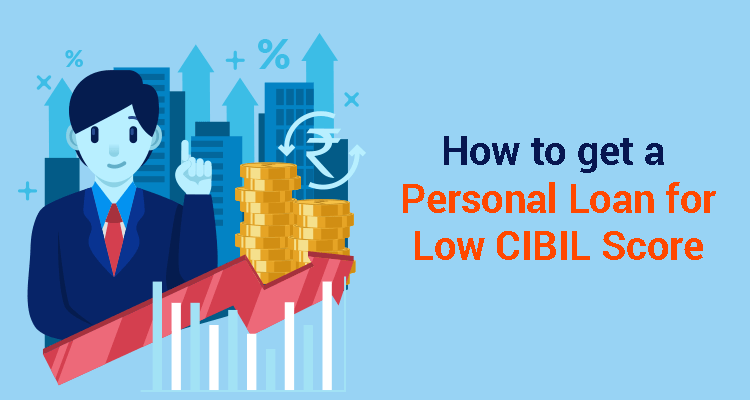 A personal loan is an unsecured loan that you can avail of when you need funds for an emergency, a travel plan, or any other short-term, urgent expense. The approval of this loan is based on factors such as income level, CIBIL score, etc. This blog post explains the importance of a CIBIL score and how one can get an urgent loan with bad credit in India.
What Is A CIBIL Score?
CIBIL stands for Credit Information Bureau (India) Ltd. It is an agency authorized by the Reserve Bank of India (RBI) to calculate an individual's credit score. Thus, a CIBIL score represents an individual's creditworthiness.
An individual's CIBIL score depends primarily on four factors: payment history, credit exposure, credit type, and loan duration. Timely loan repayments, lower exposure to credit, and other such factors result in a high CIBIL score. Defaulting on a loan can lower the CIBIL score.
A person with a high credit score can easily avail of a loan vis-a-vis a person with a low credit score. A valid CIBIL score falls between 300 to 900. A CIBIL score of 750 or more is considered good whereas 550 or less makes it challenging for an individual to apply for a loan. Financial institutions may increase the interest rate on loans for such individuals or not sanction a loan at all.
How To Get An Urgent Loan With Bad Credit In India?
Getting a personal loan with a bad credit score can be challenging but not impossible. Here are some ways in which you can avail of a personal loan despite a low credit score:
1. Check Whether Your Credit Score Is Truly Low
Sometimes, the CIBIL report misses the latest update. This can prove to be detrimental to your credit score. People must regularly check their CIBIL score and get any errors rectified.
2. Apply For A Joint Loan As A Co-Applicant
Having a co-applicant with a high credit score can increase the chances for an individual with a low credit score to avail of a loan.
3. Get A Guarantor
If a person defaults, the liability of repaying the loan befalls the guarantor. Thus, having a guarantor with a good credit score is seen positively by the lenders.
4. Furnish Proof Of Income
Showing evidence of a high-income job, an additional source of income or steady cash flows can increase the chances of a loan getting approved.
5. Apply For A Lower Amount Of Loan
A lender may be less reluctant to sanction a loan when the amount involved is smaller. A higher loan amount is riskier from the lender's perspective.
6. NA or NH In A Credit Report
An NA or NH or a zero credit score in a Credit Report signifies an inactive credit period for 36 months or more. People may explain their period of inactivity to their lenders, who in turn may accept their reasons and offer them loans, albeit at a higher interest rate.
Apply For A Personal Loan With IIFL Finance
The IIFL Finance Personal Loan up to 5 Lakh is designed to ensure that you get express disbursal into your account in just a few minutes.
You can take a personal loan for domestic or international vacations, weddings, buying the latest gadget, pursuing higher education, purchasing a vehicle or even home renovation. You can also easily find your CIBIL score by visiting the IIFL website. After providing the requisite details, you can generate your personal CIBIL Credit Information Report (CIR).
Availing of a personal loan has never been this easy! Reach out to us and allow us to fulfil all your dreams.
Frequently Asked Questions
Q1: Is It Possible To Get A Personal Loan Without A CIBIL score?
Ans: No, it isn't. In this case, one should either start creating their credit history or use other means to avail of a loan, like, peer-to-peer lending. They may apply for a joint loan with an applicant with a good credit score or opt for collateralized loans such as a gold loan.
Q2: Can I Reduce My EMI Payable For A Personal Loan?
Ans: Yes, you can. However, it demands a good credit score.
Q3: What Can I Use A Personal Loan For?
Ans: The possibilities are endless. Home renovations, car purchases, vacations, medical bills, and business investments, are among a few options.