How To Get A Personal Loan For Studies Abroad
Know the process of how you can get an education loan for abroad studies. To get a study loan for abroad, you can opt for IIFL Finance Personal Loan.
24 Oct,2022
19:19 IST
22 Views
9 Likes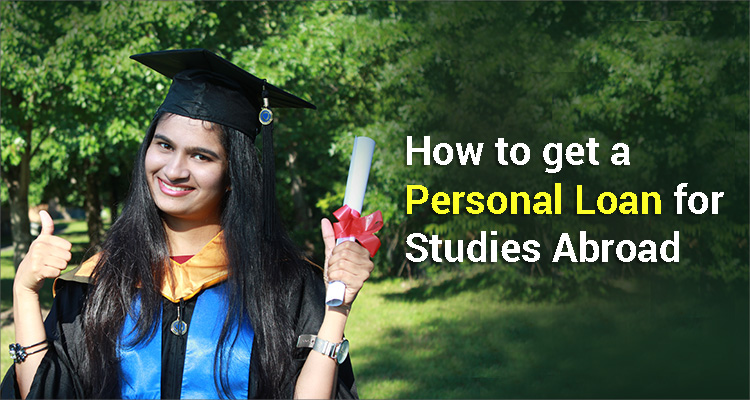 Every year, a large number of students apply for undergraduate or post-graduate education courses in colleges and universities outside India, including in countries such as the US, UK, Singapore and Australia.
Indeed, the popularity of education programmes overseas has increased among students over the past decade as competition intensifies in India. But paying for a foreign school with own savings could be challenging. The high cost of these courses forces parents to apply for education loans for their children.
A key benefit of education loans is lower interest rates than certain other types of borrowings. Another big advantage is that repayments begin a few months after the course for which the loan was taken was completed or when the student enters the job market. The catch is that getting these loans is difficult.
However, it is possible to pay for international schooling without dipping into fixed deposits or selling family silver. People can fulfill their desire of pursuing an education abroad via support through personal loans. But personal loans will have greater interest rates and need repayment nearly immediately than student loans do.
Advantages Of Personal Loan For Education
Personal loans have several advantages over education loans or credit card debt.
No Collateral:
Since personal loans do not require any form of collateral, they are simpler to obtain for those without assets like gold or real estate.
No Usage Restriction:
Education loans may only be used to cover tuition fee; they may not be used to cover other costs like lodging, food, travel, etc. One can pay for all of these things with personal loans, in whatever proportion they want.
Find A Job:
Many students are forced to return home following their studies if they are unable to secure employment. One might be able to seek employment at their own speed using personal loans.
Quicker Approval:
Personal loans can be obtained quickly and with little paperwork, giving students a head start on their international coursework rather than waiting for the education loan to come through.
Co-Funding:
A portion of the fees for most student loans must be paid by the borrower. Personal loans, on the other hand, do not have such restrictions and can be used to pay for both the full amount of fees and additional related costs.
A personal loan for education from Rs 25 lakh to Rs 50 lakh is readily available from many lenders. The lenders consider the borrower's age, income, employment status, repayment history, and credit score when determining the loan amount. The equated monthly instalments are dependent on the principal, interest rate, and term of the loan.
Process For Taking A Personal Loan For Education
A prospective borrower must keep a few factors in mind when availing a personal loan for studies abroad.
Credit Score:
Before applying for a loan, borrowers should check their
credit score
. This is because lenders rely on the credit score to judge the creditworthiness of the borrowers before approving personal loans. Ideally, the score should be 750 or higher on a scale of 300 to 900, but it is possible to get a loan even with a lower score.
Loan Amount:
The students and their parents must carefully estimate all expenses, including those for travel, lodging, coaching, study materials, etc. They should base their calculations on the host country's cost of living and inflation rate.
Interest Rate:
Borrowers should choose the lender that will provide the loan with the best interest rate and repayment terms. It is recommended to have a longer payback term on a personal loan for study abroad so that the students can contribute to the EMIs once they find employment.
The actual process of taking a personal loan for education is not different from taking a personal loan for any other purpose. Here are the main steps involved:
• Analyze a few lenders and compare loan approval process, interest rates and repayment terms.
• Shortlist a reputed lender with the least interest rate, the best repayment terms and good customer service.
• Fill up the loan application, either online or by visiting the lender's branch.
• Submit all required documents, including address and income proofs.
• Read the loan offer document carefully before signing on the dotted line.
• After approval, get the loan disbursed and start paying the EMIs.
Conclusion
High competition and limited seats in colleges and universities in India is prompting many parents and students to explore studies abroad. An education loan is often the first choice in such scenarios because they carry lower interest rates and easy repayment terms. But taking an education loan could be onerous as it requires extensive documentation and great scrutiny by the lenders. A personal loan comes in handy in these situations.
Personal loans are not only easier to avail but also allow the borrowers to use the money without any restrictions and repay via flexible options. While many lenders offer personal loans, borrowers should ensure they take a loan only from reputed lenders such as IIFL Finance that have well-established practices.
IIFL Finance provides personal loans within days through a fully digital application process that can be completed within minutes. The company offers loans of as much as Rs 5 lakh for up to three and a half years that can help students complete their study course overseas.