How Much Does It Cost To Check CIBIL Score?
Heard about CIBIL score but don't have clarity about what it is? Read to know about CIBIL score & the cost you need to pay based on different plans. Visit Now!
26 Jul,2022
15:56 IST
467 Views
144 Likes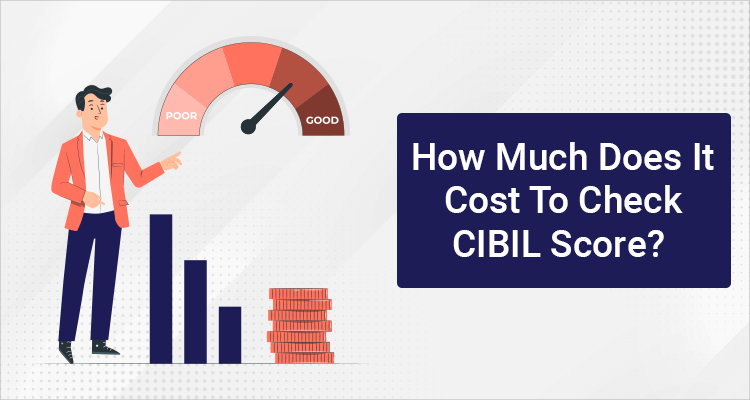 Loans have become ideal financial products for individuals looking to raise immediate funds to fulfill their capital requirements. However, to apply for a personal loan online from any financial institution, the most influential factor in the eligibility criteria is a good CIBIL score. This score reflects the borrower's credit-worthiness and allows financial institutions to understand their capability to repay the loan.
If you are looking to apply for a personal loan online, you must check your CIBIL score.
What Is CIBIL Score, And Why Should You Check It?
TransUnion CIBIL Limited generates the CIBIL score. It manages the credit files of over 600 million individuals and 32 million businesses, assesses your credit history, and provides a score out of 900. The score represents your capability to repay the loan based on the past repayment pattern. Almost all financial institutions include having a CIBIL score as an eligibility factor (750+) when you apply for a personal loan, business loan, etc. The higher the CIBIL score, the higher the chances of your loan getting approved.
How Much Does It Cost To Check CIBIL Score?
The CIBIL score is required when you need a loan or apply for credit cards. A higher CIBIL score implies that you have a sound financial history. CIBIL has various plans for customers to generate a credit report:
1. Single One-Time Report
CIBIL generates a one-time report free of cost once a year. However, it does not include features such as a score simulator or alerts. You can use this feature before you use a personal loan interest rate calculator to apply for a personal loan online to ensure you are eligible for the business loan.
2. 1-Month Subscription
CIBIL provides a one-month subscription that costs Rs 550 and regularly updates your CIBIL scores along with multiple reports. The subscription includes personalized loan offers based on your score but does not include 24x7 credit monitoring.
3. 6-Months Subscription
If you want added features that extend to 6 months, CIBIL provides a 6-month subscription that costs Rs 800. The subscription includes all the 1-month subscription plan features and 24x7 credit monitoring with CIBIL alerts.
4. 12-Months Subscription
Dubbed the premium subscription, the 12-months subscription from CIBIL is the most popular and costs Rs 1,200. It has all the features that CIBIL can offer, such as determining the impact of your credit actions on your CIBIL score, score simulator, credit monitoring, and unlimited access to your CIBIL score and report.
Using IIFL Finance Free CIBIL Score Calculator
To generate a one-time free CIBIL credit report, you can use IIFL Finance free CIBIL score calculator. It is similar to a personal loan interest rate calculator. Along with finding out the credit score, it can also tell you how to make better financial decisions and ensure you can take a loan effectively.
The calculator is powered by CIBIL and requires you to share a few details such as your full name, date of birth, PAN number, pin code, mobile number, and email ID. Once you have filled in all the details, you can click on "Generate Free Report" to know your detailed CIBIL score. The report is followed by customized loan offers from IIFL.
Avail Of A Loan From IIFL Finance
IIFL Finance is India's leading financial services company that provides comprehensive and customized business loans to fulfill your capital requirement. IIFL Finance offers numerous loans, such as personal loans, business loans, home loans, etc.
The interest rates attached to every loan product are attractive and affordable with cost-effective options for borrowers. The loan repayment structure is flexible to offer multiple repayment modes to the borrowers, such as standing instructions, NEFT Mandate, ECS, Net-banking, UPI, etc.
FAQs
Q.1: Is it important to check the CIBIL score before applying for a loan?
Ans: Yes. The loan application eligibility requires the borrowers to have a certain credit score. It is important to check the CIBIL score to know if you are eligible to apply for a loan online.
Q.2: What are the required documents for a personal loan?
Ans:
• Valid KYC through government-issued documents such as PAN Card, Aadhar Card, and Driving License along with a selfie.
• 3 months bank statements.
• Debit Card or Net Banking details for setting up e-mandate.
• e-Sign or e-Stamp for loan disbursal.
Q.3: What is the interest rate on IIFL Finance personal loan?
Ans: You can get a personal loan from IIFL Finance with an interest rate as low as 12.75% per annum.