How Much Personal Loan Amount Can I Get?
There are various factors which affect the personal loan which is availed to any individual. Know those 6 factors here before you apply for a personal loan!
19 Jul,2022
11:49 IST
31 views
45 Likes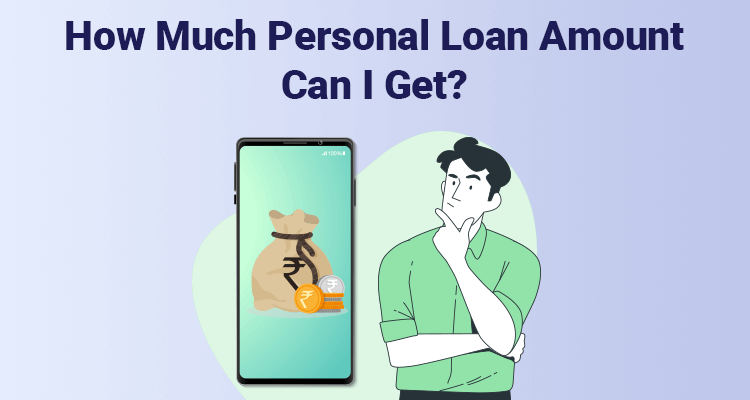 Anytime in life, there can be an urgent need for capital; be it for weddings, home renovation, education etc. To effectively meet their capital needs, almost everyone turns to a personal loan. It is an effective financial instrument to get instant funds to meet the capital requirement. As there are no restrictions on the end-use of the obtained loan amount, it can prove to be an ideal loan avenue. However, one of the most critical questions in the process is how much personal loan amount one can get?
Generally, it depends on the following factors that influence eligible personal loan amount calculation:
• Geographic location:
The area you reside in plays a crucial role in determining the personal loan amount. If you live remotely, the personal loan amount will be lower than for an individual residing in a developed area or a metro city.
• Income:
As you will have to repay the loan amount, the eligible amount will be higher for a higher salary.
• Housing Situation:
Lenders tend to give a higher loan amount to people who reside in their own houses, as living in a rental house leads to higher financial obligations and leave less disposable income.
• Employment Situation:
The eligible personal loan amount calculation also depends on the employment status. The loan is higher for a person working in a reputed company or, if self-employed, who has a high business turnover.
• Existing Credit:
The loan amount will be lower for a person who has already taken a loan and is in the process of repayment.
• Credit Score:
A credit score represents a person's ability to repay the loan in full. The higher the credit score, the higher the personal loan amount.
How To Execute Eligible Personal Loan Amount Calculation?
One of the easiest and most accurate ways to calculate your personal loan amount is by using a personal loan calculator. You can use IIFL's personal loan calculator through IIFL's personal loan webpage. It can be used to set the loan tenure and the desired interest rate to determine the eligible personal loan amount.
Apply For A Personal Loan With IIFL Finance
IIFL Finance is India's leading financial services company that provides comprehensive and customized personal loans to fulfill your capital requirement. You can also use the personal loan calculator to determine your eligible personal loan amount. The personal loan offers instant funds up to Rs. 5 lakh with a quick disbursal process. You can apply for the loan online or offline by visiting IIFL Finance's nearest branch and verifying your KYC details.
FAQs:
Q.1: How much personal loan amount can I get from IIFL Finance?
Ans: You can get an instant personal loan up to Rs 5 lakh through a simple and hassle-free loan process with IIFL Finance.
Q.2: What are the required documents for a personal loan?
Ans: Valid KYC through government-issued documents such as PAN Card, Aadhar Card, and Driving License along with a selfie.
• 3 months bank statements.
• Debit Card or Net Banking details for setting up e-mandate.
• e-Sign or e-Stamp for loan disbursal.
Q.3: Can I take an online personal loan with IIFL?
Ans: Yes, you can take an online personal loan with IIFL Finance by filling out a simple and quick application form.