4 Ways Of Being Regular With Personal Loan Repayments
Learn how to stay on top of your personal loan repayments with these 4 effective strategies. From setting reminders to creating a budget, we'll show you how to make regular payments a breeze!
25 Jan,2023
09:40 IST
2676 Views
973 Likes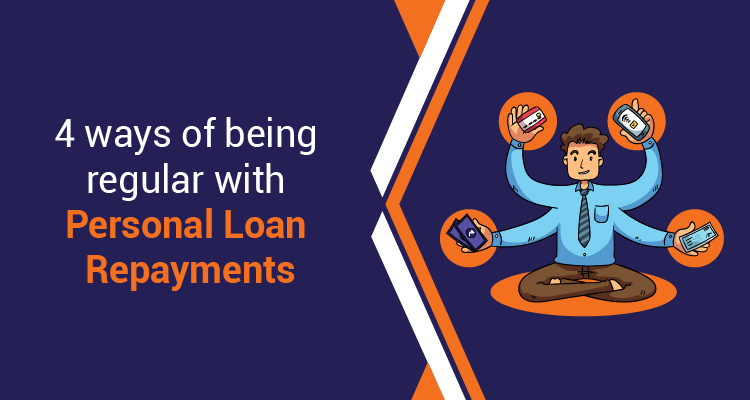 At times of a financial crisis, a personal loan can be an absolute saviour. A personal loan is often the best solution to tide over an immediate cash crunch as no collateral is needed and the entire process can be completed with minimal paperwork and from the comfort of one's home.
The best part about availing a personal loan, especially from a reputed lender, is that the entire process of repayment is seamless and can be done online.
A borrower pays a cost for the loan in the form of the interest charged as well as the processing fees that need to be paid upfront. To bring down the cost of borrowing, the borrower needs to be regular with loan repayments so that he or she does not need to pay any extra interest charges and late fees. A delayed monthly payment can also lead to a marred credit report, which, in turn, can make borrowing money in future difficult.
Interest rates on personal loans are almost always lower than those on credit cards but higher than that on secured credit products such as home loans or gold loans. A good credit score is important while availing a personal loan as people with the best credit histories and CIBIL scores can get the most competitive interest rates.
It, therefore, becomes imperative to pay off the loan as soon as possible to lower the actual cost of borrowing. Here are four ways to quickly repay a personal loan:
1. Increase The EMI Amount:
A borrower can repay the loan faster by increasing the EMI amount that they pay each month. This way they can pay back the loan quicker. They can also choose to pay a higher principal component each month, so that the total outstanding loan keeps coming down and the interest payout on it comes down. Apart from paying a higher EMI, a borrower can also choose to pay one or more extra EMIs during the financial year. These steps will reduce both the interest payout as well as bring down the loan tenure.
2. Consolidating Debt:
A borrower can bring down the interest cost they pay on various loans by consolidating all the debt in their name into one loan. This will help the borrower club all repayments into one single repayment, and make their job a lot easier and less cluttered, minimizing the risk of a missed payment. Moreover, this way, a borrower makes a repayment at one single interest rate rather than at various different rates.
3. Prepayment:
Prepaying a loan fully or partially before the due date, is a good idea to go debt-free. Doing this could involve paying a small prepayment fee, but that may be far lower than the interest cost one would have to incur if one takes the full tenure to pay off the loan. While it is best to prepay the entire loan, a borrower can also choose to
prepay the loan
partially even if they do not have the cash needed to pay off the debt. One should, however, make a total prepayment in the initial years of the tenure of the loan, as doing that will substantially reduce the total interest outgo on the borrowing.
4. Go For The Lowest Interest Rate:
As a borrower one must look for the lender offering the best interest rate in the market. This is by far the easiest ways of bringing down the interest cost one must pay on the loan amount. To do this one can use the flat interest rate method or even the reducing balance rate method. Borrowers should also look to transfer loans from one lender to another offering a better deal on the interest rate.
Conclusion
There are several easy ways of bringing down the outgo on a personal loan, just by being regular with repayments and by being smart about how you go about the entire process.
Most importantly, you should make sure to choose the right lender. Reputed lenders like IIFL Finance offer some of the best interest rates and other value-added services to the borrower.
The personal loan market is crowded, with a lot of local lenders that operate in the unorganized sector. So, it is always better to go with an established lender like IIFL Finance as doing that will help make the entire process seamless and hassle-free. IIFL Finance offers personal loans for up to Rs 5 lakh and flexible repayment options to allow the borrower to repay the debt over a tenure that can stretch up to three and a half years.