What Does A Hassle-Free Business Loan Mean?
Small businesses looking for business loans can now take advantage of hassle-free financing. Hassle-free business loans are a great way for start-ups. Read to know more!
18 Dec,2022
18:35 IST
33 Views
1 Like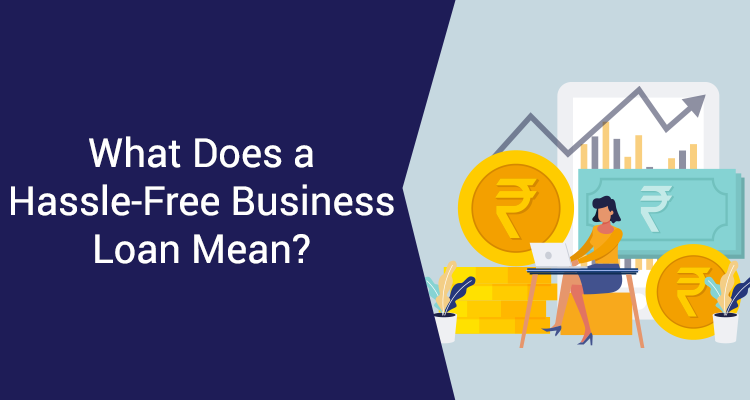 Entrepreneurs require constant capital to ensure the smooth running of business operations. However, some business loans come with such extensive application steps that the loan process becomes time-consuming for entrepreneurs. When taking a business loan, you must analyse and choose a hassle-free business loan to raise immediate capital without delay and unnecessary steps.
What Are Business Loans?
Business loans help a running company acquire external funds for expenses such as employee salaries, rent, buying equipment, or expanding the business in other cities. Lenders analyse the business owner's creditworthiness through factors such as credit score and business turnover.
However, entrepreneurs or business owners are legally bound to use the loan amount only to cover business expenses and not use the loan amount to cover personal expenditures. Once disbursed, the lender requires borrowers to repay the business loan amount with interest to the lender within the loan tenure.
Hassle-Free Instant Business Loan: What Does It Mean?
When entrepreneurs need capital to invest in various aspects of their business, they can either raise funds from investors or take an instant business loan online. However, raising funds from investors requires them to offer a chunk of their company shares, lowering their overall control.
A hassle-free business loan with instant approval provides immediate funds to entrepreneurs. Here are factors that make a business loan hassle-free:
• Instant Approval
You can take an
instant business loan
after the lender approves your application within hours of submission. An
instant business loan
with immediate approval allows for raising quick capital without delay.
• Instant Disbursal
Like instant approval of the business loan application, a hassle-free
instant business loan for a startup
or any other business must ensure quick disbursal. Quality lenders provide disbursal within 48 hours of business loan application approval. The quick disbursement step in an
instant business loan online
is where the lender credits the loan amount into the borrower's bank account.
• Minimal Documentation
Like other loans,
Instant business loans
also require the completion of KYC by submitting all the relevant documents. However, it becomes a hassle if the business loan product requires numerous documents. Hence, a hassle-free
instant business loan
comes with the requirement of minimal documentation, resulting in
business loan instant approval
and disbursement.
Avail Of An Ideal Business Loan From IIFL Finance
IIFL Finance offers financial services like customised and comprehensive business loans and provides extensive
business loan details
for transparency. The business loan does not need collateral and offers instant funds up to Rs 30 lakh with a quick disbursal process. The application process is entirely online with minimal paperwork with attractive and affordable interest rates to ensure the repayment doesn't create a financial burden.
FAQs:
Q.1: Do I need collateral for a business loan from IIFL Finance?
Ans: No. IIFL Finance business loan does not require pledging any asset as collateral to take the business loan.
Q.2: How much time does it take to approve the IIFL Finance business loan?
Ans: IIFL Finance approves a business loan within 30 minutes of application. Once approved, you will receive the loan amount in your bank account within 48 hours.
Q.3: What is the loan tenure for IIFL Finance business loan?
Ans: The loan tenure for an IIFL business loan up to Rs 30 lakh is five years.