Ways To Finance Your International Trade/Export Business
Running an international trade/export business requires initial funds for operation. Read on to know the best ways to finance your business at IIFL finance.
29 Aug,2022
07:40 IST
25 views
13 Likes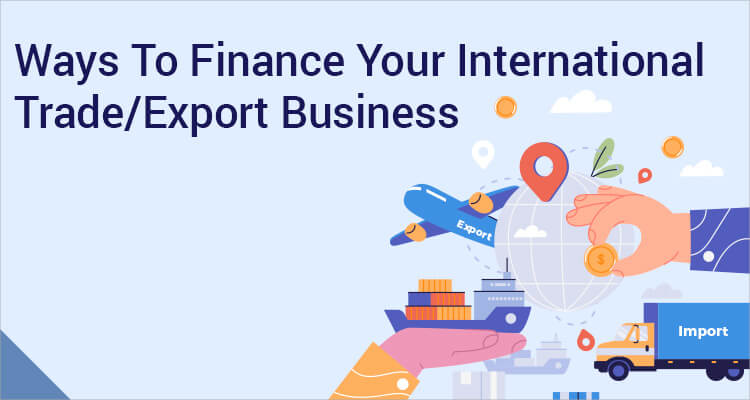 International trades interconnect economies worldwide. They provide better access to products that people can't find domestically. Globalization and the rise of the internet have birthed small businesses, and the general public has jumped into them to take advantage of free trade.
However, running an international trade/export business can be capital extensive and require initial funds. This article highlights the best business loans to realize your export business goals.
5 Top Ways To Finance Your International Trade/Export Business
1. Term Loans
It is a fixed-payment loan at a predetermined interest rate. You can opt for this loan to purchase equipment, inventory, or fund other business requirements. It is also known as the installment loan.
2. Working Capital Loans
A working capital loan is a type of cash loan or letter of credit (LOC) from suppliers which can help you fund your short-term business requirements. It can cover daily business expenses ranging from employee wages to accounts payable.
3. Shipment Credits
There are two types of shipment credit:
a. Pre-Shipment Credit: It is a loan taken to fulfill any export obligations.
b. Post-Shipment Credit: This type of loan funds an existing dispatched order. Banks or NBFCs sanction the amount after the order shipment and extend it until you receive the proceeds.
4. Gold Loans
This type of loan is a common way to raise funds. Pledging your gold ornaments or jewellery in exchange for an amount can be an easy and quick way to get the funds you need. You can get a gold loan at a reasonable rate and with flexible repayment options. Gold loans are one of the
best business loans
available to business owners.
5. Foreign Currency Loans
Foreign currency loans lower the risk of forex rates. As the name suggests, you can avail of the loan in foreign currency instead of your domestic cash.
Why Is A Gold Loan Better Than Any Other Loan?
A gold loan is among the best business loans available to business owners. It is a hassle-free alternative, especially for businesses that do not want to go through multiple documentation routes. Typically, gold loans require minimal documentation and no credit score. You can use the amount to fulfill any business requirement.
Apply For A Gold Loan With IIFL Finance
IIFL Finance is a leading gold loan lender and
business financing
provider. Since its inception, it has achieved a hassle-free experience for various business owners. We have successfully provided gold mortgage loans to 6 million satisfied customers who received their funds effortlessly.
IIFL offers competitive interest rates and flexible repayment terms for short-term gold loans. We also ensure the safety of your collateralized physical gold until you repay the required amount. There are absolutely no additional costs at the redemption of your gold mortgage. If you have any questions, you can contact our 24-hours customer service team via phone or live chat.
Getting a gold loan has never been easier! Walk into any of our branches pan India, fill out an e-KYC and get your loan approved in under 30 minutes.
Frequently Asked Question
Q.1: What is a gold loan?
Ans: A loan against your valuable gold in any physical form is known as a gold loan. In a gold loan, your gold is the collateral in exchange for the required cash.
Q.2: How is a gold loan better than other loans?
Ans: A gold loan is one of the best business loans option available to borrowers. It is hassle-free and requires minimal documentation with no credit score. It can be used for any purpose and offer reasonable rates.