Top 5 Business Ideas For Women And The Best Funding Options
Top business ideas for women entrepreneurs: Get to know the Top 5 business ideas with best funding options available at IIFL finance. Click to read more!
4 Aug,2022
11:25 IST
97 Views
63 Likes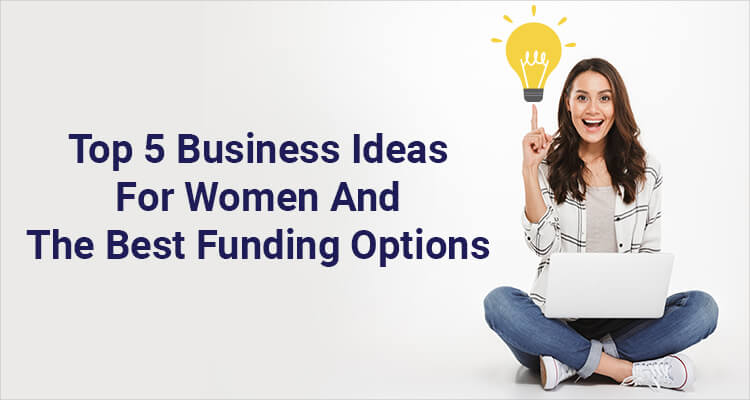 Financial independence is important for every individual. But in a male-dominated society, women are often expected to make compromises and abandon their professional lives, especially when they reach a child-bearing age.
Needless to say, financial independence is critical for women to sustain themselves, especially during emergencies. Job loss, inflation, higher cost of living, and the unfortunate demise of the spouse can be big setbacks for the family.
Every woman, irrespective of their marital status and social-economic background, should be prepared to deal with all economic hardships at any point of their lives.
Business Ideas For Women
Depending on their skills and passion, there are countless business ideas for women to start with. Some of them are:
Why not explore one's goodness in cooking, tailoring, art and jewellery-making to make a business out of it? Women entrepreneurs with the zing of doing something challenging can set up their own startups.
It may appear unnerving to many, especially to women without adequate financial resources and proper education. But with favourable government policies and financial institutions offering
business loans
for women, there are opportunities galore.
• Gardening And Farming:
Gardening and farming can be a good source of income generation for families. Of late, ecological awareness and reawakened interest in growing one's own food have given rise to urban gardening techniques within limited space.
• Childcare Services:
Women who can take good care of children can start day-care centers.
In the absence of good childcare facilities, a career takes a backseat for many women in nuclear families. Day-care centers offering quality service can help professional women to strike a balance between work and life.
• E-tutoring And Coaching Classes:
Teaching is a very secure form of employment for women across the world. It can be done through video calls and online classes, directly from home. It requires a considerable amount of investment required, but with small business loans for women, it can be a rewarding experience for many.
Also, tutoring doesn't necessarily mean teaching school or college subjects. It can be dancing, singing and even yoga.
• Freelance Writing And Designing:
With automation and digitization, most companies and brands are investing in content writing and website development. So, for those who have a knack for writing, content writing is a good option for earning money. And those with creative skillsets can look for a graphic design job.
After the outbreak of COVID-19, most companies adapted to a remote working environment. With competition in remote roles rising, before you get started, build a powerful portfolio and get good apps and tools to deliver the best.
Loan Options for Women
No matter what profession one chooses, businesses require investment. There are various banks and non-bank lenders that offer small business loans for women entrepreneurs. However, it is important for women business owners to compare interest rates and do all the calculations before taking a loan.
• Crowdfunding:
For those choosing to go with a debt-free funding option, crowdfunding can be the best way to do it. Business women with unique ideas can float their ideas on crowdfunding platforms like IFundwomen and IndieGoGo, which support women by soliciting funds from a large number of investors.
• Government Schemes:
To promote women's entrepreneurship, the government has various schemes like the MUDRA (Micro-units Development and Refinance Agency) Yojna. Under this scheme, aspiring female entrepreneurs can avail funds of up to Rs 10 lakh. Some other
government schemes
to boost women's independence are Stree Shakti Scheme and the Mahila Udyam Nidhi Scheme.
• Business Loans:
Most banks and non-bank lenders provide business loans that women entrepreneurs can take to kick-start their venture. Women can even take small-ticket loans without collateral.
Conclusion
Financial independence not just benefits the woman but her family and the society at large. With the cost of living skyrocketing, more and more women are stepping out from the captivity of the four walls to become financially independent.
There are several banking and financial institutions that offer both secured and unsecured business loans for women entrepreneurs at competitive interest rates.
To help women kickstart their businesses and achieve their financial goals, reputable lenders like IIFL Finance offer business loans from a few lakh rupees to as much as Rs 10 crore. Many lenders also have a dedicated team to help women with the preparation of essential documents like PAN and Aadhaar cards for the loan application process.