How To Get An Instant Loan For A New Business?
Quick business loans online can be considered a lifesaver for any business owner. Here are the 6 easy steps to help you avail instant loan for your new business!
22 Jul,2022
09:35 IST
55 Views
27 Likes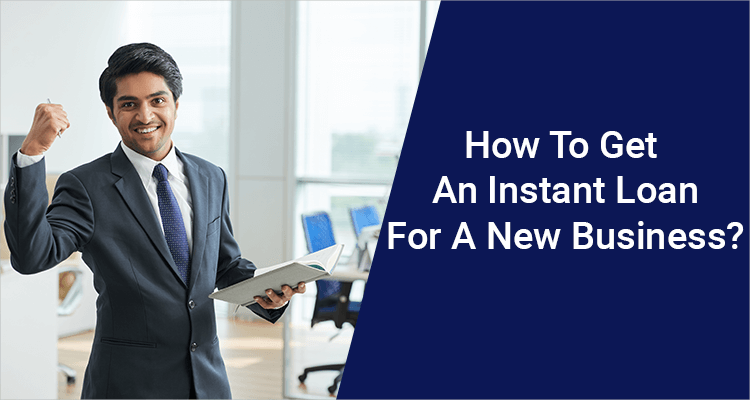 Starting a new business is an exciting endeavour. Although you can save for years to have adequate capital for successfully setting up the new business, the amount may fall short due to unforeseen expenses. Such a situation may dampen all the efforts made to set up the business. The only solution is business financing to raise enough capital instantly to see the business in operation.
This blog will help you learn about the process of availing an instant loan for a new business and how it can help your business attain the required capital.
How To Get An Instant Loan For A New Business
There are numerous banks and financial institutions that offer a host of business loan products to cater to every business need. Here is the process of getting a quick loan for your business:
Step 1: Business Loan Amount
The first step is to determine the capital you need to raise. You can do an internal analysis of your business to understand the requirements and calculate the required business loan amount. Then, you can look towards financial institutions offering business loans of the desired amount.
Step 2: Choose A Financial Institution
A business loan is as good as the financial institution that offers the product. The financial institution must be a well-known financial entity with experience in offering business loans. You should compare various financial institutions based on your loan amount, interest rates, and the disbursal time. It is wise to use loan calculators to analyze, compare and choose the best financial institution.
Step 3: Eligibility Criteria
Business financing from financial institutions is based on certain eligibility criteria you need to fulfill to get an instant business loan. The eligibility criteria are mentioned on the websites of all the financial institutions, and you should ensure that you fulfill the same before considering applying for a business loan.
Step 4: Applying For A Business Loan
To get an instant loan for a new business, you must submit your application form through the online loan application process. In the application form, you will have to fill in the basic details that will stretch to your business to get an idea of your business performance.
Step 5: Documentation
The next step is the e-KYC process, which requires submitting various documents such as identity proof, address proof, and business existence and turnover proof. You will have to submit documents such as the previous 12 months bank statements, proof of business registration, PAN Card and Aadhar Card copy of the Proprietor(s), deed copy and company PAN Card copy in the case of partnerships.
Step 6: Disbursal
After you have successfully submitted the application form for the business loan, the next step that follows is the loan disbursal process. Customer-oriented financial institutions provide instant loan disbursal that takes less than 48 hours. If you have applied to a well-known financial institution, the loan amount will be instantly approved and credited within 48 hours directly into your bank account.
Apply For A Business Loan With IIFL Finance
IIFL Finance is India's leading financial service provider that offers various customer-oriented loan products, including business loans. The business loans are customized specifically for your business and include attractive and affordable interest rates.
IIFL Finance business loan offers effective financing of up to Rs 30 lakhs with no collateral. The online application process is simple, and hassle-free, and disburses the loan amount directly into your bank account within 48 hours.
FAQs
Q.1: What are the eligibility criteria for availing a business loan?
Ans: The criteria include:
• You have an established business, operating for more than six months at the time of application.
• Minimum turnover of Rs 90,000 in the last three months from the time of application.
• The business does not fall under any category or list of blacklisted/excluded businesses.
• The office/business location is not on the negative location list.
• Charitable organizations, NGOs, and trusts are not eligible for a business loan.
Q.2: What is the approval time for a business loan?
Ans: IIFL Finance business loan takes less than 5 minutes to approve and is disbursed within 48 hours.
Q.3: Can I repay the loan through monthly EMIs?
Ans: Yes, you can repay the loan in monthly EMIs, which you can calculate using IIFL business loan calculator.