Minimum Cibil Score For A Business Loan
Minimum Cibil Score for Business Loan is a step-by-step guide to help you understand your eligibility. Get to know more here!
17 Sep,2022
18:41 IST
21 views
5 Likes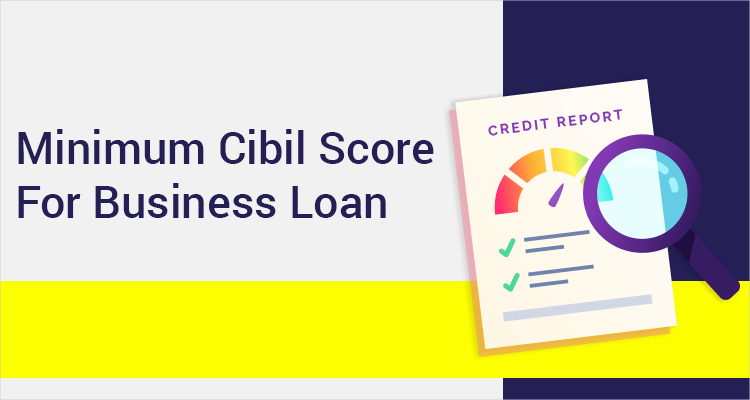 While taking a business loan, lenders seek a borrower's CIBIL score as a part of their eligibility criteria. Since the CIBIL score is vital in getting the business loan approved, you must understand the minimum requirement for a CIBIL score.
What Is CIBIL Score, And Why Do Lenders Need It?
A CIBIL score is a three-digit score out of 900 that reflects the creditworthiness of a person to the lender. An individual with a score closer to 900 is deemed more capable of repaying a loan than those with a lower credit score in India. TransUnion CIBIL Limited generates the
CIBIL score
. It manages the credit files of over 600 million individuals and 32 million businesses, assesses your credit history, and provides a score out of 900.
Lenders such as banks and NBFCs require the business owner to have a minimum CIBIL score as a part of their eligibility criteria. The need for a CIBIL score mitigates the chances of default by borrowers based on their high capability to repay the loan. As lenders offer the business loan amount to the borrowers, which they have to repay within the loan tenure, they prefer to approve the business loan for borrowers with a high CIBIL score.
What Is The Minimum CIBIL Score For Business Loan?
In most loan products where the lender demands pledging an asset as collateral, they absorb the losses due to defaulting in payments by seizing and selling the pledged asset. However, in the case of a business loan, where there is no requirement for collateral, the lenders are at high risk of losses if the borrower defaults on the interest payments. Hence, they require a
minimum CIBIL score for a business loan.
In India, most lenders have set a CIBIL score higher than 750 out of 900 as the minimum CIBIL required for a personal loan or business loan. Hence, you must have a CIBIL score above 750 before applying for a business loan with a lender.
Why Should You Have a Minimum CBIL Score?
Having a minimum CIBIL score for a business loan increases your chances of getting a quick business loan with the desired loan amount, interest rate, and loan tenure. It can help you in the following ways:
1. Your profile may get low-interest loans for business options.
2. It can help you get a loan quickly, which can be beneficial to raising immediate capital.
3. Your loan application can get processed without any guarantor.
4. You can borrow unsecured loans for business without pledging any asset as collateral.
Avail Of An Ideal Business Loan With IIFL Finance
Once you know you fulfill the CIBIL score requirements, you can apply for a business loan with IIFL Finance. IIFL Finance is India's leading financial services company that provides comprehensive and customised
business loans in India
to fulfill your capital requirement. IIFL Finance business loan offers instant funds up to Rs 30 lakh with a quick disbursal process. The loan for the business application process is entirely online with minimal paperwork with attractive and affordable interest rates.
FAQs:
Q.1: What is an ideal CIBIL score to get a business loan from IIFL Finance?
Ans: A CIBIL score above 750 out of 900 is perfect for getting a business loan from IIFL Finance.
Q.2: How to get a business loan with an average credit score?
Ans: The first step you can take is to start improving your credit score. If you need immediate capital, you can find a guarantor or provide collateral to the lenders.
Q.3: How much loan can I get from IIFL Finance with a 750+ CIBIL score?
Ans: You can take up to Rs 30 lakh as the loan amount and receive the amount within 48 hours of the loan approval.