How To Get Small Business Loans Without Collateral
Discover the tips & tricks you need to know to successfully apply for small business loans without collateral. Read to know how to increase your chances of getting approved easily!
12 Jan,2023
09:02 IST
1926 Views
1051 Likes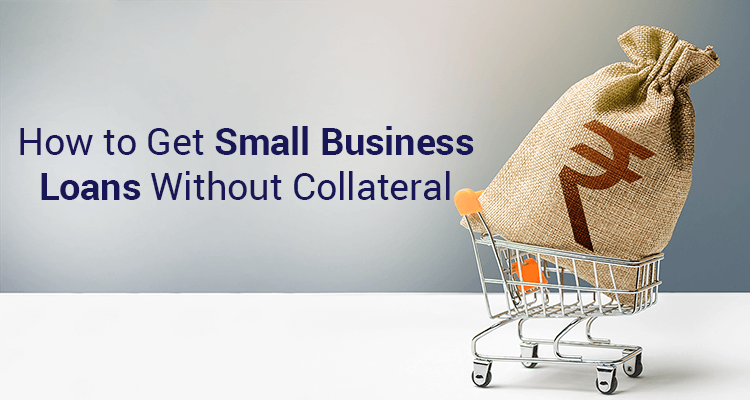 Financial capital is necessary for starting any type of business, including micro, small, and medium-sized enterprises (MSME) as well as to grow any MSME into large ventures. Financial resources can support long-term expansion projects in addition to providing the daily cash needed to bridge short-term gaps in anticipated cash inflows and outflows.
Businesses can use either equity or debt as the source of the capital. A majority of the time, though, it is a blend of the two. Equity capital can come from the shareholders themselves or external investors. Again, the shareholders themselves can advance the loan or a third-party organisation such as a bank or non-banking finance company (NBFC) may do so.
When applying for a loan from a bank or an NBFC, a crucial concern for business owners is whether they would have to mortgage some assets of their company.
Loan With Collateral
MSMEs can take out a business loan by putting up a collateral such as a residential or commercial building, a plot of land, equipment, gold or equity shares.
If a small firm holds some of these valuable assets, it can use those as security with the lender, increasing the comfort level for borrowing money. Collateral is used by lenders as a form of security and risk management.
A lender may insist on such assets as a security to lend when the loan amount rises. However, many lenders do not need such security for smaller company loans.
Loan Without Collateral
Collateral-free loans for small businesses are approved based on the company's revenue and ability to generate cash flow. Lenders determine a company's ability to repay the debt after analysing its capital inflows and outflows.
They also take into account the business owners' credit histories and profiles. Therefore, if the business owner has a good track record of making timely payments on all personal and business loans, new funding is quickly approved. Similar to company credit ratings, personal credit scores record timely payments made on the business owner's credit cards or other loans taken out for personal purposes.
Collateral-free loans come in a variety of sizes, but they can be as large as Rs 50 lakh or more depending on the lender.
Getting Collateral-Free Business Loans
Many banks and NBFCs customise credit products for small business owners based on the size of loans, actual requirements of the borrowers and other factors.
MSMEs can take out small business loans without collateral via a quick and easy process that requires only a handful of basic documents. The paperwork may differ from lender to lender, but in general all lenders ask for the following documents:
• Know-your-customer documents: Identity and address proof of the borrower and all co-borrowers;
• PAN card and Aadhaar card of the borrower and co-borrowers;
• Bank statement for the previous six to 12 months;
• A loan application form duly signed, with photographs of the borrowers.
Lenders may also seek extra documents to assess a person's credit history and process the loan application. For loans greater than a certain amount, some lenders require the GST registration certificate of the business.
A prospective borrower can either go to the lender's branch office or log into its website to apply online and upload their KYC documents. Once this is completed, the lender verifies the documents and may seek clarifications. After the verification is completed, the bank or the NBFC approves the small business loan and disburses the money into the bank account of the business. The disbursal can be completed within a couple of days.
The borrower can also discuss the credit requirements with the lender to customise the loan according to their expected cash flows and repayment ability. The money payable monthly can be pre-fixed and calculated online. The borrower can accordingly adjust the tenure of the business loan.
Conclusion
All entrepreneurs need adequate capital to sustain and grow their business, and equity capital may not always be available or desirable to use. Instead, they can take out a small business loan from banks and NBFCs.
Reputed NBFCs like IIFL Finance offer collateral-free business loans via a simple and quick online application process that can be completed within minutes and requires only a few basic documents.
IIFL Finance provides business loans without a security of up to Rs 30 lakh. The company offers competitive interest rates and allows borrowers to repay the money periodically in line with their cash flow cycle.