How Can A Corporate Which Has CIBIL Issues Get A Business Loan?
Creditworthiness of a business is captured through the credit score of the owner. Read on to know how a corporate with CIBIL issues can get business loan at IIFL Finance.
14 Nov,2022
11:04 IST
10 views
1 Like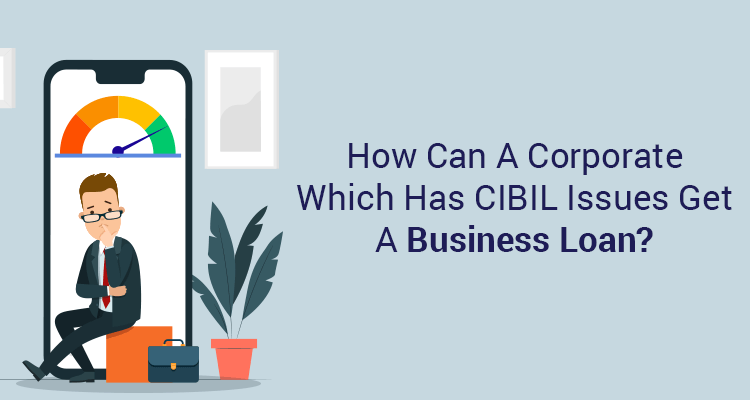 Financial resources are an essential ingredient for a venture's success. This is not just to meet day-to-day expenses, be it for paying salaries, clearing bills of vendors or raw material suppliers, and utility bills of office or factory premises, but also for long-term expansion of the enterprise.
This fund requirement can be met by putting additional equity into a business, either the founders' own money or by roping in external shareholders. But this may not be readily available and risks bringing another shareholder who would like to have a say in how a business is run that may not sync with the business owner.
Fortunately, this is not the only option. The other alternative is to get a business loan. Indeed, for prudent financial management, a business owner should have a judicious mix of equity and debt to run a venture.
Business loans are of two types: secured and unsecured. In the case of a secured loan, the business owner pledges some asset of value in favour of the lender to assure that the money will be repaid. It acts as a risk mitigation move as the lender has the option of selling that asset if there is a default to recover the money.
In the case of an unsecured loan, however, there is no collateral involved. As a result, lenders look at creditworthiness of the business and of the business owner.
Creditworthiness: CIBIL or Credit Score
The creditworthiness of a business is captured via a business rank or through the credit score of the business owner. Usually, lenders insist on the credit score of the business owner for small business loans. If the enterprise is relatively larger, they may assess the loan application on the basis of a business rank.
CIBIL, an organisation that was the first to provide credit information services in India, has now become synonymous with such scores, even though there are other agencies that also provide similar services.
• Credit Score:
These are meant to evaluate a person's creditworthiness based on past credit behaviour and repayment record. In the case of a small business, lenders use the business owner's CIBIL score to look at loan applications. This number ranges between 300 and 900. The closer the number is towards 900, the more creditworthy the person is. Lenders usually take a score of 750 and above as good. Such customers get a good deal with swift loan approval at their desired amount and with lower interest rate.
• CIBIL Rank:
Credit information agencies also ranks businesses. This rank lies in 1-10 range and the closer to the rank is to 1 the better it is. A rank of 4 or above is seen as one having good antecedents for a business.
A missed instalment or heavy indebtedness deteriorate the CIBIL score of a business owner or the CIBIL rank of a business. This could affect the loan approval. Even if a loan gets sanctioned it may entail a higher interest rate.
Getting A Business Loan With CIBIL Issues
The good news is that one has some options to sort the CIBIL issues that may have cropped up in the credit report.
• Correct Mistakes:
Although this is not a regular phenomenon, at times mistakes crop up in credit information reports. This could be because some events are not updated or are mentioned incorrectly. For instance, some loan may have been fully paid back but may still show up or some other person's loan may be incorrectly reflecting in another person's credit report. One should check the credit report carefully and get it corrected before applying for a business loan.
• Improve Score:
Another option is to push up the score. One can do so by repaying some outstanding debt, especially unsecured loans. If one has been using multiple credit cards and has maxed out the upper limit of credit on those cards, one can reduce the amount to improve the credit utilisation rate and push up the credit score. Most importantly, one has to ensure that EMIs on outstanding loans are promptly paid.
• Shop Around:
Some lenders insist on high credit scores before they assess a loan application. This is particularly true of banks. However, NBFCs are more flexible in this respect and if one has a low CIBIL score or rank, one can still get a business loan if one shops around.
Conclusion
CIBIL score for a business owner or a CIBIL rank for an enterprise is an important factor when a lender decides on an unsecured business loan application. It is taken as an indicator of the creditworthiness of the borrower.
However, at times mistakes crop in in the score. The good news is that one can get such issues sorted. One also has an option of improving the score to make the lenders comfortable on advancing a loan. Then again, there are some lenders who are more flexible who can be tapped by the borrower even with a low score.
IIFL Finance offers small
business loans
of up to Rs 50 lakh without any collateral via a quick digital process. Such loans can be paid back within five years via flexible repayment options. IIFL Finance also provides secured business loans of up to Rs 10 crore for a 10-year tenor to help entrepreneurs expand their ventures.