12 Ways To Get A Business Loan With Low CIBIL Score Or Bad Credit
Credit score is the first factor that lenders check when applying for loans. Checkout on how to get a business loan with bad credit score here!
13 Oct,2022
06:25 IST
329 Views
12 Likes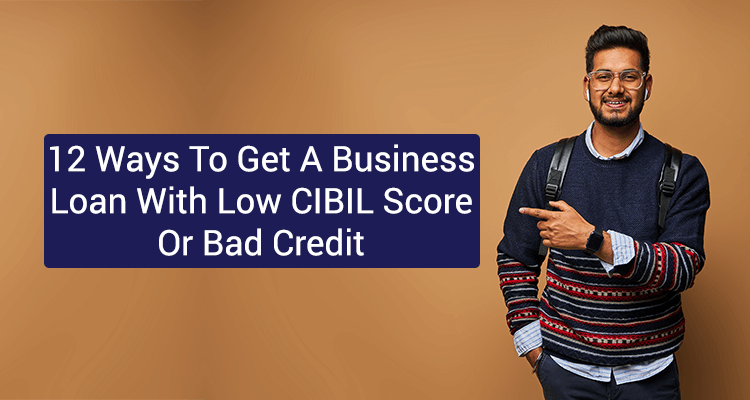 Many business owners often believe that how passionately they run their enterprise itself is a recipe for success. But this is just one of the ingredients for making it big. There are other factors that affect if and how a business can scale up and one of the key factors is the ability to shore up financial resources.
A business requires cash not just for expansion but often also for working capital, or for day-to-day requirements of running an enterprise.
How an entrepreneur has managed his or her personal finance in the past plays a critical role in the future of their enterprise. This is because lenders base their decision of sanctioning an unsecured business loan on the CIBIL score of the business owner.
CIBIL Scores: Good And Bad
Credit scores, or CIBIL scores, capture the credit history of the borrower and are used as a primary lens through which lenders decide on whether to accept an application. This is represented by a three-digit number generated by independent private agencies.
It varies between 300 and 900, with a higher score denoting a good credit history and vice versa. What is considered good could differ from lender to lender but, typically, 750 is seen a general cut-off with a score higher than that seen as good.
But things are not so straight when it comes to what's a bad score. For some lenders like large banks anything below 750 may be seen as bad while NBFCs tend to bracket the 'bad' with a much lower threshold.
Having said that, a bad score in itself does not mean the end of the road for a borrower.
Ways To Get A Loan With Low CIBIL Score
• Take A Loan Against Property:
One of the fool-proof ways to avail a business loan if one has a bad CIBIL score is to put up a collateral as a security for the money. This is usually a real estate property such as the office or manufacturing facility premises.
• Equipment Finance:
If one is taking a business loan to buy a machine to be installed at a plant, one has recourse to specialised finance such as one where lenders give money for buying the equipment. The machine then itself becomes a collateral. Borrowers do need to meet part of the purchase price themselves.
• Shop Around:
Banks tend to have a higher threshold as the lowest CIBIL score below which they do not accept an application, but one can evaluate others who are more flexible including non-banking finance companies (NBFCs).
• Government Schemes:
Many a time the central government as well as respective state governments, where the business is located, run loan schemes to boost entrepreneurship and jobs. Business owners can research about such options and apply accordingly.
• Pre-Pay Existing Loan To Up Eligibility:
If one is already under debt, the score is adversely affected even if one has been repaying on time as it decreases the ability of a borrower to repay new loans. So, if there is some cash which can be used to prepay any outstanding loans, it improves the chance of getting a new business loan.
• Improve The Score:
If the entrepreneur has a bad score but is planning to take a business loan in the future, it would be prudent to improve the credit history by making sure payments are made on time to push up the score.
• Do Not Max Out:
One way to make sure the lenders assess the loan application favourably is that the business owner doesn't keep availing the maximum credit on their credit cards. Even if the person pays back the dues on time, the borrower may be seen as one who is spending far too much against the outstanding credit availability on the go.
• Think Business Credit Cards:
This is an option for businesses who can take a business credit card for day-to-day usage for the enterprise. It may be offered by existing banks with which the business has a current account.
• Overdraft:
This is another way to get credit on the go from an existing banking partner. The bank tends to allow existing current account holders to avail some debt by giving them a maximum limit, based on their existing cash flows.
• Rope In Co-Applicants:
A business owner can name their spouse or other immediate relative, who has a good CIBIL score, as a co-borrower. This gives confidence to the lender that at least one of the borrowers comes with a good credit history.
• Present A Solid Business Model:
The
CIBIL score
is a key factor but not the only determinant of a business loan. If the business owner can convince the lender with a robust business model it can turn the decision in their favour.
• Accounts In Order:
Lenders can also accept a loan application if they see the enterprise is generating enough surplus to account for monthly payments due from cash flows.
Conclusion
A business owner's track record of repaying loans at a personal level comes into play for
business loans
. However, even if one has a relatively poor CIBIL score there are ways to borrow money for the business.
This can be via opting for a different lender, roping in co-borrowers, generating surplus consistently and making the right pitch among several other ways to immediately as also medium-term strategy to improve the score.
Top-tier non-banking finance companies such as IIFL Finance offer loans to businesses, both secured and unsecured, with low interest costs and flexible repayment options. IIFL Finance follows a process that is completely digitised and one can apply for a loan within minutes through the mobile phone itself.