8 Factors That Keep You From Getting A Small Business Loan
There comes a time when additional funding is required in many businesses' lifecycles. Let's look at the main obstacles due to which business loan can be denied!
19 Dec,2022
11:26 IST
1456 Views
765 Likes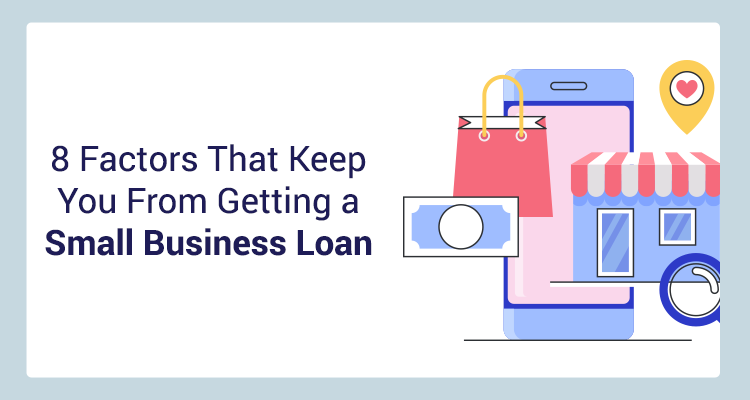 Many businesses need additional funding at some point in their lifecycle. During these times, a business loan may be helpful. But there are a few things that can get in the way. Here are some obstacles businesses face when trying to get small business loans.
8 Reasons Why Lenders Deny Small Businesses Loans
1. Your Credit Score
If the lender determines your credit score is "too low," you are more likely to be rejected for a loan. The magic score number will vary depending on the lender and the situation.
Even though your company has been in business for some time, your credit score will play a role in your small business loan application. It is logical to conclude that if you can't manage your credit, then how can you manage your business credit?
2. Limited Cash Flow
A lender's first consideration when assessing the health of a business is cash flow–the amount of cash available to repay a loan. Lenders cannot afford to ignore insufficient cash flow. Therefore, you should first consider whether you can afford to take out a small business loan.
3. Your Industry Is "Risky"
Traditional lenders regard some industries as "risky." For example, restaurants have a high failure rate. Obtaining a loan may prove difficult in such a scenario. Consider finding lenders who specialise in your field to overcome this rejection.
4. Lack Of A Solid Business Plan
It's better to have a plan and adhere to it in the finance world than to be spontaneous. It also increases your chances of
getting a business loan
. Your business plan must be well-thought-out for lenders to consider you. Putting together a half-baked business plan when applying for a loan may result in a rejection.
5. Too Many Loan Applications
When applying for more than one loan at once, some business owners believe they will cover all their bases. In this way, they can select from a variety of loan offers. However, too many loan applications opened at once can raise a credit bureau's red flag and make it difficult to get a loan.
6. You Don't Have Enough Collateral
A traditional lender might require collateral as a condition of approving a business loan. They may reject your application if you lack collateral to offer.
7. Your Credit Utilisation Ratio Is Too High
It is generally recommended that you use no more than 30% of your total credit limit for loans. Most lenders consider you overextended if you use too much, and worry that you can't pay them back. As a result, they may be reluctant to lend you money.
8. Incomplete Application
Many small
business loan applications
are rejected because the applicant did not include all the necessary information or completed the application incorrectly.
Apply For A Small Business Loan With IIFL Finance
IIFL Finance is your one-stop shop for s
mall business loans
. Our MSME business loans are collateral-free, attractively rated, and tailored to meet the needs of small businesses with lower financial needs. It is possible to apply for the loan online after verifying your KYC details or by visiting the nearest branch of IIFL Finance.
FAQs
Q1. Why is it difficult for small businesses to get loans?
Ans. Small businesses may have difficulty obtaining loans due to poor credit history and low cash flow.
Q2. What is the average credit score for a small business loan?
Ans. Credit scores between 640 and 700 are generally considered good by small business loan providers.