What Is The Difference Between A Short-Term And Long-Term Business Loan?
Short term & Long term business loan are different from each other. Want to know how? Know the difference between short term & long term business loans here!
1 Sep,2022
10:38 IST
16 views
12 Likes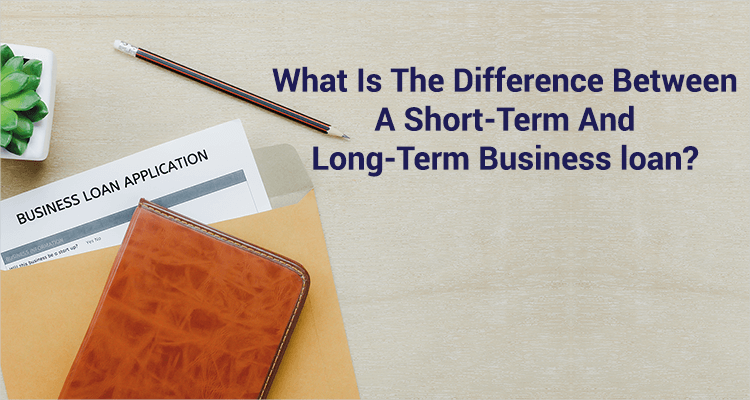 Limited capital can thwart the growth plans of any business. Indeed, the first and foremost goal of every entrepreneur and business owner should be to meet the funding obligations of a business.
This is because every business needs money to run the day-to-day operations, buy equipment, pay for utilities and secure a loyal customer base. While many business owners end up using personal savings, many prefer a business loan from a bank.
Term Loans
Term loans, common with small businesses, are borrowings from banks and financial institutions for a fixed tenor. The repayment is over a certain period of time and is usually based on a monthly or quarterly repayment schedule. The loan may require collateral and some down payment.
Depending on the loan tenor, there are two types of business loans:
• Short-term loan
• Long-term loan
All types of loans, whether for the short term or long, provide the borrower with a faster and reliable source of credit for business expansion. But to make a better choice, it is good to know the difference between both the types of business loans:
Loan Duration:
It goes without saying that a higher loan amount will take longer to repay. The lower the loan amount, the faster the repayment. Hence, the tenure of the short-term business loans is much shorter than that of the long-term loans.
Short-term loans usually have repayment tenure between one and five years, whereas the tenor for long-term loans may vary from 10 to 20 years. Long-term loans also come with pre-payment options.
Loan Amount:
The main differentiating factor that separates a long-term business loan from a short-term business loan is the borrowed amount. The loan amount in long-term loans is bigger, so they have a longer repayment time.
Loan Purpose:
The amount of funds needed for running a business varies from company to company. It depends on the business size, its operating cycle and business goals. While short-term loans can be utilised for meeting the regular operational costs of a company or working capital requirements, they may not be an ideal choice for a business scale-up.
Also, it may take some time for a growing business to stabilise revenue and profits at a higher level. This could make repayment of business loans much longer than expected. So, a long-term business loan is the better choice for scaling a business.
Interest Rates:
Typically, all short-term loans have higher interest rates because they yield lesser interest amount to the lenders owing to their shorter duration. The rate of interest for long-term loans is comparatively lower but since the interest is paid for a longer duration, the accumulated interest is higher than that of short-term loans.
Short-term loans carry increased risk of loan default for lenders because borrowers even with lower credit ratings can easily qualify for these loans. All these factors together contribute to a higher interest rate for short-term loans.
Collaterals:
In almost all long-term loans, the borrower pledges assets like property, financial securities, etc. as collateral to secure funds. It is an understanding between the lender and the borrower, wherein the borrower gets a larger amount of loan for a longer tenor by putting up a collateral and the lender reduces its risk in case of a default.
Short-term loans, on the other hand, are often unsecured loans as they do not call for any type of collateral.
For borrowers with no collaterals to pledge for or with poor credit history, securing a larger amount of business loans can be a challenge. For such business owners, short-term loans are easier to get and if repaid on time, can help build a positive credit history.
Loan Approval Procedure:
Short-term loans involve minimal documentation, making the approval process quick and easy. Some lenders even approve short-term loans in less than 24 hours unlike long-term loans, which require a thorough assessment that can push the loan approval process to up to a few weeks.
Conclusion
Short-term loans are quicker to get and offer immediate liquidity. These are also much cheaper than a long-term loan in terms of the total interest paid. But they are not suitable for long-term growth plans of a business. This is where long-term loans are more useful.
When the question is about the type of loan best suited for a business, there is no single answer. It depends on one's requirement and capacity to repay. Regardless of how long a term loan will last, getting it from a reliable financial institution like IIFL Finance is important.
IIFL Finance offers all types of business loans to support the business goal of every aspiring entrepreneur. Customers can get collateral-free business loans of up to Rs 30 lakh with minimal documentation and at competitive interest rates, starting at just 11.75% per annum. IIFL Finance also provides long-term secured loans for up to Rs 10 crore.