Business Loan Vs Line Of Credit
It is vital to understand the difference between a line of credit & a business loan. Read on to know the difference between business loan & line of credit here!
25 Oct,2022
19:36 IST
8 views
4 Likes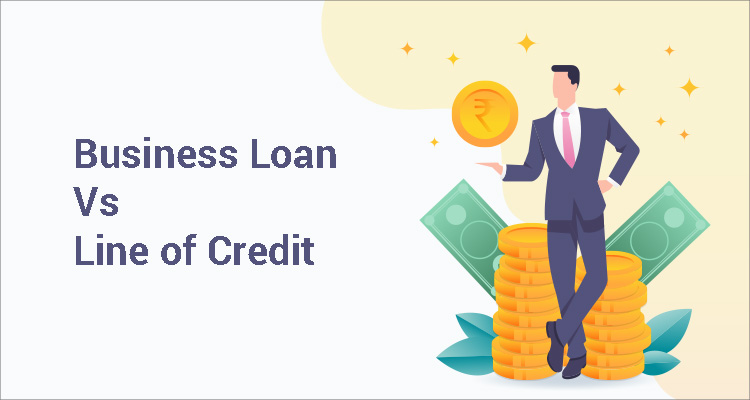 When entrepreneurs start a business, capital is vital to invest in the company and ensure operations run smoothly. However, lenders such as banks and NBFCs have designed numerous loan products to offer immediate capital to business owners. Two of the most widely utilised credit products are business loans and lines of credit.
This blog explains the difference between the two products to make the right choice of funding for your business.
What Is A Business Loan?
In a business loan, the borrower approaches the lender to avail of a specific amount to cover numerous business activities. These activities include short-term expenses such as rent, employee salaries, working capital, etc., and long-term costs such as expansion and marketing.
Entrepreneurs choose to get a business loan as it allows them to secure their personal finances while funding their business activities effectively. Business loans do not require pledging an asset as collateral, and lenders disburse the amount within 48 hours.
What Is A Line Of Credit?
A Line Of Credit is an agreement between a lender and a business owner where they can withdraw the required amount till a specific limit.
The Line Of Credit works like a credit card where the business owner can use the amount to cover necessary expenses while securing their personal savings. The borrower or the business owner is liable to repay the withdrawn amount within a set tenure.
Once the business owner repays the amount, they can borrow it again. They can access the funds from the LOC at any time if the withdrawn amount does not exceed the credit limit.
Business Line Of Credit Vs Business Loan: What Are The Differences?
As a business owner, it is vital to understand the difference between a business
line of credit and a loan
to make an informed choice. Here are the most common factors included in
small business loans vs lines of credit.
• Time Of Availing
A factor in the business
line of credit vs loan
is the time of availing the credit products. Entrepreneurs can take a business loan before launching the business or fund the continued expenses of an established firm. However, business owners take the line of credit before starting the business for various business purposes.
• Repayment
Business loans and the line of credit make the borrower legally liable to repay the availed credit amount. However, a business loan locks in the borrower for the set loan tenure, where they repay the principal amount with interest through monthly EMIs. Alternatively, with LOC, the borrower must repay only the utilised amount.
• Rate Of interest
Another factor in the
business line of credit and a business loan
is the interest rate. Interest rates are higher for business loans compared to the line of credit. The interest rate on a business loan is fixed, while the interest rate on a line of credit changes throughout the year.
• Flexibility
Business loans carry higher flexibility when compared to the line of credit as most lenders and NBFCs have multiple business loan options that are customised to cater to almost every business need. Business loans also carry better features such as add-ons, pre-payment etc., while the line of credit is a simple credit option which does not have added benefits for the borrowers.
Avail Of An Ideal Business Loan With IIFL Finance
IIFL Finance is India's leading financial service provider NBFC that specialises in a host of loans with a focus on business loans to ensure entrepreneurs can raise adequate capital for their enterprises.
IIFL Finance business loan
offers instant funds up to Rs 30 lakh with a quick disbursal process online and minimal paperwork.
The loan's interest rate is attractive and affordable to ensure the repayment doesn't create a financial burden. Furthermore, IIFL Finance business loans carry better benefits when compared to the line of credit to ensure that the entrepreneurs get the highest value for their money.
FAQs:
Q.1: What is the interest rate for taking a business loan with IIFL Finance?
Ans: The interest rate for IIFL Finance business loans starts at 11.25% but varies depending on the loan amount and the loan tenure.
Q.2: How much time does it take for an IIFL Business Loan to disburse?
Ans: IIFL Finance business loans are approved within 30 minutes and disbursed within 48 hours of approval.
Q.3: Do I need collateral to qualify for a business loan from IIFL Finance?
Ans: No, you do not need to pledge any asset as collateral to take a business loan from IIFL Finance.