Five Best Zero-Investment Business Ideas
Discover the top 5 zero-investment business ideas that can kickstart your entrepreneurial journey without breaking the bank. From online services to creative ventures, explore these cost-effective options Now!
24 Feb,2023
10:35 IST
2839 Views
1493 Likes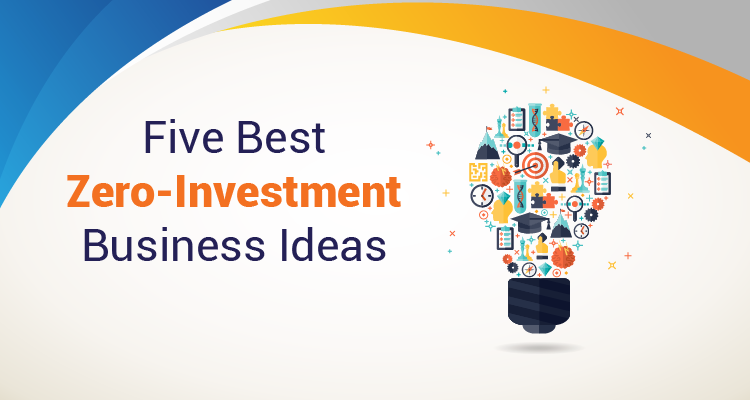 Starting a business with zero investment – is that really possible? Fortunately, advancement in technology coupled with the power of the internet has created many new employment opportunities today. Thanks to this, it is possible for anyone to start their own business without much capital, whether they are a student or someone living in remote areas.
Zero-investment businesses are commercial activities that require little or no investment, but nevertheless provide reasonable profit. These businesses do not require much training. It can be created based on your knowledge and talents. Below are some business options that are possible without any capital but that can deliver excellent rewards.
1. YouTube Channel
More than 230 million people worldwide use YouTube. A YouTube channel is a member's personal space on the site. How does this work? A smartphone and an internet connection are all you need. Begin by creating your own YouTube channel. It is free of cost. You can create a channel on any topic but choosing a topic that would interest others will earn more income. Some of the popular channels are on music, dance, entertainment, online coaching, yoga, gardening, Vlogging, health and fitness, and educational. YouTube comes with features like YouTube monetization, advertising, affiliate marketing, sponsorships and product selling from which you can earn a substantial income.
2.Home Cleaning Services
Nowadays with demanding and long, grueling work shifts, people hire cleaning services for their homes and offices. Starting a home cleaning service is easy. You just need a few tools that you already have at home such as a broom and mop, and some cleaning agents like Lizol and Harpic.
You can work alone or hire workers depending on the nature of the work. Cleaning services are in huge demand especially during the holiday season. Home cleaning services also offer dry cleaning and vacuuming of sofas, curtains, and rugs. There are already a number of such companies operating successfully today.
3.Online and Home Tutoring
Teaching is a good zero-investment business idea and it can be done from home or online. You can teach on courses ranging from academic to hobby such as yoga, dancing, singing, and drawing. Having a skill would guarantee better income. Also, you can start language classes which are growing in popularity, especially English-speaking courses.
Apart from this, personality development, and communication skills are another popular course. There are online tutorial services on many subjects like math, physics, chemistry, biology, accounting, and many popular classes for small children also. Another option is in-home tutoring in which tutors teach children one-on-one at their homes.
Another promising career is an online yoga instructor. With increasing concerns for health and fitness, people are willing to spend on yoga classes. Some even hire a professional trainer who come to their home to give one-on-one classes.
There is also online counselling that one can start at zero investment and after basic training. With depression and stress on the rise, people of all ages are spending money to discuss and help them solve relationships, careers, and difficulties related to work or other issues they are facing. As long as you can motivate people and be an empathizing listener, this is a good option for you.
4. Marketing Agency and Affiliate Marketing
The key to a successful business is marketing. The truth is not everyone is good at it so many businesses hire the expertise of marketing agencies. If you do not have an MBA degree to get started, you can read up books on marketing or watch related videos on YouTube. Otherwise, you can be a Social Media influencer and help others to purchase an item. Marketing agencies operate both online and offline. Another option is affiliate marketing in which you earn a commission on every sale you make for the company.
5. Online Market
Rather than starting your own physical store or your own online store, you can start selling your products on top online marketplaces like Amazon, Meesho, and Flipkart etc. So, if you can make handicraft items or food items like pickle, sweets and snacks you can begin here. Begin by advertising on social media sites which will not tax you financially. Also, you can sell home cooked meals or start your own tiffin service. Many homemakers are earning a fortune from these.
Conclusion
These are just some of the few zero-investment businesses that are enabling many people from rural areas and women to earn an income. So as long as you have an internet connection and a mobile you can expand your market and reach out to millions of people across the nation.
Some of these ideas may still need a little investment for which you can log in to IIFL Finance website and get easy loans. IIFL Finance gives personal loans starting Rs 5,000 and instant business loans, too, without collateral. These loans can be availed online with little documentation and can be disbursed as fast as possible. IIFL Finance not only offers the most competitive interest rates but also customizes the repayment schedule to help borrowers.