Four Benefits Of Business Loans That Might Surprise You
There are many benefits of taking business loan which you may not know about. Find out the top 4 benefits here & know how they can make your life so much easier!
25 Jul,2022
15:35 IST
111 views
19 Likes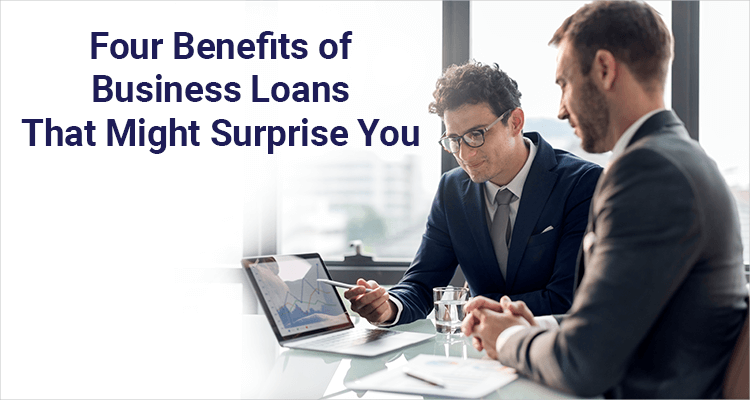 Numerous factors in the success of the business demand capital at regular intervals. However, the business owner may not have adequate funds to invest in each of these factors and ensure the sustainability and profitability of the business. Hence, the only way to ensure business success is to raise the required capital from an external source.
What Is A Business Loan?
A business loan is a financial product that raises capital and fulfills the business investment requirement. The business owner applies for a business loan from a bank or an NBFC that offers the desired loan amount at an interest rate. After taking the loan, the borrower is legally liable to repay the principal amount with interest to the lender over the selected loan tenure. You can repay through different methods such as EMIs, part-payment, lump-sum payments, etc.
Why Business Loans Are Important For A Business
Business loans have become one of the most widely leveraged financial products for business owners looking to invest in their businesses without using their capital. The loan amount offered through the loan for business can provide a host of benefits to the business owners as there are no restrictions on the end use of the obtained loan amount.
For example, you can use the loan amount for buying inventory, hardware, and real estate or invest in equipment and machinery. Hence, a loan can fulfill all business capital requirements. However, some entrepreneurs believe that loans limit buying equipment and machinery.
Four Benefits Of Business Loans That Might Surprise You
Business loans offer numerous benefits, with some that may surprise you. Here are the four benefits of business loans:
1. Collateral-Free Loans
Unlike other types of loans where the borrowers are required to pledge an asset such as their house as collateral, business loans are entirely collateral-free. It means that you can raise immediate capital for your business even if you do not own an asset amounting to the value of the obtained loan amount. Hence, a loan makes it easier for small business owners to raise funds and sustain their businesses.
2. Flexibility
For a business, the external ecosystem is always dynamic and changes based on the economy and customer interest. Therefore, the capital requirement also needs to change constantly. Hence, a business needs to have a flexible capital-raising structure. A loan for a business comes with the utmost flexible system, where business owners can apply for several types of loans. They can opt for short-term or long-term loans for their business that differ in the loan amount, repayment options, and loan tenure.
3. Interest Rates
Most business owners think that a loan for a business comes with a high-interest rate, creating a burdensome financial obligation for them when they do not have clarity on future sales and revenue. However, in reality, it is the opposite, as several good financial institutions, such as NBFCs, offer affordable interest rates that are the lowest in the industry.
Such loans with lower interest rates can allow business owners to reduce their financial obligations while raising adequate funds for their companies.
4. Customization
One of the best features of business loans is their customization option. The borrower can customize the included loan factors, such as the loan amount, loan tenure, interest rates, etc., based on the required capital and repayment ability. It ensures that the loan does not fall short and provides the needed amount to the business owner without creating a financial burden.
Avail Of A Business Loan With IIFL Finance
IIFL Finance business loan is the ideal product to fulfill all of your business needs. IIFL Finance business loan interest rate is attractive and affordable to ensure you do not have to cut down on essential expenses of your business. The business loan offers instant funds up to Rs 30 lakh with a quick disbursal process. You can apply for the loan online or offline by visiting IIFL Finance nearest branch.
FAQs
Q.1: Can I customize my business loan with IIFL Finance?
Ans: Yes, IIFL Finance offers numerous customization features based on the loan amount, tenure, and interest rates.
Q.2: How long does it take for the business loan disbursal?
Ans: IIFL Finance loan for business takes less than 48 hours to get disbursed.
Q.3: Why should I take a business loan from IIFL?
Ans:
• Instant loan amount up to Rs 30 lakh
• Easy and online application process
• Instant credit of loan amount to your bank account
• Affordable EMI repayment options