How To Get A Short-Term Business Loan Online
Short-term Business Loan is a loan option to cater urgent or short-term business requirements. Know the complete process & documents required here!
5 Jul,2022
14:01 IST
68 views
21 Likes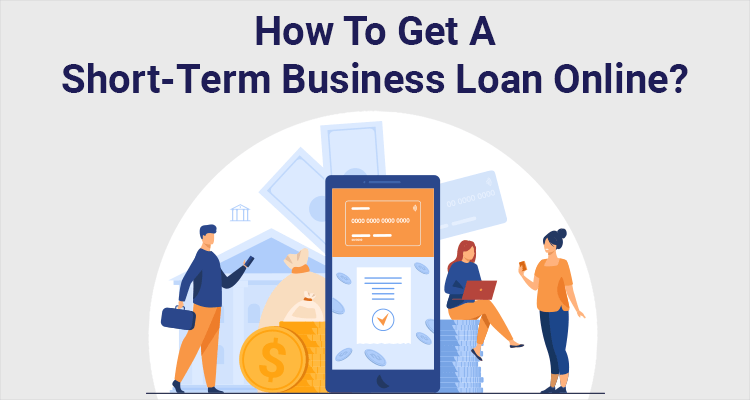 Micro, small and medium-sized enterprises (MSMEs) account for a significantly large parts of India's economy and workforce. The number of MSMEs is growing at a fast pace, and so are their capital requirements—both for short-term sustenance and long-term growth.
Short-term business loans are credit facilities obtained to support short-term liquidity requirements for personal or business needs. Like other loans, it involves repaying the principal amount along with interest within the due date.
A short-term loan is a good option for start-ups, MSMEs and small business owners to meet their immediate requirements. However, since usual business loans often require a long time for application and disbursal, even large companies with urgent cash requirements can benefit from short-term business loans.
The tenor of short-term business loans typically varies from a couple of months to less than one year. Some banks also allow borrowers to pay off the loan earlier than the stipulated time period without any pre-closure charges.
On the flip side, the interest rates for such loans tend to be higher than for longer-term borrowings.
Features Of Short-Term loans
• Quick Disbursal:
Since the primary objective of this type of loan is to help business establishments and entrepreneurs with easy cash, these loans are approved as quickly as 24-48 hours.
• Minimal Documentation:
Short-term business loans require only a few basic documents for approval.
• No Credit Score:
Most lenders do not consider the borrower's credit score while evaluating the application.
• No Collateral:
Most lenders offer short-term business loans, especially for smaller amounts, without any collateral. So, even first-time borrowers with no tangible assets can get financial aid through these loans.
• Customised Loans:
Depending on the needs of the borrowers, short-term business loans can be customised. The loan amount and the EMI amount can be decided by the borrower, but it should not exceed 12 months.
Documents For Short-Term Loans
The documents for short-term business loan approvals are:
• PAN card.
• Bank statements of the most recent six months.
• Address proof: Telephone or Electricity bill, Voter ID card, Aadhaar card, Passport, Driving licence.
• Identity proof: Voter ID, Aadhaar card, Passport, Driving licence.
• Age proof: Birth certificate or Class 10 education certificate.
• Proof of business ownership
Online Loan Application Process
The application process for short-term business loans usually varies from lender to lender. However, most lenders nowadays allow—and even encourage—an online process to quicken the entire process from sanction to disbursal.
While many banks and NBFCs have made the credit application process digital, some may still require the borrower to visit the physical branch to submit documents or complete the verification and for disbursal.
Here are the main steps to apply for a short-term business loan online:
1. Select A Lender:
The first step, obviously, is to select a bank or a non-bank finance company. Borrowers have dozens of lenders to choose from, though not all may follow a fully digital process. It's, therefore, important for borrowers to choose a lender that offers a seamless and complete online process.
2. Application Form:
After selecting a lender, go to the website of the lender and fill up the loan application form correctly by adding basic personal and business details.
3. Upload Documents:
The borrower needs to upload certain documents along with the application form. These include identity and address proof and bank statements.
4. Get A Call From Bank Representative:
After the application form is submitted and all required documents uploaded, a representative of the bank or the NBFC contacts the borrower and completes the remaining steps.
5. Sanction And Disbursal:
After completing all the formalities and paperwork, the lender approves the loan and disburses the amount straight into the bank account of the borrower.
Conclusion
Short-term business loans are designed to help entrepreneurs and businesses for a short duration financially. They are usually unsecured in nature and have to be returned within a year's time.
Almost all banks and NBFCs provide short-term business loans. However, many legacy banks, especially state-run banks, have been slow in adapting to new-age innovations and requirements. This is where new-age private banks and well-known NBFCs such as IIFL Finance take the lead by offering a fully digital approval process.
IIFL Finance, in fact, offers an array of business loans adapted to meet every need of the borrowers. As it is committed to speed and convenience of borrowers, IIFL Finance offers a hassle-free process to provide loans that can be used to expand business, manage operational costs and meet additional costs when businesses await a long-term loan from a bank or a financial institution.