How Does The CIBIL Score Affect Your Personal Loan Interest Rates?
Personal loan is a loan that can be availed to fulfill individual personal need. Read to know how can cibil score affect your personal loan interest rate.
27 Sep,2022
10:44 IST
5 Views
28 Likes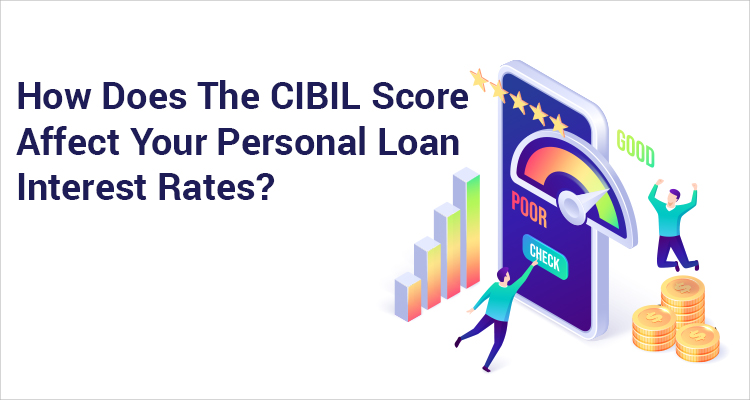 Personal loans from banks and NBFCs are ideal for individuals without adequate capital to cover their personal expenses. Through a personal loan, individuals can ensure that they raise enough money to cover expenditures such as marriage, education, home, renovation, vacation, etc.
Since personal loans do not come with end-use restrictions. However, lenders require borrowers to have a good CIBIL score while applying for a personal loan, as it is one of the main factors that affect personal loan interest rates.
What Is A CIBIL Score?
A CIBIL score is a three-digit score out of 900 that reflects the creditworthiness of a person to the lender. An individual with a score closer to 900 is deemed more capable of repaying a loan than those with a lower credit score in India. TransUnion CIBIL Limited generates the CIBIL score. It manages the credit files of over 600 million individuals and 32 million businesses, assesses your credit history, and provides a score out of 900.
How Does The CIBIL Score Affect Your Personal Loan Interest Rates?
Lenders such as banks and NBFCs take on a high risk when they offer personal loans to individuals as they may default on repaying the loan amount within the loan tenure. If that happens, lenders incur losses equalling the defaulted outstanding loan amount, with no way to recover the losses in the absence of collateral. Hence, lenders press highly that the borrower must have a high CIBIL score before they approve the loan to mitigate the chances of default.
The CIBIL score is indirectly related to the personal loan interest rates, i.e., a personal loan will have a lower interest rate if the borrower has a high CIBIL score. Suppose the borrower has a low CIBIL score. In that case, lenders will offer the personal loan at a higher interest rate as the borrower wants to square off the high risk they are taking by offering the personal loan even when the borrower's repayment capability is low. Hence, you must maintain a CIBIL score above 750 out of 900 to get personal loans with low-interest rates.
Conclusion:
The interest rates on personal loans depend on the CIBIL score of the borrower, as lenders prefer to offer personal loans to borrowers with a score higher than 750. However, if you have a low CIBIL score, it is more than likely that the lender will offer a personal loan with a high-interest rate. Hence, it is necessary to maintain a CIBIL score, preferably above 750.
FAQs:
Q.1: What is the minimum CIBIL score needed to take a personal loan?
Ans: A CIBIL score above 750 out of 900 is perfect for getting a loan from a reputed lender.
Q.2: How to get a personal loan with an average CIBIL score?
Ans: The first step you can take is to start improving your CIBIL score. If you need immediate capital, you can find a guarantor, provide collateral to the lenders or take a personal loan with a high interest rate.