Ten Things You Should Look For In A Credit Card Statement
Credit cards provide interest-free financing, and the points acquired from using the money are also useful. If the dues are paid regularly and on time, credit cards can also aid in improving credit standing. Read to know more.
16 Jan,2023
11:45 IST
2059 Views
931 Likes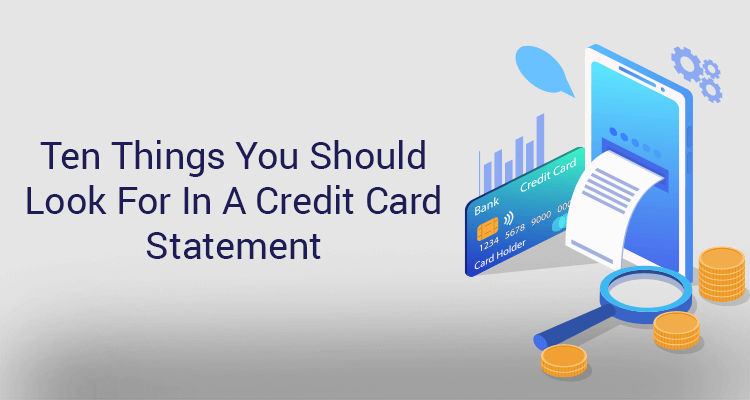 A credit card is an excellent form of unsecured bank funding for regular purchases. In fact, the ease of transaction using credit cards has made them a favourite form of spending globally.
Credit cards offer interest-free funding for limited days and the points earned by spending the money also come handy. Credit cards also help build a good credit score if a person pays the dues regularly and on time.
At the end of the credit cycle, a person receives a credit card statement that contains a lot of information regarding the purchases made on the card. Here are ten things you should look for in a credit card statement:
• Total Amount Due:
This is the amount you have to pay by the cut-off date to ensure there is no interest charged by the credit card issuer.
• Minimum Amount Due:
This usually 2-5% of the total amount due and represents the money to be paid to avoid late fine. But you will incur interest on the dues. So, it is better to pay the full amount due rather than just the minimum amount.
• Last Date For Payment:
Always ensure that you pay back the total amount due within the cut-off date set as per your billing cycle. Otherwise, you will have to incur interest charges and your credit score will also take a beating. If you are paying by cheque make sure that you deposit it four-five days before the due date in the credit card statement as cheques take a few days to process.
• Purchases Made:
Always scan the credit card statement for all the purchases made and the amount charged. In case you find any discrepancy, immediately notify the credit card issuer about it.
• Hidden Charges:
Check the statement for any charge that you have not factored in such as credit card fees in excess of the agreed amount or any interest for past purchases.
• Available Credit Limit:
Your credit card has the maximum amount that you can use for purchases. The available limit keeps falling as you use your credit card, so keep an eye on it so that you can plan your purchases accordingly or spread them between different cards.
• Credit Cycle:
All credit card statements will provide the credit cycle. You should plan your purchases between different cards based on the credit cycle and time your salary or other income to be credited in a way so that you can avail maximum interest-free days and pay on time too.
• Reward Points:
You should keep a track of your reward points as some of them may have an expiry date. Also, one should opt for a card after keeping an eye on reward points apart from other benefits and charges.
• Grace Period:
Most credit card issuers will give a three-day leeway after the payment deadline to clear the dues. This time is mentioned in the statement and is called a grace period.
• Cash Withdrawal Limit:
All credit card statements will mention a separate limit for cash withdrawals that will be much lower than the overall limit of the card. Before using this facility do remember that they attract a very high rate of interest right from the time of withdrawal.
Conclusion
Credit cards have become very popular in recent years as they offer ease of transaction, interest-free money for a few days and other incentives. However, one should pay credit cards dues on time to avoid high interest charges.
There is a treasure trove of information in the credit card statement. The credit card statement contains important information such as bank charges, interest, due dates etc that you must be aware of. Otherwise, you may miss the payment deadline or pay for items that you may not be consuming.