Things To Consider When Comparing Business Loan Options
Planning to take a business loan? Keep these important factors in mind when you compare between different business loans options. Read to make an informed decision.
16 Jan,2023
11:27 IST
1683 Views
573 Likes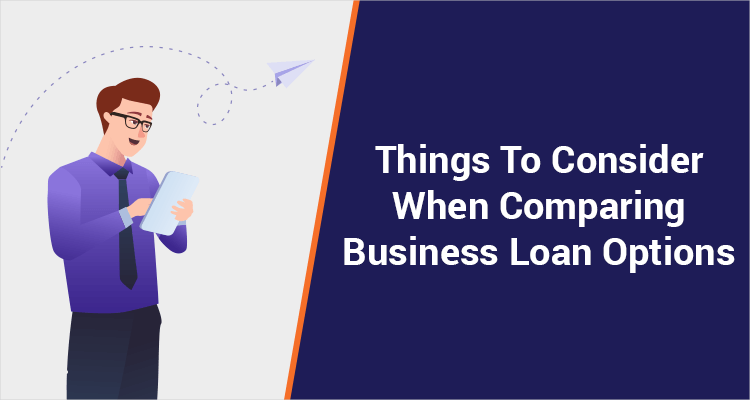 A business loan is one form of financial capital that is an essential building block for any enterprise. A business can be powered by equity capital but financial prudence says entrepreneurs need to have a judicious mix of equity and debt on the balance sheet to grow.
Business loans can take various forms and, thanks to intense competition in the market, lenders have created customised business loans based on the nature of the enterprise as also the end use, for instance a machinery loan.
So, if you are looking for a business loan, you have to compare a set of factors before picking one.
Secured or Unsecured
A secured loan refers to a loan that is backed by a collateral while an unsecured loan is without a collateral. Many a time business owners may not want to mortgage their personal or business assets. That would mean taking an unsecured loan. While such loans are relatively swiftly sanctioned, they do come with additional costs.
Interest Rate
The interest rate charged for a business loan depends on various factors and can vary widely. For instance, an unsecured business loan carries a higher interest rate. This is because the lender takes on an additional risk of underwriting the loan without any security in the case of a default.
At the same time, the past credit behaviour of the business owner and cash flows of the enterprise also come into play when deciding the cost of capital.
Tenor
The period for which one can avail the loan and repay it is another factor. An unsecured loan is usually granted for short to medium terms while secured loans can be taken for a longer period, in comparison.
Charges
There are processing charges associated with most loans and business loans are not an exception. However, these charges are a little higher for secured loans. This is because the lender needs to appoint a valuer of the asset being used as security.
Amount
Different lenders have different buckets for business loans based on the type of loan. For instance, some lenders offer only up to Rs 30 lakh for unsecured business loans while others may provide as much as Rs 50 lakh and even more without requiring a collateral. Depending on the fund requirement, one must choose a lender and type of business loan that actually meets one's requirement.
Process
Another critical factor is the whole process starting with application and ending with repayment and closure of the loan. Some lenders offer an end-to-end digital process, which requires one to make an online application and just upload soft copies of their basic documents. The loan is approved swiftly if it meets the checklist and the money transferred to the bank account of the borrower instantly.
Conclusion
Business loans can be of two broad types: secured and unsecured or collateral-free. But there are also a few other factors one needs to compare and keep in mind before deciding on it including interest rate, duration of loan and processing charges.