Does Getting Personal Loans And Credit Cards Really Help Credit Score?
Personal loan and credit card can be one of the ways to raise quick money. But read to know how does personal loan and credit card affects your credit score.
12 Oct,2022
11:33 IST
5 views
19 Likes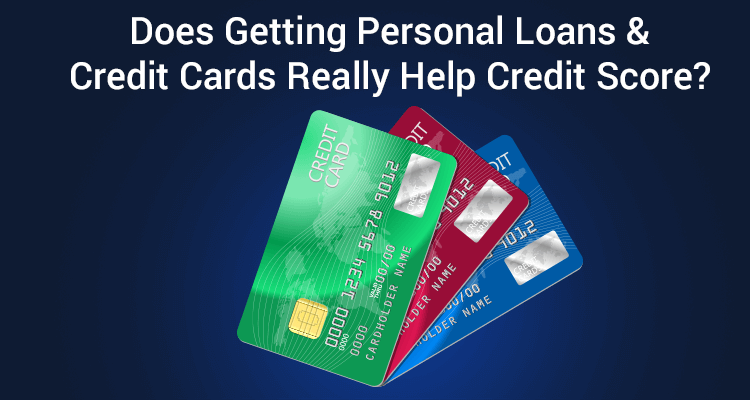 A personal loan or credit card can help meet short-term requirements during a financial crunch. However, you must fulfil the eligibility criteria to get a personal loan or credit card, including your credit score. Your credit score determines your ability to repay a loan or any other form of debt. But should you opt for a personal loan or credit card if you want to build your credit profile?
This article discusses how getting a personal loan and credit cards helps your credit score.
Credit Score For Personal Loans And Credit Cards
A mix of unsecured and secured loans is healthy for your financial portfolio. However, acquiring a personal loan to improve your CIBIL score may not be the best idea as it has a higher interest rate. In the case of a revolving credit card debt, it may prove to be expensive and add to your unsecured credit portfolio.
You can use a personal loan for various reasons, including purchasing a home theatre system, financing a family vacation, or paying a credit card bill. Paying off credit card dues can help improve your credit score. However, you must take such measures with extreme caution.
The most convenient way to do so is to avail of a personal loan with a lower interest rate than a credit card company. However, this will only help pay the accumulated charges, show up as an outstanding amount on your credit card statement, and increase your credit score.
It is essential to avoid defaulting on personal loan repayment rates, which could lower the credit score for outstanding personal loan status. Considering personal loans are expensive, and credit cards are not interest-free, there is little to no added value if you already have a high credit score, giving you a credit trail.
Tips To Improve Your Credit Score
Credit cards can be the easiest way to create a credit trail. Unlike personal loans, you do not need to pay interest on credit cards until you clear the dues on time. Here are some tips to help beginners start their credit-building journey and improve their credit scores.
• Pay credit card dues on time
• It's a good idea to pay off just the minimum amount due to stay away from the default status on your credit cards payment
• You can keep different credit cards to avail of the benefits only if you can control the misuse
• If you want to update your credit history, it is best to make consistent payments regularly, which is 30% of the authorised limit and pay on time.
Frequently Asked Questions
Q.1: What is the ideal credit score required to avail of a personal loan?
Ans: A credit score of 750+ is good enough and can fetch you the loan terms of your choice.
Q.2: What are the things to consider when applying for a personal loan?
Ans: You must consider the loan amount, tenure, and interest rate, among other things, before applying for a loan and ensure you do not default on payments.